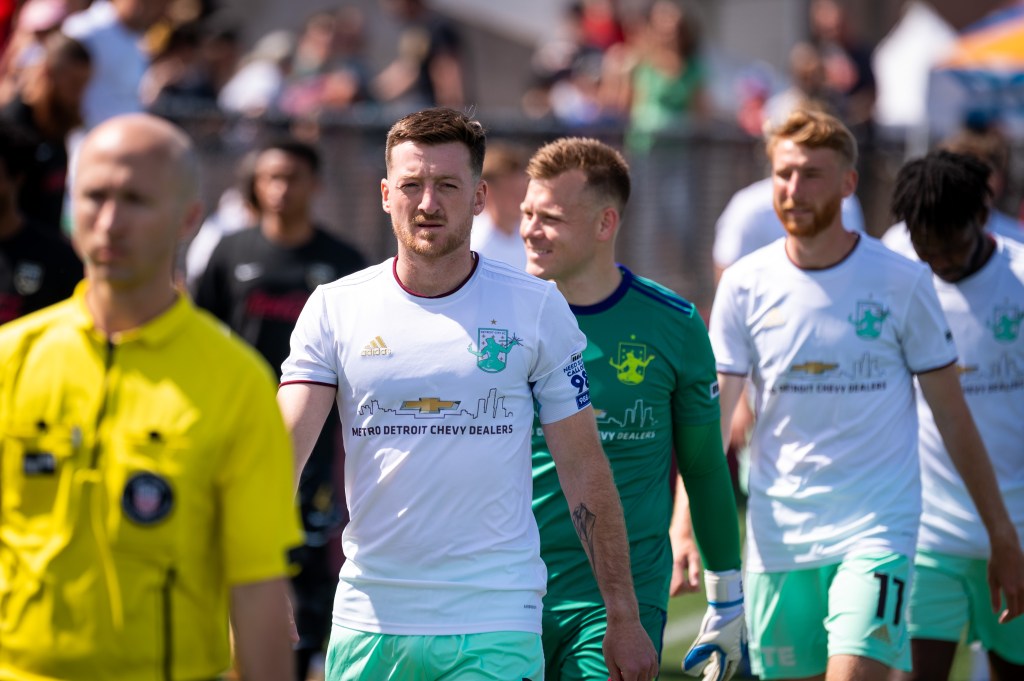 Stream (ESPN+) | DCFC Match Notes | Pittsburgh Riverhounds Match Notes |USL Championship Week 19 Notes | 2023 DCFC Roster
Detroit, Michigan – After breaking a three-game losing streak Wednesday night thanks to forward Dario Suárez's first goal with Le Rouge, Detroit City FC is back in action this Saturday evening as they hit the road to Pennsylvania to take on the division-leading, 35-point Pittsburgh Riverhounds. The match is scheduled for a 7 PM kickoff and will be broadcast on TV20 in the Detroit area and streaming live on ESPN+.
Suárez's strike was not enough to take the three points in his first start for Detroit City FC though as Loudoun United put a goal of their own on the board which ultimately sent both teams home with one point each.
Looking ahead, the Riverhounds have played 19 matches this season, only losing two of them so far. They have won nine of those games and have drawn eight times for a one point advantage over the Tampa Bay Rowdies for the lead in the Eastern Conference of the USL Championship.
On the other hand, City is currently 10th in the table at 17 points, having won four games with five draws this season.
Pittsburgh comes into the match with a six game unbeaten streak as their last loss came in early June in the U.S. Open Cup to Cincinnati.
Similar to Le Rouge, the Riverhounds have been stellar defensively all season long. They have only allowed two goals during their six game streak with no losses taken.
DCFC will have to be wary of Riverhound forward Albert Dikwa, the top goal scorer for Pittsburgh. The Cameroonian has notched 10 goals in 13 appearances this season.
This will be the first time these teams meet this season, as they drew 1-1 in both of their matches in 2022 with both Detroit City FC goals coming late in the match from midfielder Maxi Rodriguez.
For more information about Detroit City FC, visit detcityfc.com and follow @DetroitCityFC on Twitter and Facebook and @detroitcityfootballclub on Instagram.
##DCFC##
Please send all media inquiries to media@detcityfc.com.
Primary Media Contact: Jarrett Maki
(Sports Information Director, Jarrett.Maki@detcityfc.com)