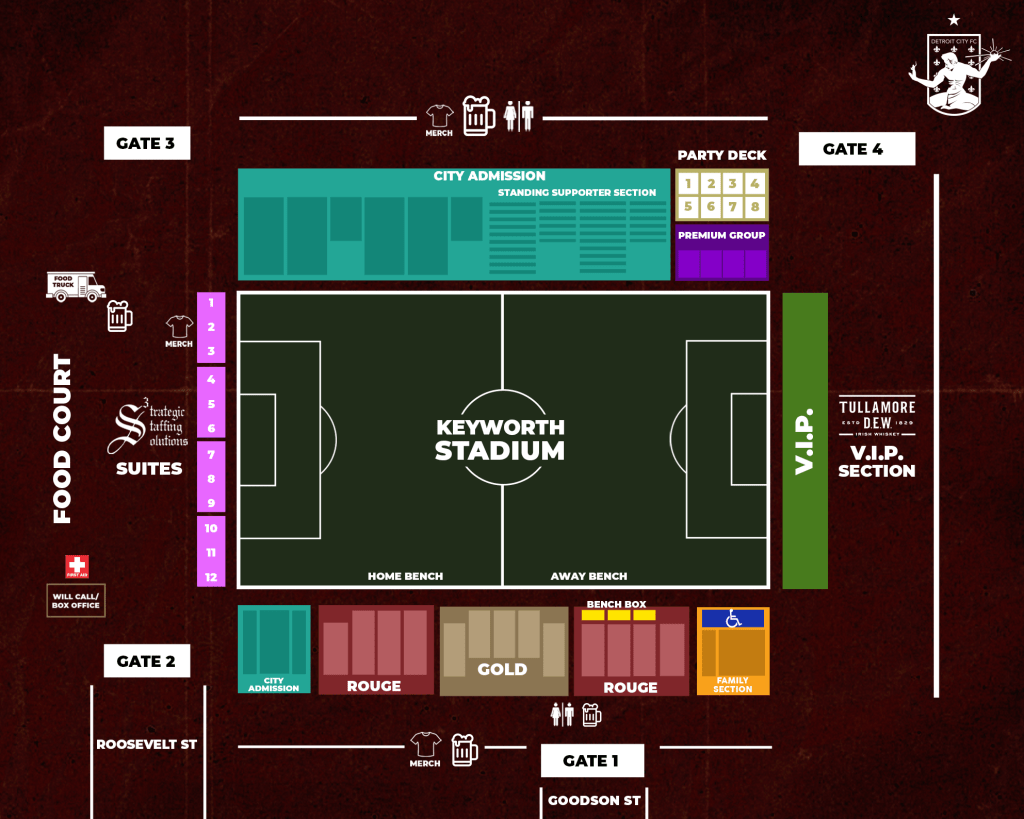 Please note and share this critical information:

Apparel with profanity, actual or implied, is prohibited at all Detroit City FC home matches. Such attire will not be allowed inside Keyworth Stadium.
Please leave those items at home.
Location
Located at 3201 Roosevelt Street in Hamtramck, MI., Keyworth Stadium is situated in the heart of the most diverse and dense city in the state. For information on parking and other transportation options, check out our map and additional details below.
Stadium layout and resources
Keyworth Stadium is fully equipped with amenities to make your visit as comfortable as possible. Restrooms are located under the west grandstand, as well as temporary facilities placed behind the east grandstand. If you need assistance while at the stadium please ask any of the DCFC staff who are on hand to assist you.
Concessions: Keyworth will be serviced by revolving food trucks at each match, with delicious options ranging from Hamtramck staples like Amicci's Pizza, Balkan House, and Srodek's, to DCFC regulars like Pablo's Tacos, Slow's 2 Go, and the Detroit City Clubhouse. To quench their thirst, DCFC supporters will be able to purchase Cintron energy drinks, Faygo pop, or adult beverages from Brew Detroit, Tullymore Dew and Detroit City Distillery inside the stadium.
Gate Opening Times: Gates open 90 minutes prior to kickoff for regular season and friendly matches and close 30 minutes following the match.
Merchandise: DCFC merchandise can be purchased at all home matches at our merchandise shop located at the north end of the stadium and underneath the west grandstands. Cash and most major credit cards are accepted for payment. You can also visit our online store at detcityfcstore.com.
Ticket Sales: General admission tickets are discounted in advance. Prices increase on matchdays.
Tullamore D.E.W. VIP Section: The Tullamore D.E.W. VIP Section is located at the south end of the stadium and offers on-field seating, two drink tickets and one food voucher.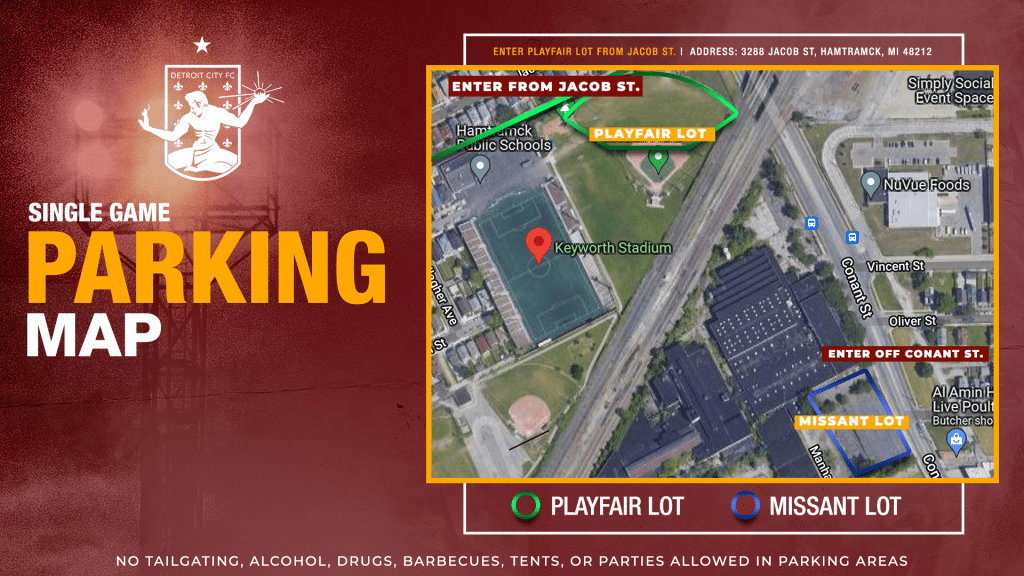 Parking on matchday
Fowling Warehouse: We are happy to partner with our Official Prematch Bar to provide free parking on matchday. The Fowling Warehouse (3901 Christopher St) parking lot is accessible via Christopher Street. We recommend getting to Fowling Warehouse early to partake in prematch festivities with fellow City faithful. Parking is NOT permitted off of Christopher Street. Cars will be towed and ticketed if parked. Tailgating is not permitted outside.
Playfair parking: Access to the Playfair lot is via the alley of Jacob street. These spots must be purchased on-line through SeatGeek. No cash transactions.
Veterans Park: Accessible parking is available here.
Missant Plant: Additional parking is available at the Missant Plant with the entrance off Conant (8610 Conant). These spots must be purchased on-line through SeatGeek. No cash transactions.

Residential street parking: Residential parking is available on select streets surrounding Keyworth. Parking is NOT permissible on Goodson Street, Roosevelt Street and Gallagher Street south of Jacob Street, as these streets are reserved for residents.
Hamtramck Town Center Shopping Center: Parking is also available at the Hamtramck Town Center Shopping Center off of Joseph Campau and Holbrook Ave, which is approximately 0.4 miles away from Keyworth Stadium.
Stadium Rules
We remind fans that we are guests at Keyworth Stadium. The following rules have been established to ensure that we show respect to the facility, our neighbors, our fellow opponents on the pitch, and to all fans who support Le Rouge.
Discriminatory language (speech that is derogatory in nature based on an individual's race, age, disability status, gender identity, gender expression, religion, sexual orientation, trans status, nationality or ethnicity) will not be tolerated. Behavior of this nature will result in immediate ejection from our facility and a ban from attending future matches.
When talking about broad groups and issues, banner messaging should be be positive in tone in support of causes so as not to alienate individual members of our community. (ie "Solidarity for Ukraine", as opposed to "Down with Russia" as that could alienate Russian-American supporters of the club or the broader community).
Verbal abuse of players, staff or other fans will result in a warning. If further abuse occurs, subject will be ejected from the facility.
Smoking is not permitted inside Keyworth Stadium.
Fighting of any kind or throwing objects onto the field of any kind will result in immediate ejection from the field and may result in being banned from returning to future matches.
Violence against players, staff or fans may result in any/all of the following including but not limited to being banned from all future DCFC matches, arrest, and legal action.
Incendiary devices and smoke flares that cause an open flame are prohibited. Gloves must be worn when operating smoke devices and a team-issued waiver must be signed. Setting off smoke devices during the run of play is not permitted.
Collapsible strollers are permitted inside Keyworth Stadium.
No pets are allowed inside Keyworth Stadium.
Have a good time, stand and scream your heart out in support of DCFC, but don't be a jerk, don't be that guy, don't give us a reason to keep you from enjoying your next DCFC match.
All bags and purses are subject to search upon arrival at Keyworth Stadium.
Large cameras, large lenses and tri-, uni-, or mono- pods are prohibited at Keyworth Stadium. All cameras and lenses must be able to fit inside a small bag.
Absolutely NO outside food, beverages or coolers are allowed inside the stadium.
Large umbrellas, golf umbrellas and umbrellas with metal tips are prohibited at Keyworth. Small umbrellas are allowed inside.
Empty water bottles are allowed inside the stadium for use at the water fountain located under the west grandstands. Empty containers are subject to search upon arrival.
Apparel with profanity is prohibited at all Detroit City FC home matches. Such attire will not be allowed inside Keyworth Stadium.