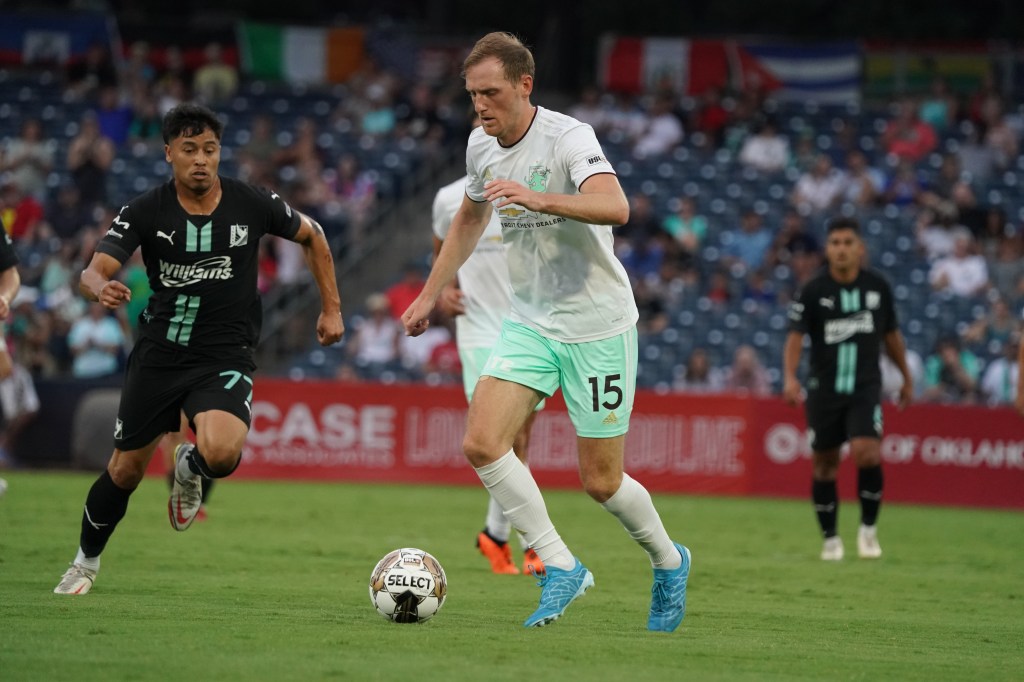 Tulsa, Oklahoma – Le Rouge fell to FC Tulsa by a score of 3-2 in a back-and-forth match that saw both sides hold the lead at points during the match. With this loss, DCFC has suffered back-to-back losses that see them fall out of a playoff spot at the moment. This is also the first match they have conceded more than one goal since their loss to Tampa Bay in May.
Manager Trevor James would line up Le Rouge in their usual 3-5-2 shape while
handing a first professional start to academy graduate Dominic Gasso who would replace the injured Abdoulaye Diop. Along with Matthew Lewis making his return to the DCFC starting lineup since going down injured on the road to Louisville City FC in April.
Tulsa's Manager Blair Gavin would make two changes to his team replacing Bromstedt, and Epps in favor of Fernandez, and Tetteh. While opting for a 5-2-3 formation instead of a 4-4-1-1 reinforcing his backline following their 4-0 loss to Memphis 901.
It would be a cagey first ten minutes to the match with both sides looking to find runners in behind with long balls, but not fashioning any chances that would challenge either of the keepers.
The first chance of the match would come in the 10th minute with Eric Bird finding himself in behind the DCFC backline on the right flank, cutting a ball back in an attempt to find Goodrum before Matthew Lewis would cut the chance out making a big clearance to deny a clear cut chance for Tulsa.
Two minutes later Steinwascher would be called into action as Goodrum of Tulsa would find himself free in the 18-yard box one on one with Steinwascher, but Steinwascher would remain big to produce a huge save keeping the match level.
In the 35th minute, Eric Bird of FC Tulsa would find himself in behind from a long ball again, before being met by a sprinting Steinwascher who would end up taking down the Tulsa captain resulting in a yellow card to Steinwascher, and a penalty to Tulsa that would be converted by Goodrum to give the hosts the lead.
Le Rouge would be quick to respond as in the 40th minute they would find themselves with a free kick on the right side of the 18-yard box that Maxi Rodriguez would whip into the back post finding the head of Devon Amoo-Mensah who would head the ball across the six-yard box finding a crashing Matt Lewis whose first header would be saved and pushed back to him allowing him to hit a scissor kick that would find the back of the net and give DCFC their equalizer as they headed into halftime.
In the second half, it would be a slow first 15 minutes to the half with both teams struggling to challenge the opposing goalkeepers and the flow of the game being stopped multiple times due to an array of yellow cards being handed out.
DCFC would take the lead for the first time in the 74th minute as Conner Rutz would float a free kick over everyone's head into the back post that would find Captain Stephen Carroll who would be able to tap the ball into an empty net from a yard out.
In the 82nd minute, Tulsa would get their equalizer hitting DCFC on the counter through Dyer on the right wing who would clip a ball into the 18-yard box that would drop to Goodrum nodding home the equalizer with a diving effort.
Just seven minutes later Tulsa would find their winner as Goodrum, and Substitute Epps would combine with some brilliant combination play, as Epps would slip a ball into Goodrum's feet who would cleverly craft a brilliant backheel that Epps would clinically roll into the bottom right corner to secure Tulsa the three points.
DCFC will look to get back on track as they remain on the road, heading out west, to take on New Mexico United on the 8th of July. Streaming will be available on ESPN+.
DCFC Starting Lineup: Steinwascher (GK), Amoo-Mensah, Lewis, Carroll (C), 87' Williams, Fisher, 79' Gasso, Rodriguez, 87' Rutz, 67' Simonsen, 67' Morris
DCFC Used Subs: 67' Suarez, 67' Matthews, 79' Bryant, 87' Ballard, 87' Levis
Goalscorers: 40' Lewis, 74' Carroll
Bookings: 35' Steinwascher, 54' Gasso, 57' Carroll
Tulsa Starting Lineup: Nelson (GK), Malou , Fernandez, Ruxi, Tetteh, Yousef, McCabe, Bird (C), 90' Dyer, 61' Ferri, Goodrum
Tulsa Subs: 61' Epps, 79' Haji, 79' Pearson, 90' Armour
Goalscorers: 36' 82' Goodrum, 89' Epps
Bookings: 54' Dyer, 58' Yosef
For more information about Detroit City FC, visit detcityfc.com and follow @DetroitCityFC on Twitter and Facebook and @detroitcityfootballclub on Instagram.
##DCFC##
Please send all media inquiries to media@detcityfc.com.
Primary Media Contact: Jarrett Maki
(Sports Information Director, Jarrett.Maki@detcityfc.com)