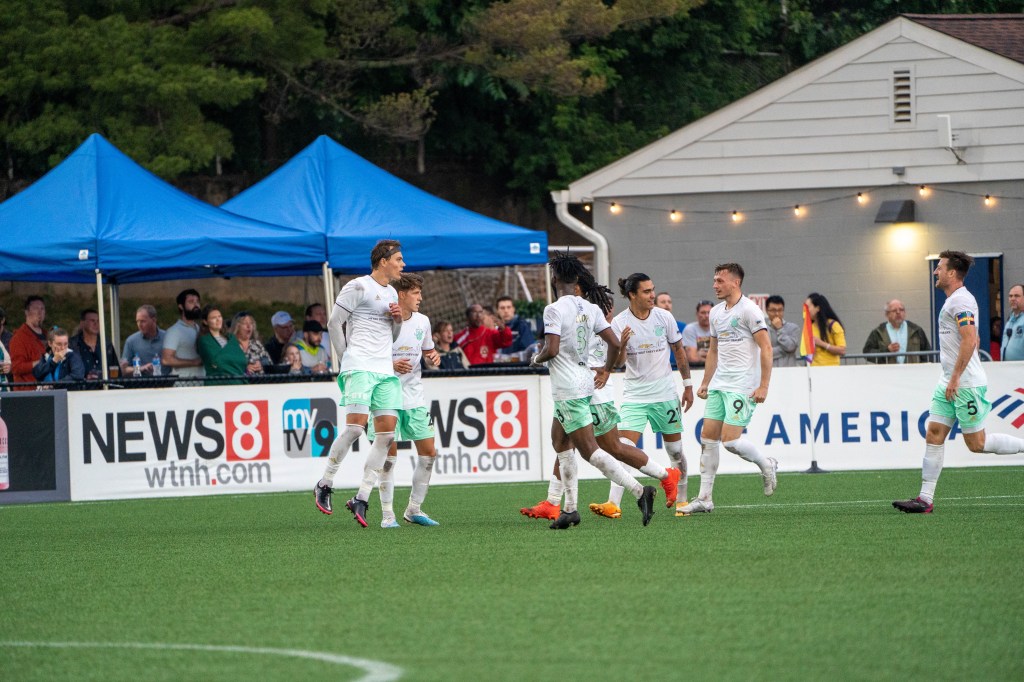 Hartford, Connecticut – Detroit City FC continued their stretch of matches on the road, this time heading to Connecticut to face off against Hartford Athletic, who currently sit at the bottom of the Eastern Conference. Le Rouge is heading to Memphis with all three points after winning the match 3-1, thanks to a brace and assist from striker Ben Morris.
Manager Trevor James elected to field an unchanged starting 11 from their previous nil-nil draw against Charleston Battery.
Hartford. Manager Tab Ramos was forced to make one change to his previous starting 11, as new signing Edgardo Rito replaced the suspended Triston Hodge who picked up two yellow cards in their previous match against Indy Eleven.
It would be a cagey first 15 minutes of the match with no chances being created and most of the play happening in the midfield.
In the 19th minute, Abdoulaye Diop would take the first chance of the game, firing a shot from 25 yards out that would take a deflection, and go bobbling towards the bottom left corner calling on Joe Rice of Hartford to make a diving save.
DCFC would continue to sustain their pressure, as just three minutes later Morris would receive the ball on the top of the 18-yard box and fire a shot that was deflected wide for a corner.
In the 24th minute DCFC would open the scoring as forward Ben Morris and midfielder Connor Rutz would combine with a brilliant pair of one-touch passes on the top of the 18-yard box that would see Morris find himself free from ten yards out to roll the ball past Rice, and give DCFC a 1-0 lead. This was Morris' first goal for the club.
Ten minutes later DCFC would find themself on the right side of the touchline firing a ball across the six-yard box that would find Rhys Williams who would be brought down for a penalty by Hartford defender Rito before he could tap it in.
That penalty would be taken by Maxi Rodriguez who would fire the shot on target, into the bottom left corner, but a diving Rice would manage to make a fingertip save to deny DCFC a second goal at the time.
The action would continue as Hartford in the 36th minute would float a ball into the 18-yard box that Steinwascher would come up to claim before being contested in the jump fumbling the ball, but managing to dive on the second ball before it would cross the goal line.
In the following attack, Hartford would get back into the game from a goal kick that would fall to Edwards, who would drive into the DCFC half. He would then square the ball across to Saydee whose miscontrol would roll its way to former DCFC man, Antoine Hoppenot who would find himself free and strike the ball into the back of the net from just outside the six-yard box, opening his account for the season and scoring his first goal for Hartford.
DCFC would quickly respond just six minutes later in the 43rd minute, as Simonsen, and Morris would combine again. The ball would drop to Morris in the 18-yard box after Hartford struggled to clear the ball and he would find Simonsen to his left who would clinically roll the ball into the bottom right corner to restore DCFC's lead as they headed into halftime.
In the 58th minute, DCFC would find their third goal of the evening. An accurate goal kick from Steinwascher would be flicked on by Simonsen to a flashing Williams who would race down the left flank and fire a ball across the six-yard box finding a free Morris who needed just one touch to finish and secure his brace.
Manager Trevor James would look to his bench for the first time in the 62nd minute, bringing on Yazeed Matthews for Skage Simonsen and giving new signing Brett Levis his first DCFC appearance as he would come on for Rhys Williams.
Five Minutes later substitute Yazeed Matthews would look to set up Ben Morris for a hat trick, bringing down a cross with one touch and leaving it for Morris who would fire a shot from the top of the 18-yard box into the hands of Rice.
In the 79th minute, Trevor James would utilize the bench for the final time bringing on Dario Suarez for Ben Morris.
With this win, DCFC makes it four consecutive matches unbeaten, and climbs up to eighth in the Eastern Conference. Le Rogue will be back in action this weekend as they head to Memphis to face off against red-hot Memphis 901 FC who have won their last four matches. Streaming will be available on ESPN+.
DCFC Starting Lineup: Steinwascher (GK), Amoo-Mensah, Bryant, Carroll (C), Williams, Fisher, Diop, Rodriguez, Rutz, Simonsen, Morris
DCFC Used Subs: 63' Levis, 63' Matthews, 79' Suarez
Goalscorers: 24', 59' Morris, 43' Simonsen
Bookings: 65' Matthews, 68' Rutz, 74' Rodriguez
Hartford Starting Lineup: Rice (GK), Logue (C), McGlyyn, Rad, Hoppenot, Merrill, Rito, Torres, Sheldon, Saydee, Edwards
Hartford Subs: 46' Lewis, 79' Amoh, 83' Barrera, 83' Apollon
Goalscorers: 37' Hoppenot
Bookings: 34' Rito, 42' Edwards, 45' Hoppenot
For more information about Detroit City FC, visit detcityfc.com and follow @DetroitCityFC on Twitter and Facebook and @detroitcityfootballclub on Instagram.
##DCFC##
Please send all media inquiries to media@detcityfc.com.
Primary Media Contact: Jarrett Maki
(Sports Information Director, Jarrett.Maki@detcityfc.com)