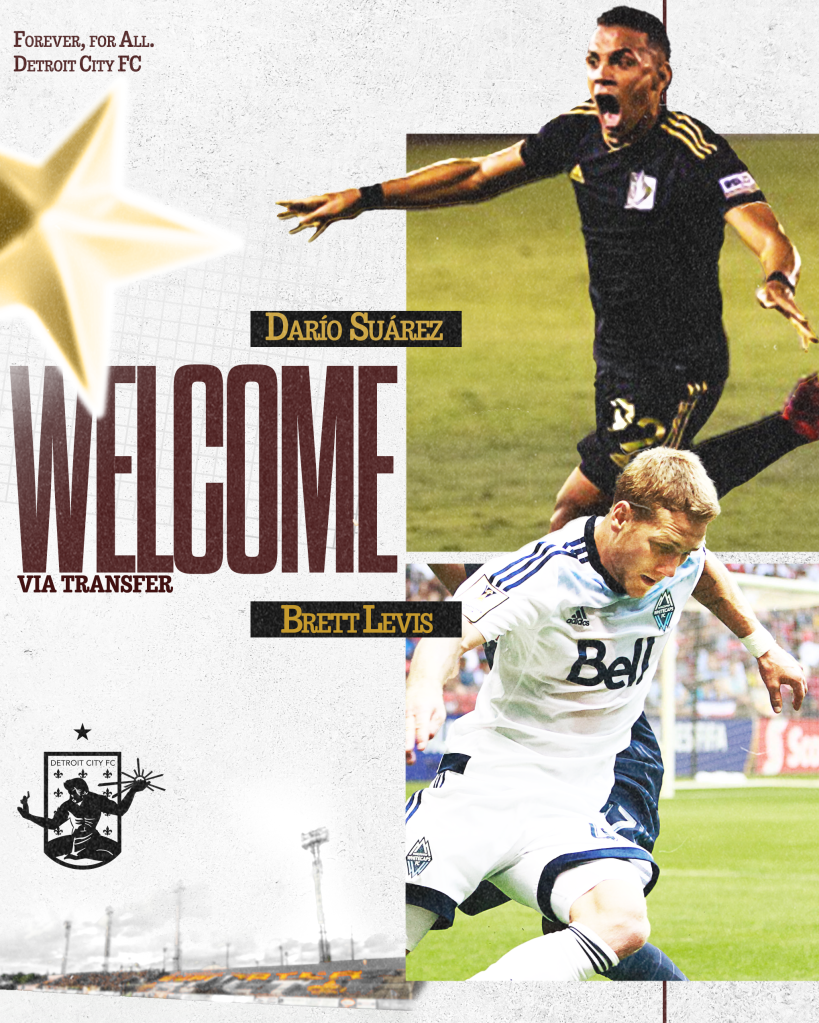 Detroit, Michigan — Today, Detroit City FC announced it has acquired forward Dario Suarez and defender Brett Levis via transfer from fellow USL Championship club FC Tulsa. In a corresponding transaction, the club has transferred midfielder Tommy McCabe to FC Tulsa for an undisclosed fee. Suarez will wear #92 and Levis will wear #17 as they join Le Rouge.
McCabe joined Le Rouge ahead of the 2023 season and made 11 appearances for Le Rouge, starting in ten matches and totaling 928 minutes of play. McCabe created eight chances and completed 77% of his pass attempts for Detroit City FC.
Dario Suarez will be a familiar name to longtime fans of Detroit City FC. Suarez, a native of Cuba, has faced off against Le Rouge as far back as the club's days in the National Premier Soccer League with AFC Ann Arbor. Since then, Suarez has made USL Championship appearances for Miami FC and FC Tulsa.
Suarez joined FC Tulsa in December 2019 and has made just under 100 appearances. 2022 saw Suarez make 23 starts in the league with 31 appearances where he would score nine goals and register five assists. In 2023, Suarez currently has two goals in five starts. Suarez departs from FC Tulsa as their second-leading all-time goalscorer.
Also making the switch to Le Rouge is Canadian defender Brett Levis. 2023 is Levis's first season at FC Tulsa and he's made 8 appearances so far this season, completing 81% of his pass attempts and creating four chances.
Previously Levis has had stints at Valour FC in the Canadian Premier League where he played for three seasons before joining FC Tulsa and he began his senior career at the Vancouver Whitecaps of Major League Soccer. Levis spent 2013-2020 in the Whitecaps' system, these years saw him make 24 appearances in MLS, being named to the starting eleven on 16 occasions.
For more information about Detroit City FC, visit detcityfc.com and follow @DetroitCityFC on Twitter and Facebook and @detroitcityfootballclub on Instagram.
##DCFC##
Please send all media inquiries to media@detcityfc.com.
Primary Media Contact: Jarrett Maki
(Sports Information Director, Jarrett.Maki@detcityfc.com)