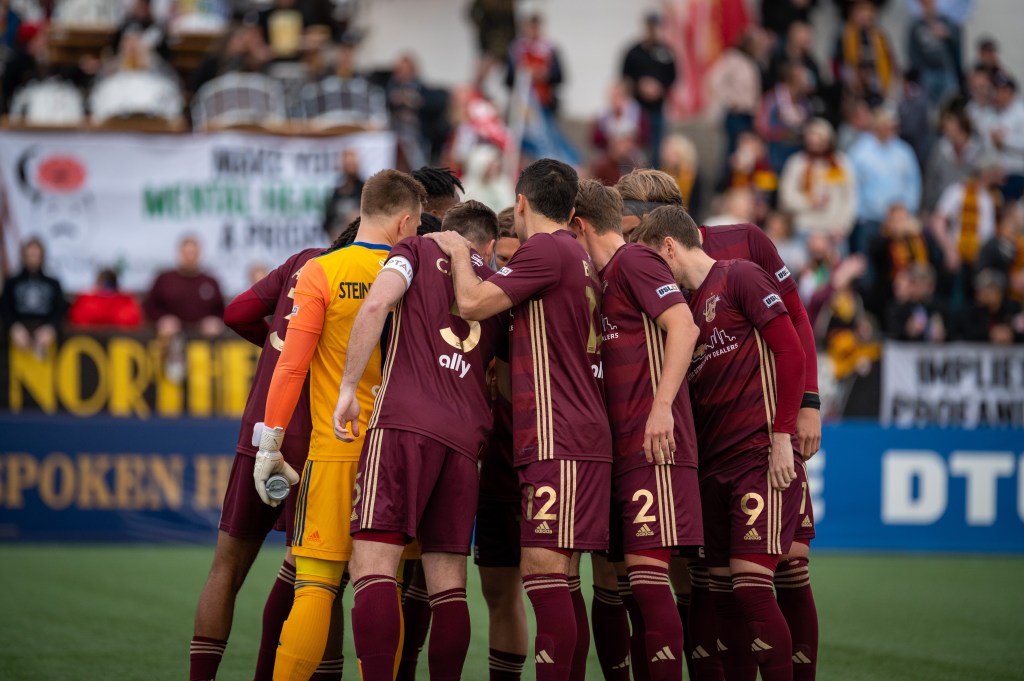 Stream (ESPN+) | DCFC Match Notes | Tampa Bay Rowdies Match Notes | 2023 DCFC Roster | USL Championship Notes
Detroit, Michigan — Detroit City FC is back on the road on Saturday night in the USL Championship after enjoying a mini-home stand of matches as the club travels to take on the Tampa Bay Rowdies at Al Lang Stadium in St. Petersburg, Florida. Kickoff is scheduled for 7:30 PM and the match will be streamed on ESPN+.
Le Rouge makes the trip to the Sunshine State fresh from a 1-1 draw with FC Tulsa last weekend. Detroit City FC would take the lead early, thanks to a well-placed strike from midfielder Abdoulaye Diop who pounced on a miscontrolled ball and put his foot behind it, beating the Tulsa goalkeeper in the 10th minute of the match.
Detroit City FC would hold onto the lead until the 45th minute when an unlucky handball was called against defender Micheal Bryant. FC Tulsa would not miss from the spot with #92 Dario Suarez calmly placing the ball into the back of the net to level the match. It would end in a 1-1 draw and the points would be shared.
It hasn't been long since the Tampa Bay Rowdies and Detroit City FC squared off against one another with the most recent matchup coming just two weeks ago when the Rowdies won by a score of 1-0 at Keyworth Stadium thanks to a late penalty in the second half.
In their match since, the Rowdies defeated Phoenix Rising FC of the Western Conference by a score of 2-0 at home. While the visiting Phoenix Rising would dominate the possession, 62% to 38%, the Rowdies would get off 22 shots, double that of their opponents who only managed 11.
The Rowdies currently sit in 6th place in the Eastern Conference and boast a record of 3-2-4, amassing 11 points from nine games. Last season the Rowdies finished 3rd in the Eastern Conference and made it to the Eastern Conference Finals where they would lose 1-0 to Louisville City FC.
Last season when these two sides met at Al Lang Stadium, it was the Rowdies who took all three points in a tight 1-0 win which saw Detroit City FC goalkeeper Nate Steinwascher make seven saves throughout the course of the match. Le Rouge would ultimately let in a goal in the 64th minute when Steevan Dos Santos found the back of the net to give his squad the victory.
For more information about Detroit City FC, visit detcityfc.com.com and follow @DetroitCityFC on Twitter and Facebook and @detroitcityfootballclub on Instagram.
##DCFC##
Please send all media inquiries to media@detcityfc.com.
Primary Media Contact: Jarrett Maki
(Sports Information Director, Jarrett.Maki@detcityfc.com)