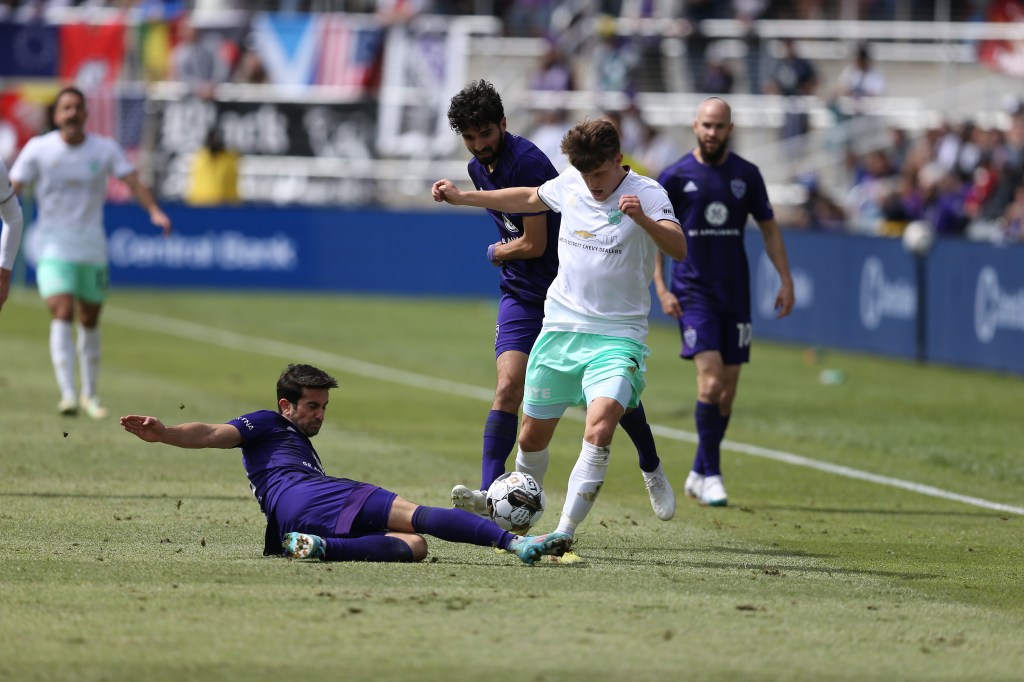 Match Stats | Extended Highlights
Louisville, Kentucky – It was another frustrating afternoon for Detroit City FC on the road to Louisville City FC in the USL Championship as Le Rouge spent most of the match on the back foot. Despite this, Detroit City FC seemed to have weathered the storm before the hosts found the back of the net on a corner-kick routine in the 80th minute to claim all three points.
Detroit City FC began the match well, controlling possession and generating their own attacking chances, most notably when #9 Ben Morris picked the pocket of Joshua Wynder and found himself through on goal. Still, Wynder recovered well to make the angle difficult for Morris who pulled his strike just wide.
From there, Louisville City FC would begin to assert their dominance and prove themselves as the defending USL Eastern Conference champions, making life difficult for the Detroit City FC backline who stood tall, mostly through #1 Nate Steinwascher who was named the Man of the Match thanks to his six saves.
Le Rouge was put into an uncomfortable position and forced into a first-half substitution as defender Matt Lewis had to be replaced by Jalen Robinson in the final minutes due to a lower-body injury.
The second half would be more of the same as Louisville City FC moved the ball around the pitch with ease, creating chances and playing the match on the front foot. This pressure on the Detroit City FC backline would culminate in a flurry of chances as we entered the final fifteen minutes of play.

Then, disaster would strike for Detroit City FC as Louisville City FC earned a corner before the clock ticked through 79 minutes. At first, the Le Rouge backline would clear the corner but only as far as a Louisville City FC player who played a brilliant ball into the area and Wilson Harris put the finishing touch to make the score 1-0 to Louisville City FC.
Detroit City FC is next in action on Saturday, April 15 when they are once again on the road to The Miami FC with kickoff scheduled for 7 PM.
Scoring Summary:
LOU- Wilson 80'
For more information about Detroit City FC, visit detcityfc.com.com and follow @DetroitCityFC on Twitter and Facebook and @detroitcityfootballclub on Instagram.
##DCFC##
Please send all media inquiries to media@detcityfc.com.
Primary Media Contact: Jarrett Maki
(Sports Information Director, Jarrett.Maki@detcityfc.com)