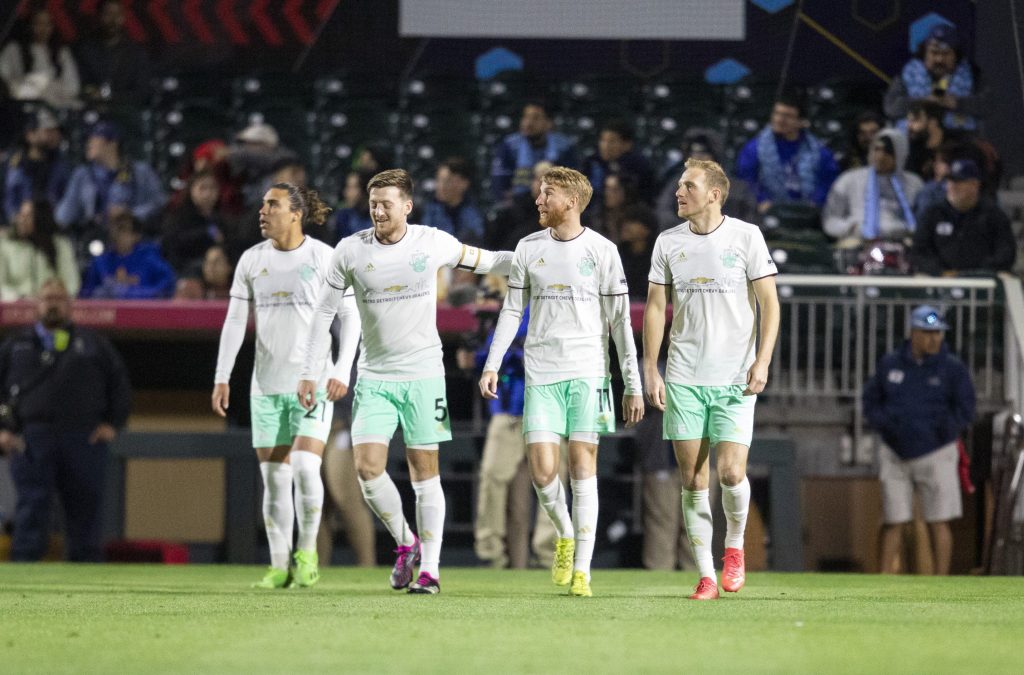 El Paso, Texas – Detroit City FC won their first match of the 2023 USL Championship season on Saturday night in El Paso, Texas against the El Paso Locomotive by a score of 3-1 thanks to a red-hot attack in the second half on an unusually cold night in Southern Texas.
Le Rouge began the scoring inside ten minutes as Connor Rutz, deployed this evening as a right-wingback, found himself in acres of space following a clever ball played across to him. Rutz would take advantage of this space by taking a powerful shot on the half-volley which took a deflection off of El Paso Locomotive's Yuma and into the back of the net, giving Le Rouge a 1-0 lead on an own goal.
This lead would last less than ten minutes for Detroit City FC as the hosts would find the equalizer just ten minutes later thanks to a brilliant header by El Paso's Denys Kostyshyn following a deflected cross off of the foot of Stephen Carroll.
Following the equalizer, El Paso would do well to take advantage of the momentum and control the phase of play right before the half. This match would remain tied going into the break with a 1-1 scoreline.
Detroit City FC would break this 1-1 deadlock in the 61st minute when Skage Simonsen had time and space on the ball, got his head up, and spotted a brilliant run by Yazeed Matthews who took a touch before calmly finishing past the El Paso keeper to put Le Rouge up 2-1.
Le Rouge would not take their foot off of the gas just yet as they pressed on for a third goal to put the match to bed. They would do just that as Maxi Rodriguez put his foot through the ball and picked out the top left corner with an excellent strike to make the score 3-1.
Detroit City FC would see this scoreline out, earning their first win of the season.
Le Rouge next takes the pitch on March 25 in their 2023 home opener as they welcome Indy Eleven FC of the Eastern Conference to Keyworth Stadium. Kickoff is scheduled for 4 PM and tickets can be purchased at this link.
For more information about Detroit City FC, visit detcityfc.com.com and follow @DetroitCityFC on Twitter and Facebook and @detroitcityfootballclub on Instagram.

Goal Summary:
DET – Yuma – El Paso Locomotive FC (Own Goal) – 9'
ELP – Denys Kostyshyn (Unassisted) – 17'
DET – Yazeed Matthews (Simonsen) – 61'
DET – Maxi Rodriguez (Unassisted) – 77'
##DCFC##
Please send all media inquiries to media@detcityfc.com.
Primary Media Contact: Jarrett Maki
(Sports Information Director, Jarrett.Maki@detcityfc.com)