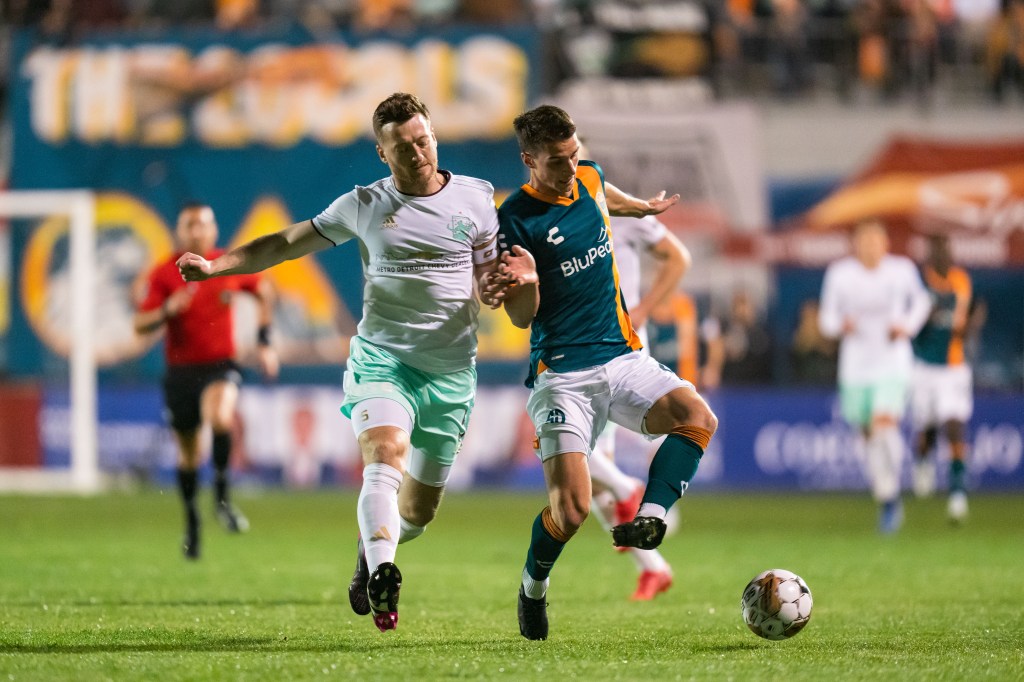 San Diego, California – Detroit City FC began their 2023 USL Championship campaign on a misty, slippery, and tricky night on the road to San Diego Loyal SC of the Western Conference, dropping their opening match by a score of 1-0.
Throughout the first half Le Rouge, and its new-look attack thanks to the additions of Skage Simonsen, Richard Ballard, and a newly utilized Cy Goddard, looked competitive and attacked the game on the front foot, looking to exploit channels of space left by the hosting Loyal. This led to a handful of half-chances, mostly from outside the area by strikers Yazeed Matthews and Skage Simonsen.
It was an end-to-end half as both sides wanted to show off their hard work in the offseason had paid off on Matchweek 1. This end-to-end nature would see quick counter-attacks by both sides, eventually culminating in the only goal of the evening.
As the first half drew to a close, San Diego Loyal found themselves on the attack, looking to break down the ever-strong Le Rouge backline, after constant pressure on the outside of the Detroit City FC penalty area, the ball finally fell kindly to Jackson Kasanze of San Diego who had a shot that broke the deadlock and put his side up by a score of 1-0, a lead they would see out for the remainder of the match.
The second half would not be without its chances, though. On a couple of occasions, goalkeeper Nate Steinwascher was called into action to keep the score at 1-0 so his teammates could continue the push for an equalizer. Detroit City FC would nearly find an equalizer twice in the second half of play.
Arguably Detroit City FC's best chance of the match came in the 53rd minute when Skage Simonsen turned his defender inside of the Loyal penalty area and attempted to beat San Diego's Koke Vegas at the far post and forced an excellent save out of the keeper.
Then, in the dying moments of the match, fullback and eventual Man of the Match Rhys Williams found himself in the San Diego penalty area and played an excellent ball across the face of the goal which just missed the feet of his attacking teammates. San Diego weathered the storm and claimed all three points by a score of 1-0.
Detroit City FC will be on the road yet again next weekend, facing off against another Western Conference opponent, the El Paso Locomotive. Kickoff for next weekend's match is scheduled for 9:30 PM Eastern. Streaming will be available on ESPN+.
For more information about Detroit City FC, visit detcityfc.com.com and follow @DetroitCityFC on Twitter and Facebook and @detroitcityfootballclub on Instagram.
Goal Summary:
SD – Jackson Kasanze (Unassisted) – 42'
##DCFC##
Please send all media inquiries to media@detcityfc.com.
Primary Media Contact: Jarrett Maki – (Sports Information Director, jarrett.maki@detcityfc.com)