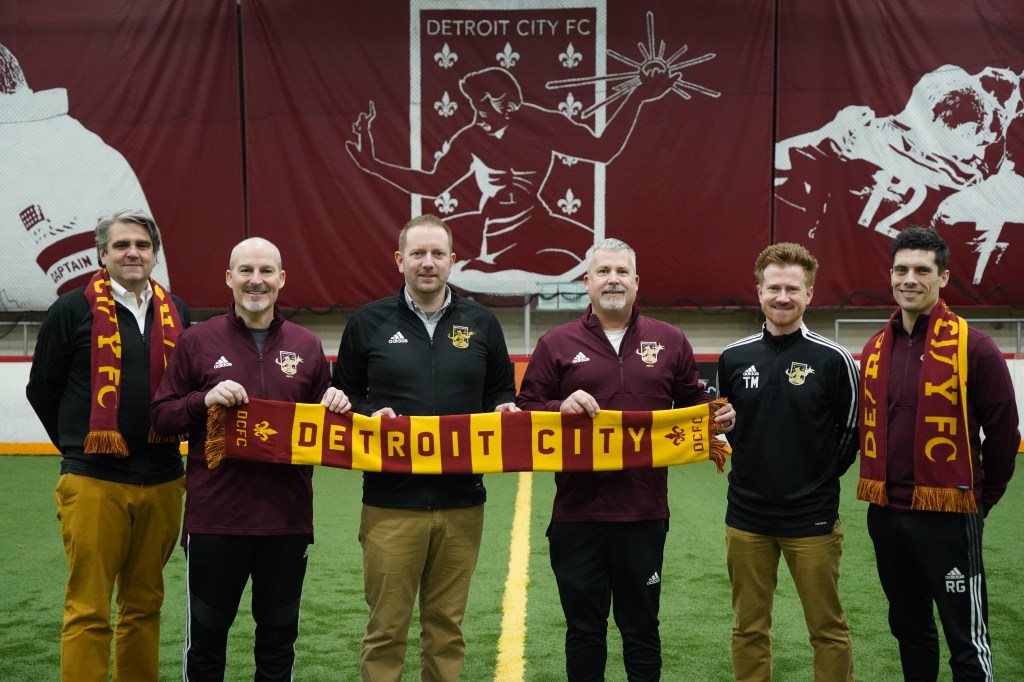 DETROIT, Michigan – Detroit City FC and the Saginaw Township Soccer Association (STSA) have announced a multi-faceted youth affiliation that includes the STSA premier and select program joining the DCFC youth affiliates as Detroit City FC Youth North.
The affiliation allows Detroit City FC and the Saginaw Township Soccer Association to combine resources and serve a larger geographic area, providing additional accessible soccer development and training opportunities for all skill levels across Mid-Michigan.
The partnership includes a structured player development pathway all the way to Detroit City FC's first teams on both the men's and women's sides for STSA's numerous players who compete across a variety of premier travel and recreational soccer teams. As DCFC Youth North, the club will be able to provide soccer programs tiered for grassroots, select/premier, high school and college play, semi-pro, and professional levels. The program will have a top-down, high-level developmental approach that will include new curriculum and standards. Saginaw Township Soccer Association will transition to donning Le Rouge & Gold starting at the youth tryouts on June 10 and 11.
"We believe that every youth player across Metro Detroit and beyond deserves a club that they will never outgrow," said Detroit City FC COO Todd Kropp. "This partnership provides a very clear and defined path for even more kids in Michigan to their state's first team. Having these great Youth Affiliates as a part of Detroit City is such an integral part of not just growth on the pitch but who we are as a Club."
"This change aligns with like-minded soccer philosophies that already exist between the two organizations. An affiliation with DCFC will ensure a bright future for the club. I am excited about continuing to offer affordable, competitive, community-based soccer to the families of Saginaw County. Over the years we've grown and maintained those core values but the soccer landscape in Michigan is changing and our club is growing. Ultimately, development is up to the individual player, but this opportunity will give every player at our club a clear path in their soccer journey." said Matt Solek, STSA President / DOC
"This is such a wonderful opportunity for the Great Lakes Bay Region. The fact that the Saginaw Township Soccer Association (STSA) has been selected by Detroit City FC, the state's only Elite Professional Soccer Club as their "North" base, will give our kids such incredible opportunities. We're now the only club in this area that offers a full pathway for all players from Mini Kickers, Recreational & Travel Soccer to Professional Academy and College Level Soccer. In addition, STSA also has an outstanding TOPSoccer program for players with special needs. The cherry on the top is the fact that our STSA Leadership and Board have achieved this without raising prices for our families. I'm very proud to be the Technical Director of both these great organizations, who put their communities and inclusivity first, in an affordable way. I look forward to hosting the DCFC Camp with some of the professional players who will be making an appearance at our complex" said Ross Gibson, Technical Director.
DCFC North will remain an independently run, non-profit community club, and DCFC will tap its professional approach and year-round commitment to the grassroots game to enhance the experience of club players.
Le Rouge recently announced the addition of the USL Academy program under which female and male players from U13, U15 to U20 will compete in the USL Academy Cup and the USL Academy League. Team rosters will feature top players from the DCFC Youth Affiliate system, along with top collegiate and amateur players at the U20 level.
DCFC North will be the sixth youth affiliate joining City, Downriver, Genesee, South Oakland, and West as part of the DCFC Youth Affiliate system.
To learn more about DCFC North, visit their Facebook page and Detroit City FC Youth North or other social media platforms using the @dcfcnorth tag.
About Detroit City FC:
Founded in 2012, Detroit City FC has established itself as one of the most talked about soccer teams in North America. The club's motto, Passion for Our City, Passion for the Game, evokes the three ideas the grassroots organization was built upon: to satisfy the demand for soccer in Detroit, represent the city in a positive light, and build community through the beautiful game.
About Saginaw Township Soccer Association:
Saginaw Township Soccer Association has served the communities of Saginaw County and the Great Lakes Bay Region offering recreation and travel soccer programs for over 50 years. STSA sees this new affiliation with Detroit City FC as a way of maintaining its deep community roots while simultaneously embracing the future of youth soccer in Michigan. By partnering with Detroit's preeminent soccer brand to form DCFC Youth North, this reimagined soccer club will better serve youth soccer players across the region and the area, unifying soccer. 
For more information about Detroit City FC, visit detcityfc.com and follow @DetroitCityFC on Twitter and Facebook and @detroitcityfootballclub on Instagram.
##DCFC##
Please send all media inquiries to media@detcityfc.com.
Primary Media Contact: Jarrett Maki (Sports Information Director, jarrett.maki@detcityfc.com)