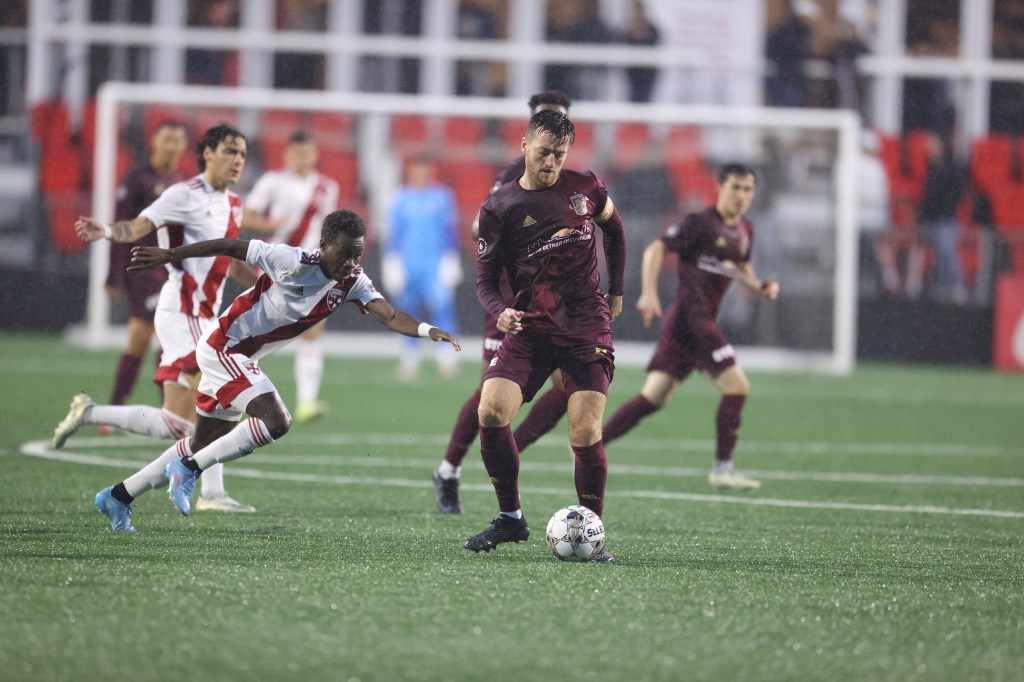 Leesburg, Virginia – In a fight for home field advantage for the playoffs, Detroit City Football Club (14-12-6) earned an important three points tonight in a 4-0 win away versus Loudoun United (8-3-21) at Segra Field on Saturday night.
Midfielder Maxi Rodriguez scored the team's first hat trick of the season to lead DCFC to the dominating win tonight. Rodriguez now leads the team with nine goals this season in league play.
On a slippery and wet night, City took the lead in the 8th minute. Quick passing down the right side started the play with defender Matt Lewis getting the ball to Rodriguez. Rodriguez then passed the ball to forward Yazeed Matthews, who did a give and go with midfielder Cy Goddard. Matthews took a long distance shot from top of the right side of the box that goalkeeper Luis Zamudio couldn't get a clean hand on the ball, giving Detroit the 1-0 lead. This was City's first goal outside of the box all season and Matthews second goal in the last two games.
Late into the first half, in the 41st minute, midfielder Abdoulaye Diop pressured the ball and it then fell to forward Francis Atuahene. Atuahene then passed a through ball that split the back line to a running Rodriguez, who took a right footed strike for his 7th goal of the season.
Goalkeeper Nate Steinwascher made two key saves to keep Loudoun off the scoreboard in the first half.
In the second half, Detroit continued to build on their lead, eventually finding two more goals to add to their total. In the 66th minute, on a set piece from the corner by forward Antoine Hoppenot, Matt Lewis rose up for a header which was sent into the path of #21 Maxi Rodriguez that Rodriguez was able to head directly into the back of the net for his second goal of the night.
Just four minutes later, for the third time in the game, Rodriguez scored easily on a pass from Hoppenot, who had drawn the goalkeeper out of the net at 70'. This was Hoppenot's team leading 11th assist on the season.
DCFC ended the night with 14 total shots, including six on target.
This Wednesday, Le Rouge will travel away to play Louisville City FC for a midweek matchup at Lynn Family Stadium in Louisville, Kentucky at 7:30pm, with streaming available on TV20 and ESPN+.
For more information about Detroit City FC, visit detcityfc.com.com and follow @DetroitCityFC on Twitter and Facebook and @detroitcityfootballclub on Instagram.
Goal Summary:
DET – Yazeed Matthews (Cy Goddard) – 8'
DET – Maxi Rodriguez (Francis Atuahene) – 41'
DET – Maxi Rodriguez (Matt Lewis) – 66'
DET – Maxi Rodriguez (Antoine Hoppenot) – 70'
##DCFC##
Please send all media inquiries to media@detcityfc.com.
Primary Media Contact: Alex Wright (Co-Owner | Chief Creative Officer, alex.wright@detcityfc.com)