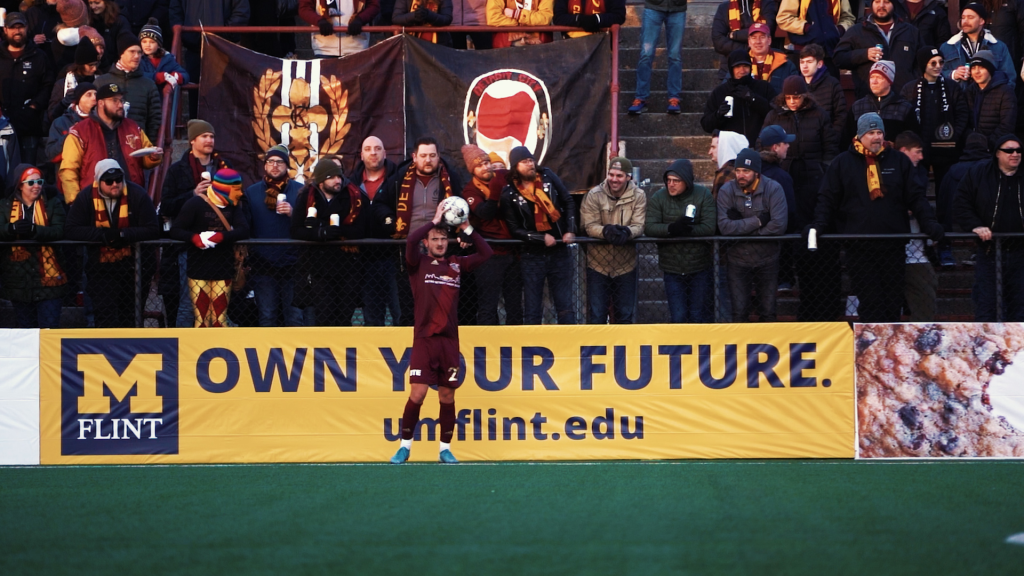 DETROIT, Michigan – Detroit City Football Club (DCFC) and the University of Michigan-Flint (UM-Flint) are partnering to provide education tools and resources for the DCFC community. Through this strategic partnership, DCFC players, full-time staff and coaches, alumni and community owners will receive tuition assistance at UM-Flint for full- and part-time study both on-campus and online. Additionally, student success resources will be available to DCFC community members, including student support services, recruitment visits, pre-admissions advising, on-site admissions, and more. UM-Flint and DCFC have a shared vision to facilitate academic access, and to promote higher education and talent retention throughout the state. 
"Uplifting our community through accessible education is at the core of the University of Michigan-Flint mission," explains Sonja Feist-Price, UM-Flint provost and vice-chancellor for academic affairs. "These expanded resources and services build on the commitment of support woven into the fabric of both UM-Flint and DCFC. We are proud to work alongside such dedicated partners in fostering excellence for our stakeholders."
"In the ever-evolving academic landscape, Detroit City Football Club is proud to partner with the University of Michigan-Flint to provide our community with resources to pursue high-quality education," said T.J. Winfrey, Chief of Partnerships at DCFC. "University of Michigan-Flint is a leader in diverse, flexible higher education experiences. We are excited to partner with them to deliver resources to the Detroit City Football Club community for years to come."
About University of Michigan–Flint: Part of the world-renowned University of Michigan, UM-Flint is a regional comprehensive university located in the heart of Flint, MI. UM-Flint is a vibrant and diverse learning community consistently recognized for academic distinction and superb value. With flexible, personalized coursework enhanced by hands-on, engaged learning opportunities, UM-Flint students graduate ready to lead and succeed in all situations.

About Detroit City Football Club: Founded in 2012, Detroit City Football Club has established itself as one of the most talked about soccer teams in North America. The club's motto, "Passion for Our City, Passion for the Game," evokes the three ideas the grassroots organization was built upon: to satisfy the demand for soccer in downtown Detroit, represent the city in a positive light, and build community through the beautiful game. Learn more at detcityfc.com.