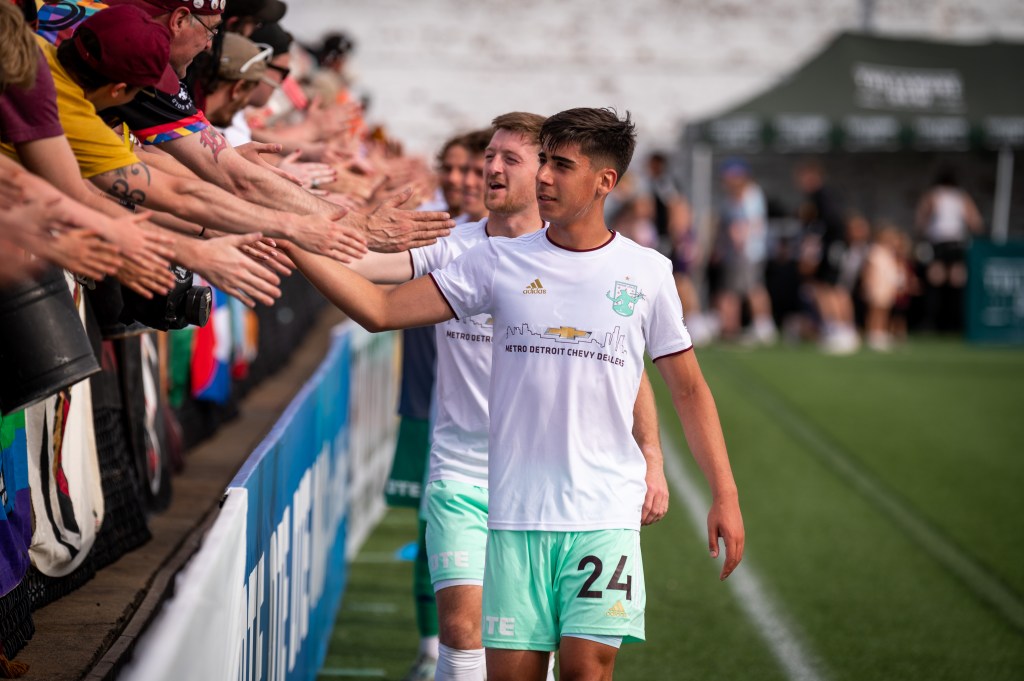 Earlier this season, Detroit City announced that they signed academy midfielder Dominic Gasso to a four and a half year contract, marking the longest contract for any player in Le Rouge history.
"It feels very good," Gasso said. "This is the club I want to play for, I don't want to just bounce around to clubs around the league. This is the perfect club for me at this level."
The 19 year old is also the first player to ever be signed professionally after making his way through the academy setup.
Manager Trevor James noted how big the moment is, not just for the professional club, but for all those looking to follow in Gasso's footsteps in the academy levels of Detroit City FC.
"It's great," James said. "Now for those guys, they can see somebody who's actually gone from the academy who is now playing in the First Team. It now gives them the opportunity to think I can do it if I put my mind to it and be as dedicated as he has been, there's no reason why there won't be others that follow."
Prior to this season, Gasso spent the spring of 2022 with Le Rouge's USL Academy Cup team which helped him understand what was to come in the USL Championship.
"It was a good experience," Gasso said. "We played four games together with a new group with local kids around Michigan. It was my first time having a real professional environment with the academy."
Gasso's hard work finally came together when Detroit downed the Birmingham Legion at Keyworth in late May. After halftime, he finally broke onto the pitch for his first prolonged action with the professional team after making a few appearances for a handful of minutes late in the 2022 season, playing the whole second half and helping Le Rouge to a 1-0 victory.
"I just played a role of just trying to finish up the game," Gasso said. "Secure the one-zero lead. We had chances in the second half. We could have scored a couple more but we held on. Trevor just told me to sit and defend basically. It was special."
While going from academy level soccer to the professional level makes for some difficult challenges, Gasso noted that teammate and defender Devon Amoo-Mensah has been critical in his development with the club.
"He lets me learn the lessons the hard way, which is the best way." Gasso said. "He lets me learn and he doesn't really like constantly talking to me, he just believes in me."
Since Gasso arrived in Detroit, Amoo-Mensah has seen immense growth from the Grand Blanc native on and off the pitch.
"From the first week he was here until now, he's made great strides in that short time," Amoo-Mensah said. "He's become a lot more confident on the ball and in his decision making. A younger guy hanging out with some older guys can also be a little bit of a challenge with the age and maturity difference but I think he's handled it quite well. We always give them a hard time naturally but know that he's dealt with the wall and kind of brushed it off at times and he stood up for himself. That's another thing you have to be able to do."
While this is just the beginning of Gasso's career with DCFC, he already has a couple goals set for himself while the next four and half years of his new contract play out.
"I obviously want to be a major piece of the team," Gasso said, "A long term goal for me is being the first player that they sell. That would be a very proud moment for me."
After singing his deal, Gasso made his first start in the USL Championship for Detroit City FC on the road to FC Tulsa on 6/30. Gasso played 80 minutes while completing 27 of his 33 pass attempts.
Catch Gasso and the rest of the squad when they return home to Keyworth Stadium on August 12 to take on Charleston Battery FC! Tickets are going fast for Saturday's 7:30 kickoff, get yours here!
For more information about Detroit City FC, visit detcityfc.com and follow @DetroitCityFC on Twitter and Facebook and @detroitcityfootballclub on Instagram.
##DCFC##
Please send all media inquiries to media@detcityfc.com.
Primary Media Contact: Jarrett Maki
(Sports Information Director, Jarrett.Maki@detcityfc.com)