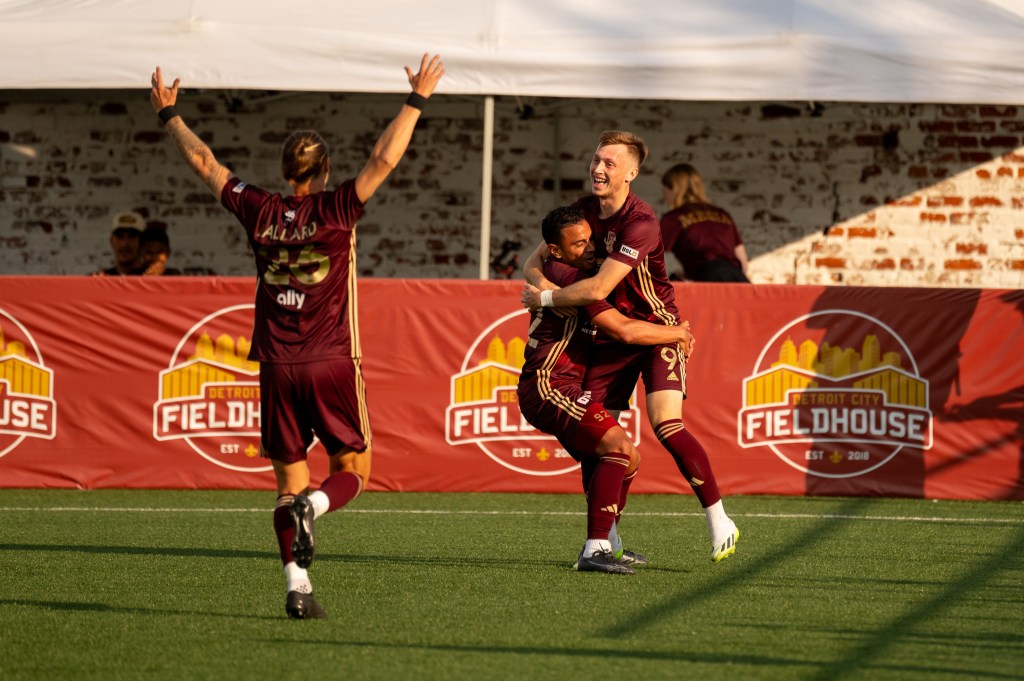 Detroit, Michigan- After a six-game winless streak, Detroit City FC came out of the gates with aggression which turned into a two-goal evening against the fifth-place squad in the USL Championship Eastern conference, Louisville City FC, who could not manage to put a goal onto the scoresheet.
Just minutes in, DCFC was in attack mode as midfielder Brett Levis found himself open from the top of the 18-yard box and crossed the goal line but was missed by the officials.
City would very quickly find the back of the net though as midfielder Maxi Rodriguez set up forward Ben Morris perfectly with a beautiful ball down the right sideline that Morris took in stride and calmly finished past Louisville goalkeeper Oliver Semmle for a 1-0 lead in the sixth minute.
Defender Devon Amoo-Mensah had to be taken off in the 18th minute with an injury as forward Rhys Williams came in as a substitute.
Goalkeeper Nate Steinwascher looked like the top five USL Championship goalie that he is in the first 45 minutes as he recorded two saves with one coming off a Louisville free kick from 20 yards out 38 minutes in.
The ball would find its way behind Steinwascher as the second half started to play out but the offside flag was up as the Louisville shot crossed the sticks to keep City in front by a goal.
Detroit would extend their lead in the 60th minute as Williams fought off a Louisville attacker to regain possession and play a give-and-go with forward Dario Suarez who found him down the left flank and then shot it off the side of a Louisville defender which fooled Semmle and got past the keeper for a two-goal lead.
City would keep the offensive momentum going as the second 45 minutes played on after some brilliant wing play from Williams who found Ballard at the back post before squaring the ball to Rodríguez whose effort went off the right post. Two minutes later, in the 70th minute, Detroit put together a lightning-quick counter attack as the ball found Suarez free from inside the 18-yard box but his shot rocketed off the right post.
DCFC would keep control of the 2-0 lead for the match's final minutes as Le Rouge kept Louisville off the scoreboard despite the visitors pushing their players forward.
This was Detroit City FC's first-ever win over Louisville City FC after falling to the visitors in all five previous matchups.
With the win, Detroit now sits at 10th in the USL Championship Eastern Conference table with a record of 5-5-11 and 20 points. City will stay home and welcome Monterey Bay FC, who sit at seventh in the Western Conference, this Saturday evening.
DCFC Starting Lineup: Steinwascher (GK), Amoo-Mensah (18'), Bryant, Carroll (C), Lewis, Ballard, Diop, Levis, Rodriguez, Morris (84'), Suarez,
DCFC Used Subs: Williams (18'), Simonsen (84')
Goalscorers: Morris (6')
Bookings: Bryant (49'), Rodriguez (79'), Morris (84'), Steinwascher (95')
Louisville Starting Lineup: Semmle (GK), Perez, Totsch, Charpie, Jimenez (81'), Gibson (63'), Mares, Ownby (81'), Thellufsen (63'), Del Piccolo (63'), Lancaster
Louisville Used Subs: Wynder (63'), McGee (63'), Pouwels (63'), Dia (81'), Serrano (81')
Bookings: Jimenez (75'), Charpie (83'), Pouwels (95')
For more information about Detroit City FC, visit detcityfc.com and follow @DetroitCityFC on Twitter and Facebook and @detroitcityfootballclub on Instagram.
##DCFC##
Please send all media inquiries to media@detcityfc.com.
Primary Media Contact: Jarrett Maki
(Sports Information Director, Jarrett.Maki@detcityfc.com)