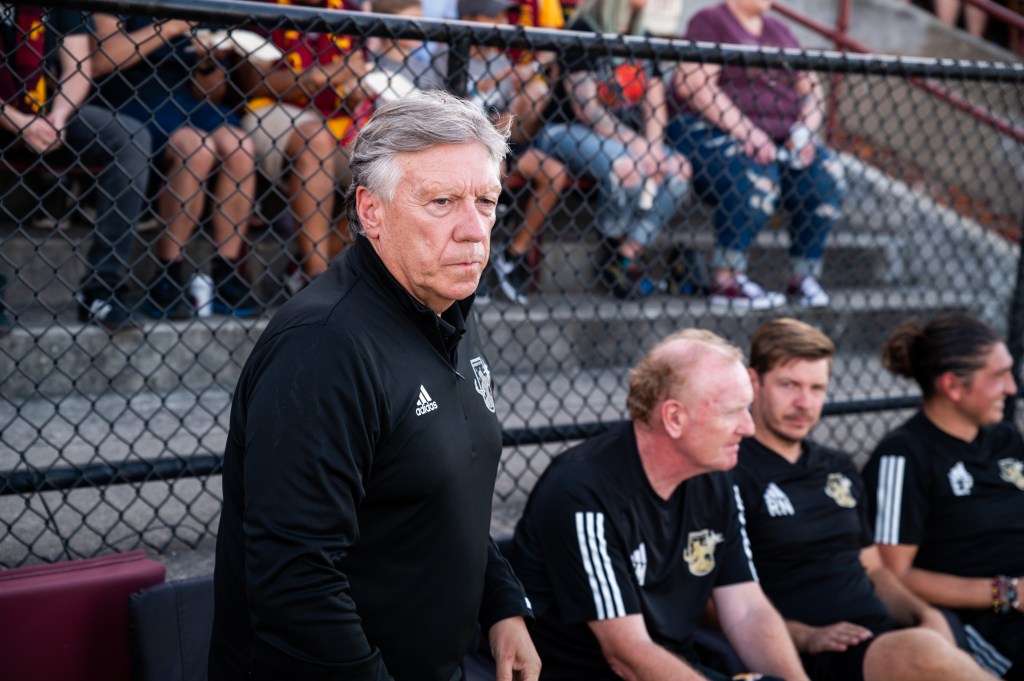 Indianapolis, Indiana – Detroit City FC traveled down to Indianapolis on Saturday to face off against Indy Eleven in a game where Detroit knew three points would go a long way in their race for the final playoff spot in the Eastern Conference. Sadly for Le Rouge, it would be Indy walking away with all three points, defeating Detroit 3-0.
Coming off of Wednesday's 3-0 loss to Colorado Springs Switchbacks and playing their third game in seven days, fatigue would play a huge factor in this game.
Nate Steinwascher would be called upon early and often in this game, as his first save was his best on the night. In the 6th minute, an Indy shot came in from just outside the box, and it would take an acrobatic Steinwascher to redirect the ball from going into the top left corner of the net.
Indy Eleven would continue pressure on the Detroit back line throughout the first half, as Detroit couldn't find a way to get a solid attack going. But to Le Rouge's credit, the back line stood firm, and Steinwascher made vital saves to ensure this game stayed at 0-0.
It wouldn't be until the 45th minute when Indy Eleven would finally find the back of the net. A Detroit backline miscue on a through ball led to Douglas Martinez getting a breakaway from just outside the box. Martinez would slide the ball into the bottom corner of the net, giving Indy Eleven the 1-0 lead right before first-half stoppage time.
Detroit would have their first potential opportunity in the second and final minute of stoppage time when they got a free-kick opportunity from 30 yards out. The ball would be shot straight into the Indy wall, ending the half.
Indy Eleven controlled the first half with 62% possession and held an 8-1 advantage on shots. Detroit knew if they wanted to come away with points in this game, they would have to change those stats around to get more attacking opportunities.
The second half would start similarly to the first, but Le Rouge finally seemed to be turning it around and getting possible opportunities to find an equalizer.
Abdoulaye Diop would get Detroit's first shot on target in the 59th minute on a shot from 30 yards out. Indy goalkeeper Tim Trilk would easily save the ball.
A Sebastian Velasquez rocket shot into the top left corner doubled Indy's lead to 2-0 in the 69th minute, and with 20 minutes remaining, it seemed like this game was starting to get out of reach for Le Rouge.
Darío Suárez had an excellent opportunity for Detroit to get back in this game in the 81st minute with a header off of a Maxi Rodriguez cross that ended up missing just to the left of the net.
Roberto Molina would get the ball off of an interception in the third minute of stoppage time that would lead to him shooting from close range, as the ball went right through Steinwacher's legs to make it 3-0 for Indy Eleven. The final whistle would blow minutes later, and Indy Eleven would walk away with all three points in this game and clinch their spot in the 2023 USL Championship Playoffs.
For Detroit City, the loss would not be good for their playoff chances. The loss, plus a Miami FC 2-0 win against Hartford Athletic, would see Detroit fall to 9th place in the Eastern Conference, one spot and one point outside the playoffs.
Detroit will look to get back into the playoff chase next Saturday as they travel down to Leesburg, Virginia, to face off against Loudoun United. Three points is almost crucial in this game if Detroit City wants to keep their playoff hopes alive with only two games remaining. Kickoff is scheduled for 6:30 p.m.
For more information about Detroit City FC, visit detcityfc.com and follow @DetroitCityFC on Twitter and Facebook and @detroitcityfootballclub on Instagram.
##DCFC##
Please send all media inquiries to media@detcityfc.com.
Primary Media Contact: Jarrett Maki
(Sports Information Director, Jarrett.Maki@detcityfc.com)