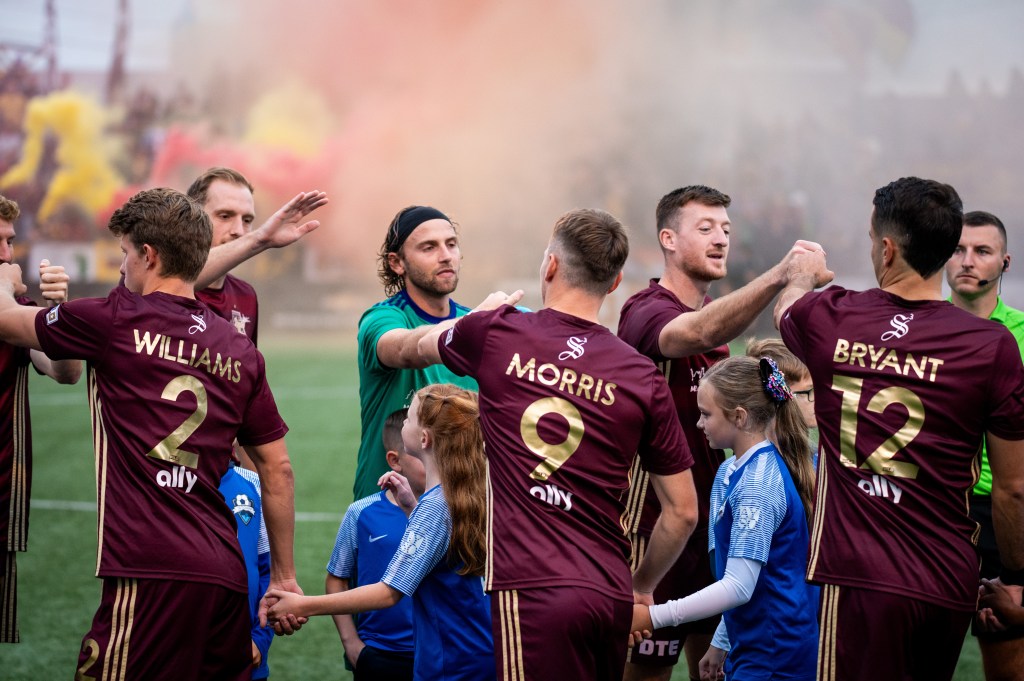 ESPN + | DCFC Match Notes | 2023 DCFC Roster | Hartford Athletic Notes
Detroit, Michigan – Detroit City FC returns home to face off with Hartford Athletic this Saturday at Keyworth Stadium in a game that will be crucial to the playoff push with only five games remaining this season. The match is scheduled to kick off at 7:30 PM Eastern and will be streamed live on ESPN+ while also being broadcast on TV20 Detroit and FOX47 Lansing.
Detroit is coming off an excruciating 5-0 loss to Phoenix Rising. The first half started strong for Detroit as they tested Phoenix goalkeeper Rios Novo early, but a goal for Phoenix in stoppage time of the first half led to things unraveling for Detroit in the second half. Phoenix wound up getting the ball past goalkeeper Ryan Shellow four times within the second 45, as Phoenix walked away with all three points in this matchup. 
The loss for Detroit and FC Tulsa's victory saw Le Rouge fall into 9th place in the Eastern Conference, one spot outside the playoffs. FC Tulsa currently sits on 36 points, a two-point advantage on Le Rouge, but still has also played one more game than Detroit. 
Hartford comes into Saturday's matchup off of a 4-2 loss to Memphis 901 FC last weekend. Hartford is currently on a six-game losing streak and has not gained points from a game since a  2-1 victory over New Mexico United on August 5. Currently, Hartford Athletic sits bottom of the table in the Eastern Conference with 16 points and has been eliminated from playoff contention. 
If Detroit can come away with the full three points in this game, it would be crucial in their chase for the final playoff spot. Due to their game in hand, Detroit still controls their own destiny, plus they still have games ahead against two other Eastern Conference teams competing for playoff spots, Indy Eleven and Loudoun United.
Detroit City FC faced off against Hartford Athletic earlier this season at Trinity Health Stadium, where Le Rouge came away with a 3-1 victory. A Ben Morris brace plus a Skage Simonsen goal late in the first half helped Detroit leave Hartford with all three points in June.
Le Rouge has not lost to Hartford Athletic since joining the USL Championship in 2022. In the three matchups between these two teams, Detroit has walked away with the full three points on two occasions, both in Hartford. The last time these two met at Keyworth was July of last season when both teams walked away with a point after a 1-1 draw.
For more information about Detroit City FC, visit detcityfc.com and follow @DetroitCityFC on Twitter and Facebook and @detroitcityfootballclub on Instagram.
##DCFC##
Please send all media inquiries to media@detcityfc.com.
Primary Media Contact: Jarrett Maki
(Sports Information Director, Jarrett.Maki@detcityfc.com)