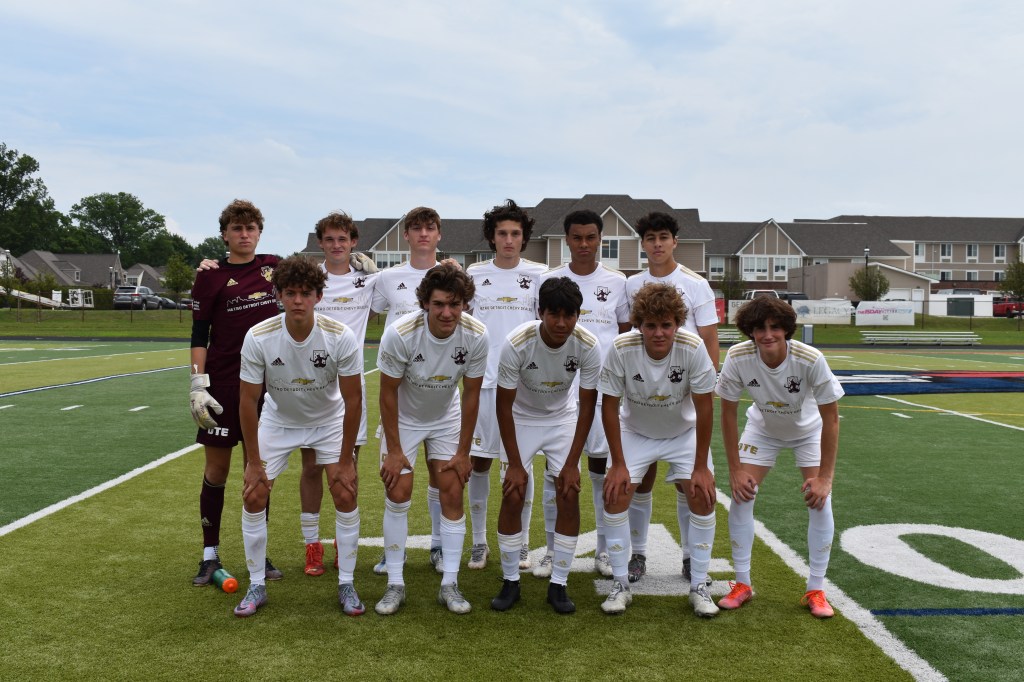 Detroit, Michigan – Since its inception in 2012, Detroit City FC has always focused on being 'Detroit's Soccer Team'. This claim was strengthened by the club's announcement in early 2019 that they would be partnering with local, established youth soccer clubs around Metro Detroit to expand the club's youth footprint in the area.
The current youth ecosystem of Detroit City FC now extends to six independent youth clubs: City (Detroit), Downriver (Taylor-Woodhaven), West (Canton-Plymouth), South Oakland (Berkley-Royal Oak-Southfield-Ferndale), Genesee (Grand Blanc-Flint-Fenton), & North (Saginaw-Mid-Michigan). There are now 6,000+ kids involved in Detroit City FC's competitive and recreational youth programs. Learn more about our Youth Clubs here.
In 2022, on the heels of the club's announcement to join the USL, Detroit City FC assembled a U19 squad to compete in the USL Academy Cup, annually held in Tampa, FL. Players were selected from both the existing Academy Training Program, composed of Detroit City FC Youth Club players, and an open tryout for non-DCFC players. Dominic Gasso was one of the players who was selected from the open tryout and played every minute of all four USL Academy Cup matches.
This past Spring, Detroit City FC assembled two boys squads, U13 and U15, who followed in the steps of the U19 pilot program down to the USL Academy Cup in Tampa, FL. Both squads were made up of players from Detroit City FC Youth Clubs.
Jump forward to today, and the club's academy has just completed its inaugural season in the USL Academy League in the U20 Boys Division, laying a strong foundation for seasons to come and the development of local talent.
Ryan Needs, Assistant Coach on the Detroit City FC USL Championship side and Head Coach of the USL Academy U20 team, was pleased with the boys' development in their first exposure to a professional environment.
"It was important to integrate them all into one team, one unit, and embed them into the culture of Detroit City FC. We tried to align everything we did with what the first team was doing to get them comfortable and used to a professional environment," said Needs.
In four USL Academy League matches, the squad scored 17 goals while conceding 10. They finished with an overall record of 2-1-1, which included an up-and-down 4-4 draw with Midwest United FC and two impressive displays over South Bend Lions FC, winning 5-2 and 6-1.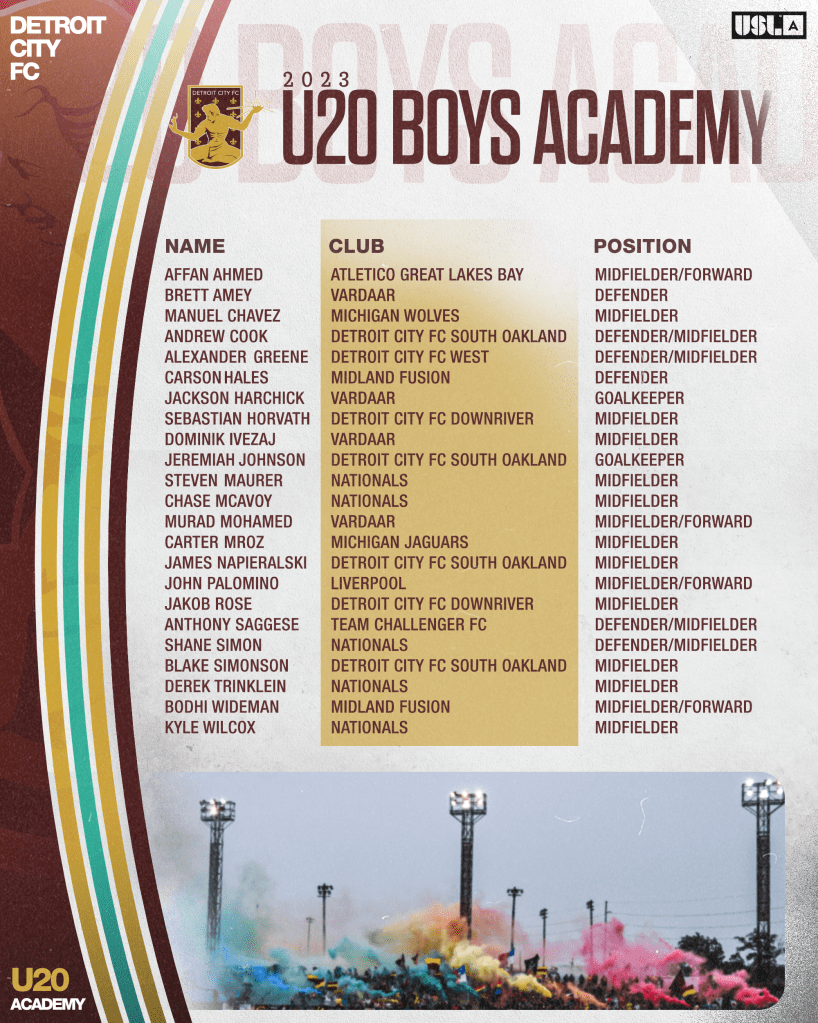 When speaking on the importance of an academy for a club like Detroit City FC, Needs made mention of Dominic Gasso, who represented the club at the 2022 USL Academy Cup.

"As you've seen this season with Dominic Gasso being integrated into the first team and getting consecutive performances and more minutes, every fan base wants 'one of their own' to come through their system and represent not just the club but also the community and the city," said Needs.
Gasso was integrated into the first team fold after impressing at the academy level in 2022. This season, Gasso was signed to a four-year contract, the longest in club history, and has played 631 crucial minutes in the Detroit City FC midfield. Gasso played his first complete professional match in Le Rouge's 1-1 draw with Memphis 901 FC at Keyworth Stadium on September 2. Read more about Gasso's rise here.
Detroit City FC Head Coach and General Manager Trevor James has spoken very highly of Gasso, recognizing his importance not only to the first-team squad but to younger players in the academy as someone to look up to and follow in his footsteps.
"Now, for those guys, they can see somebody who's gone from the academy who is now playing in the First Team. It now allows them to think I can do it if I put my mind to it and be as dedicated as he has been; there's no reason why there won't be others that follow," said James.
Ross Gibson, Technical Director of Detroit City FC North, Head Coach of the U13 Boys Academy Cup team, and the USL Academy U20 team's assistant coach, echoed this sentiment.
"Players who have grown up with Detroit City, they know what the club is about, the culture is about, what the city is about. Being able to develop players like this for the first team is invaluable to a club like Detroit City FC," said Gibson.
The Detroit City FC Academy Program continues to evolve with plans for the future.
"There has been a lot happening behind the scenes. We have been consistently and strategically building the foundation of our club's Academy system since 2021." Said Tyler McManus, Director of Youth Development. "Our priority is to create a professional environment for the up-and-coming players in our region that supports the greatest needs of the first teams, both men's and women's, at Detroit City FC. We also want to give younger players opportunities to train, develop, and compete at a high level with our club through the USL Academy Cup experience."
Looking into the near future, Detroit City FC is gearing up to kick off the 2024 Academy Cup team formations. "We're excited for a bright future of talent to come through our Academy programs and are looking forward to some big announcements regarding our 2024 USL Academy Cup program in the coming weeks," said McManus.
For more information about Detroit City FC, visit detcityfc.com and follow @DetroitCityFC on Twitter and Facebook and @detroitcityfootballclub on Instagram.
##DCFC##
Please send all media inquiries to media@detcityfc.com.
Primary Media Contact: Jarrett Maki
(Sports Information Director, Jarrett.Maki@detcityfc.com)