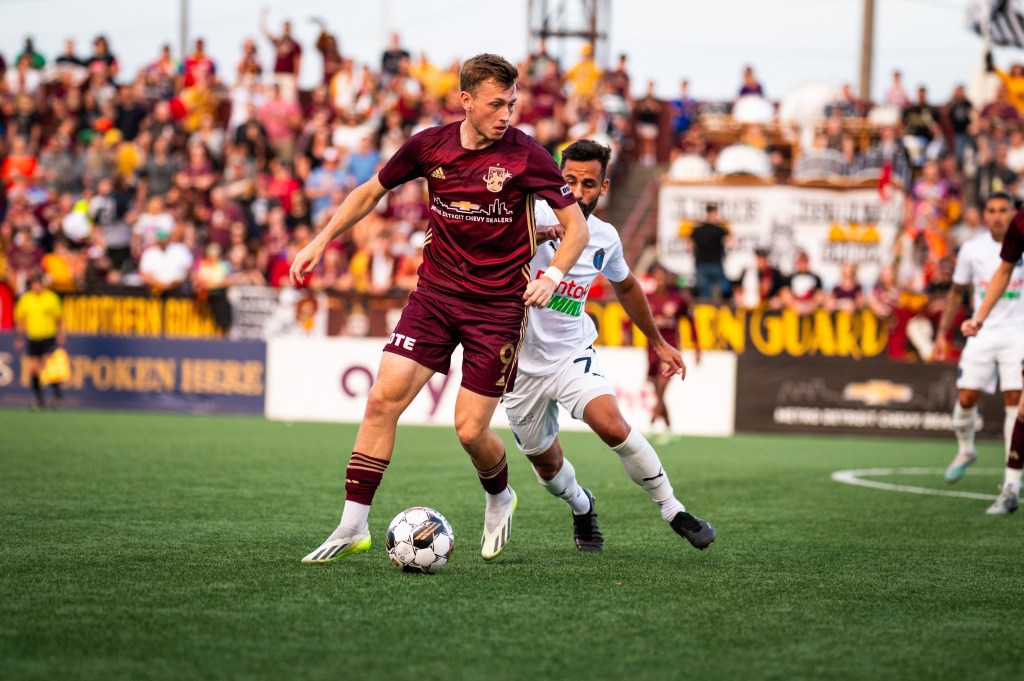 Detroit, Michigan – Detroit City FC and Memphis 901 FC played to a chippy, at times scrappy, 1-1 draw at Keyworth Stadium on Saturday night after a first-half goal from Devon Amoo-Mensah was canceled out with eighteen minutes to play by Memphis' Luiz Fernando.
The match started with an early yellow card for Detroit City FC's Connor Rutz, who was awarded the caution for a tackle in the midfield in the third minute of play. From there, the intensity of the match would pick up as both sides showed their fearlessness to go after 50/50 balls in the midfield.
Le Rouge would begin to put pressure on the Memphis 901 FC backline around the 23rd minute, using clever passing sequences to break down the otherwise compact visitors and begin to win set-pieces.
A corner kick in the 25th minute would fall to the head of #15 Matt Lewis who was just unable to direct his shot on frame and break the deadlock.
Detroit City wouldn't have to wait long for another opportunity with forward Ben Morris being played through on goal by the aforementioned Lewis. It was Memphis keeper Drew Romig who was off of his line to meet Morris just inside of the penalty area, contact was made and a penalty was appealed for by the Le Rouge players around the scene.
These appeals would not last long as the official was certain in his call for a corner kick. Then, #26 Richard Ballard would play in an inch-perfect ball which was met by a leaping Devon Amoo-Mensah who made no mistake to give his side the lead in his first goal of the season.
This goal would lead Le Rouge into the interval up by 1-0.
The second half would begin with a cagey nature with both sides feeling each other out for the first ten or fifteen minutes. Then the visitors seemed to find form going forward, culminating in two dangerous chances, both met calmy by Detroit's Nate Steinwascher in goal.
In the 71st minute, Memphis would sub in forward Rashawn Dally, a moment that would be pivotal in the match.

Less than a minute after coming on, Dally would be involved in a Memphis move that led to an equalizer from the visitors with the final touch coming from Memphis' Luiz Fernando.
Both sides would struggle to create much after the equalizer for the final result being a 1-1 draw.
With this draw, Le Rouge maintains their position in the final playoff spot with just seven games remaining. They will next take the pitch on Saturday, September 9 when Miami FC comes to town.
For more information about Detroit City FC, visit detcityfc.com and follow @DetroitCityFC on Twitter and Facebook and @detroitcityfootballclub on Instagram.
##DCFC##
Please send all media inquiries to media@detcityfc.com.
Primary Media Contact: Jarrett Maki
(Sports Information Director, Jarrett.Maki@detcityfc.com)