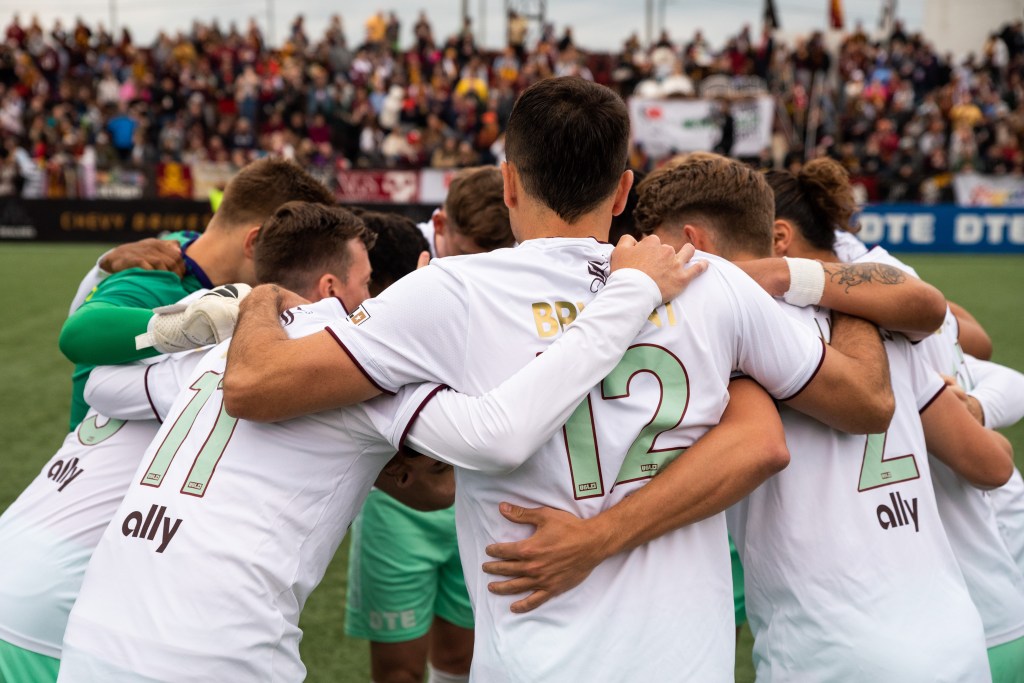 Stream (ESPN+) |Detroit City FC Match Notes | Oakland Roots SC Match Notes | 2023 DCFC Roster | USL Championship Match Notes
Detroit, Michigan – After downing Monterey Bay last weekend to extend their win streak to two games, Le Rouge is back in action, but this time on the road, as the club makes the trip to California to take on Western Conference foe Oakland Roots SC. Kickoff is scheduled for 10 PM Eastern and the match will be streamed live on ESPN+.
Darío Suárez has been absolutely massive for Le Rouge in the past two victories, assisting an own-goal score against Lousiville by playing the ball to Rhys Williams who was bombing forward from a deep position. Suárez would also come up big against Monterey Bay FC, skillfully executing quick step-overs and striking a shot that found its way in the back of the net off a Monterey Bay defender.
The defense has been just as good in the last two matches as well for City, with goalkeeper Nate Steinwasher officially recording his sixth and seventh clean sheets of the season.
Detroit City currently sits at 9th in the Eastern Conference table with 23 points while Oakland has been successful in the west, having notched 33 points on the season with a 9-6-6 overall record. Roots is currently on a hot streak, winning three of their last four games and drawing the other match.
Detroit's defense will be in for a tall task in stopping Roots forward Johnny Rodriguez who has scored eight times in 19 appearances in 2023. Their defense is just as potent as goalie Paul Blanchette has made 69 saves in 21 matches, the most in the USL Championship, eight more than second place.
This will be the first and only time this season that these teams will face each other. They only saw each other once last season as well, with that contest ending in a 1-1 draw at Keyworth Stadium thanks to a late equalizer from forward Francis Atuahene.
For more information about Detroit City FC, visit detcityfc.com and follow @DetroitCityFC on Twitter and Facebook and @detroitcityfootballclub on Instagram.
##DCFC##
Please send all media inquiries to media@detcityfc.com.
Primary Media Contact: Jarrett Maki
(Sports Information Director, Jarrett.Maki@detcityfc.com)