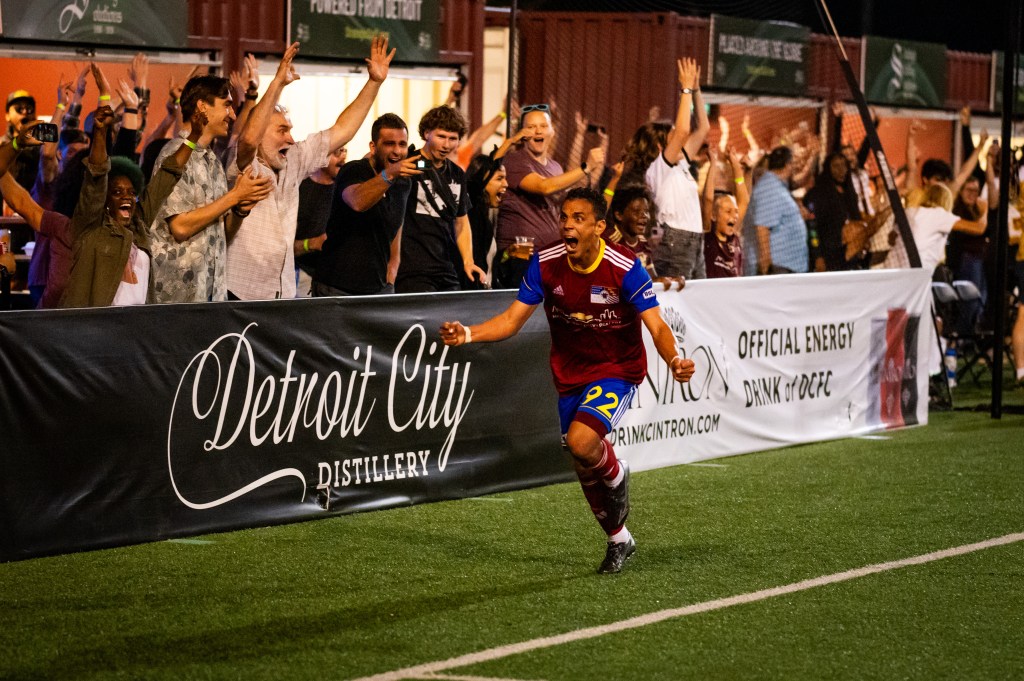 Detroit, Michigan- After finally finding some offensive rhythm Wednesday night in a 2-0 win over Louisville City FC, Le Rouge again kept the pedal to the medal all evening long against Monterey Bay FC, ultimately leading to a late strike from forward Dario Suarez that skipped off a Monterey Bay FC defender and got by goalkeeper Antony Siaha which was enough for a Detroit victory.
The first 45 minutes saw plenty of chances for City to get on the board earlier than they did. Within the first three minutes, forward Ben Morris found Suarez from just outside the 18-yard-box box but his touch was not enough to get past Siaha.
The Detroit defense was on top of their game all night long, highlighted in the 21st minute as defender Matt Lewis hustled to mark a Monterey Bay attacker and block his shot to save another Nate Steinwascher clean sheet.
Another prime scoring chance occurred for City just four minutes later as wingback Rhys Williams got his head on a corner that found fellow midfielder Maxi Rodriguez in a similar spot that Suarez was in earlier that wielded the same result with his shot bouncing over the crossbar.
After getting good looks but not being able to finish up any opportunities all night, DCFC finally found the back of the net in the 75th minute as Suarez took it himself and used his defender's body to redirect the shot past Siaha for a 1-0 lead.
HE DOES IT AGAIN!@suarezdario92

1-0 CITYYYY!#DCTID https://t.co/RIncSHlDsU pic.twitter.com/oHVEr7Vkku

— Detroit City FC (@DetroitCityFC) July 23, 2023
This score was all City needed to take the three points as Monterey Bay could not put a possession together in the final 15 minutes.
With the win, Detroit moves up two spots in the USL Championship Eastern Conference table to eighth place. They are now 6-5-11 on the season with a grand total of 23 points. Their next match will be played on the West Coast as the squad will take a trip to Oakland, California to meet with Oakland Roots SC, who currently sit at the fifth spot in the Western Conference.
DCFC Starting Lineup: Steinwascher (GK), Williams, Bryant, Carroll (C), Lewis, Ballard, Diop, Levis, Rodriguez, Suarez
Goalscorers: MB own goal (75')
Bookings: Levis (48'), Diop (62')
Monterey Bay Starting Lineup: Siaha (GK), Roberts II, Doner, Lara, Yoseke (86'), Volesky (84'), Robinson, Fehr, Dixon (84'), Boone, Greene
Monterey Bay Used Subs: Dawkins, Okoli (84'), Enriquez (86')
Bookings: Donor (51')
For more information about Detroit City FC, visit detcityfc.com and follow @DetroitCityFC on Twitter and Facebook and @detroitcityfootballclub on Instagram.
##DCFC##
Please send all media inquiries to media@detcityfc.com.
Primary Media Contact: Jarrett Maki
(Sports Information Director, Jarrett.Maki@detcityfc.com)