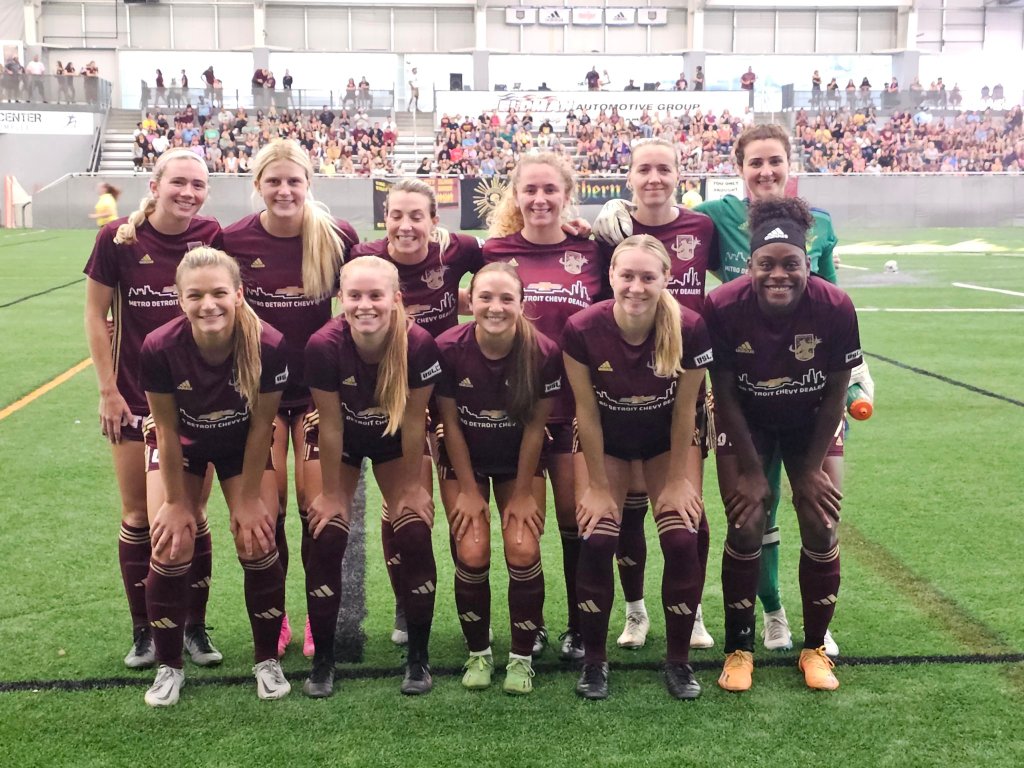 Brighton, Michigan – Following a last-minute venue change due to air quality concerns, Detroit City FC defeats Cleveland Force SC by a scoreline of 1-0 thanks to a first-half goal from Kayla Addison at the Legacy Sports Complex in Brighton, Michigan on Wednesday evening.
Similarly to the first two meetings between these two sides, Detroit City FC began the match on the front foot, taking the match to Cleveland and asking questions of their backline.
Le Rouge was able to find success when getting the ball out wide and relying on crosses from fullbacks Madison Duncan and Rayann Pruss when they were given space and time on the ball. These phases of play would culminate in chances for forwards Kayla Addison and Adelle Francis.
The deadlock between the two sides would be broken in the 18th minute of play when forward Drew Martin began to run at the Cleveland backline before playing a deadly ball across the face of the goal. Then, from there, the ball would take a bounce off of a Cleveland defender before forward Adelle Francis threw a boot at it. The ball would bounce around the area before eventually being turned home by Kayla Addison who would be credited with the lone goal for Le Rouge.
The visitors would then do a good job weathering the storm for the remainder of the first half, limiting Le Rouge to only a few half-chances that were relatively harmless in the end.
The second half of play was more of the same with Detroit City FC attempting to press the issue on Cleveland but struggling to break down the low block.
The biggest chance for Le Rouge to make it 2-0 would come from substituted forward Ellie Pool. Pool was able to work her way into acres of space in the opposition box and was spotted by a great ball from Adelle Francis but Pool was unable to keep her unmarked shot down and it sailed over the bar and out of play.
Detroit City FC will complete their Sophomore campaign in the USL W League this Saturday, traveling to AFC Ann Arbor for a 7:30 PM kickoff against the Mighty Oak and will be looking to finish the season on a high note against an old foe for Le Rouge.
For more information about Detroit City FC, visit detcityfc.com and follow @DetroitCityFC on Twitter and Facebook and @detroitcityfootballclub on Instagram.
##DCFC##
Please send all media inquiries to media@detcityfc.com.
Primary Media Contact: Jarrett Maki
(Sports Information Director, Jarrett.Maki@detcityfc.com)