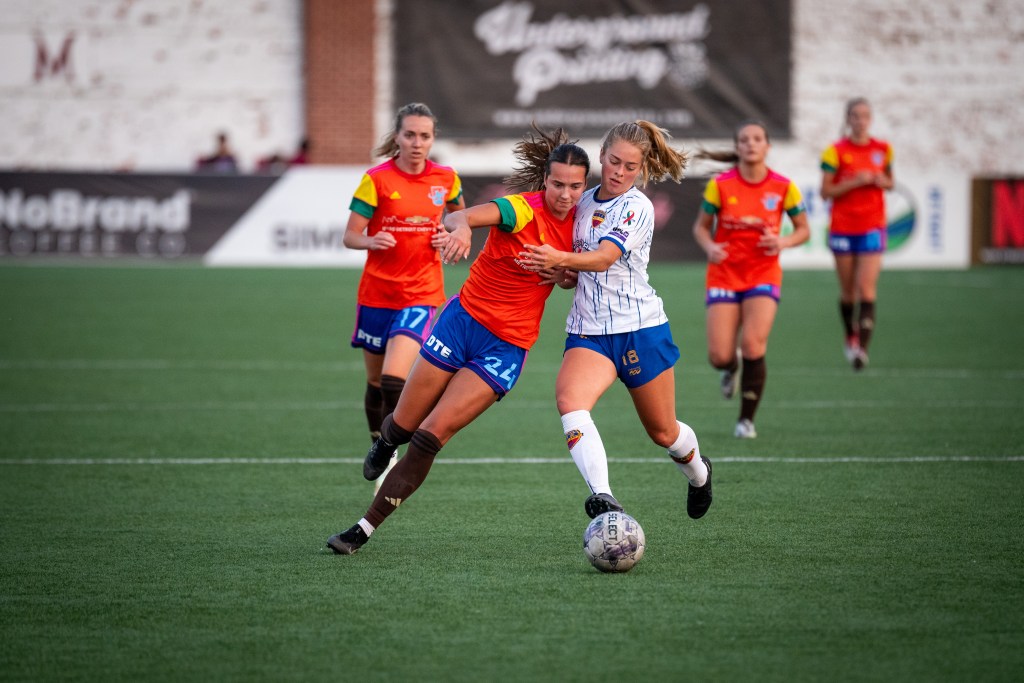 Detroit, Michigan – Detroit City FC faced off against top of the Great Lakes Division Flint City AFC losing the match by a score of 5-0 after conceding two goals inside of the first ten minutes of play.
The first action of the match would come in the sixth minute from a Flint City cross that DCFC would be unable to clear out of the 18-yard box, as it would find its way to Olivia Thomas of Flint who would open the scoring from eight yards out.
Just two minutes later things would go from bad to worse as Isabella Gaetino would crack a wonder strike from over 30 yards out. The strike would nestle itself in the top right corner to give the visitors a two-goal lead in the opening ten minutes.
Olivia Thomas of Flint would continue to pose problems for the DCFC backline breaking in behind into the 18-yard box on multiple occasions early on.
In the 29th minute, DCFC would have their first sight on goal, as Kayla Addison would muscle off two markers to get a shot off that would initially be saved before she would get a second chance from the rebound that would be blocked before it could enter an empty net.
In the 36th minute, it would be Thomas again finding herself driving into the 18-yard box as she would rip a shot with her left foot that would go crashing off the crossbar.
Just five minutes later Flint would find their third as Isabella Gaetino would drop into the midfield finding herself free to turn, and clip a ball over the top to Thomas who would find herself in a one vs one with Schriver, and calmly roll the ball past her to make it 3-0 in the 41st minute.
In the 43rd minute, Schriver would make a huge save as Thomas would break down the right flank, and square a ball across the six-yard box to Gaetino who would have a free shot from eight yards out, but be met by an outstretched Schriver right leg to prevent what would have been their easiest goal of the match.
In the 45th minute, the Flint center-back McConnell would launch a ball from their defensive half into the feet of Abby Wethmann who would bring the ball down with one touch, roll it out of her feet with the second touch, and fire a rocket into the top right corner with her third touch to give the visitors a 4-0 lead right before going into the break.
As the second half kicked off DCFC would make two changes bringing off Drew Martin, and Melanie Moore for Niomi Grimaldo, and the 14-year-old Lily Jeakle.
DCFC would look to get back into the game quickly through Madison Duncan who in the 48th minute had a sight of goal but fired her shot off the crossbar keeping the score at 4-0.
DCFC would continue to look positive, as in the 55th minute Kenna White would twist her way into the 18-yard box before getting a shot off from eight yards out but finding the angle too tight to beat the Flint keeper.
In the 63rd minute, Schriver would be called into action again making a great sliding save.
In the 64th minute, Flint would go to the bench for the first time bringing on Madison Canada for Olivia Thomas who would exit the field with a brace.
Flint would find the fifth and final goal in the 68th minute coming from a cross that DCFC would struggle to clear from the 18-yard box, resulting in it falling to a free Madison Canada who would slot it in the bottom right corner.
Both sides would look to the bench in the 72nd minute as Flint would call on Sophia Piotrowski to come on for Reese Slater. DCFC would bring on Danielle Evans, Amanda Britain, and Hannah Crum for Kayla Addison, Syd Blomquist, and Emily Paggett.
The final substitution of the match would be used by DCFC who would bring on Meyah Romeo for Alexis Smith in the 77th minute
In the 87th minute, DCFC would have their last sight on goal as Kenna White would receive the ball on an overlapping run before hitting a shot that would end up bouncing into Flint's keeper's hands.
DCFC will find themselves back in action in 11 days when they welcome bottom-of-the-league Cleveland Force SC to Keyworth Stadium.
DCFC Starting Lineup: Schriver (GK), Soulis, Smith, Duncan, Pruss, Moore, Pagett, Martin, Blomquist, Addison, White
DCFC Subs used: Jeakle, Grimaldo, Evans, Britain, Romeo
Goalscorers:
Bookings:
Flint Starting Lineup: Radwanski (GK), McConnell, Gaetino, Phillpotts, Baumann, Slater, Werthman, Tillotson, Rush, Thomas, Lauter
Flint Subs used: Piotrowski, Canada
Goalscorers: 6' 41' Thomas, 8' Gaetino 45' Werthmann 68' Canada
Bookings:
For more information about Detroit City FC, visit detcityfc.com and follow @DetroitCityFC on Twitter and Facebook and @detroitcityfootballclub on Instagram.
##DCFC##
Please send all media inquiries to media@detcityfc.com.
Primary Media Contact: Jarrett Maki
(Sports Information Director, Jarrett.Maki@detcityfc.com)