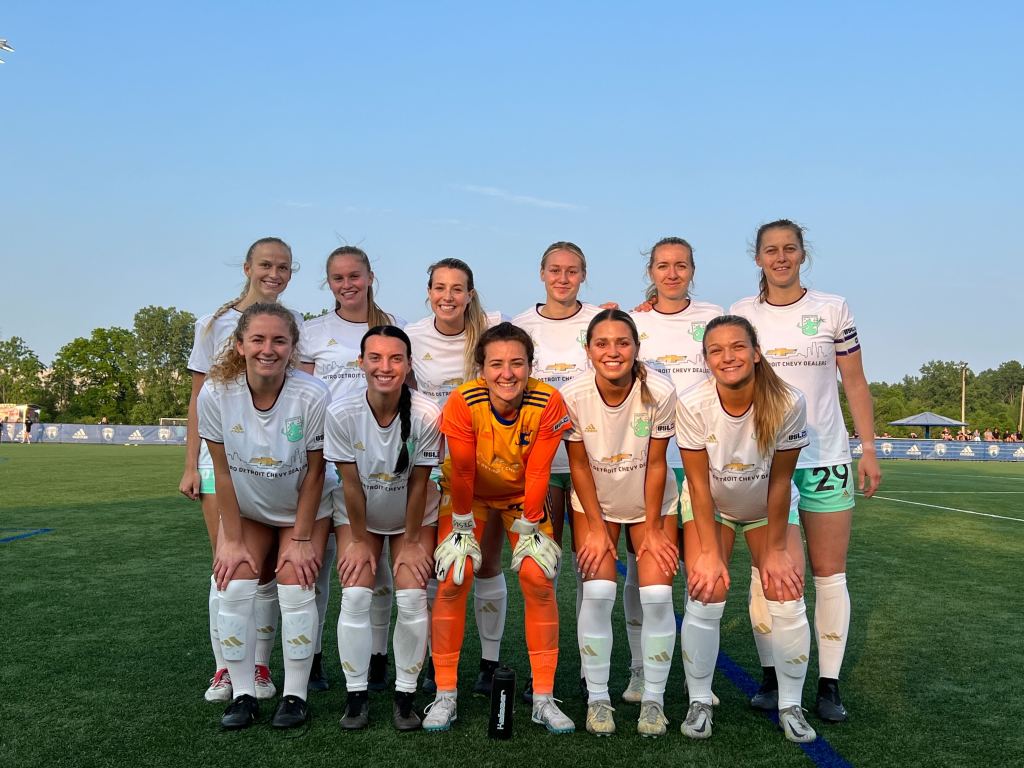 Grand Rapids, Michigan – Despite creating a large amount of scoring chances in the first half, Detroit City FC was unable to convert on any open play opportunities and lost on the west side of Michigan to Midwest United FC by a scoreline of 4-1 for their second loss of the 2023 USL W League season on Tuesday night.
Things started off tough for Le Rouge, conceding two early half-chances that were flagged for close offside calls by the assistant referee on the far side of the pitch. Following the opening five minutes, Detroit City FC began to establish themselves in the match.
This would culminate in forward Ellie Pool being played through on goal and taking on a shot from an awkward angle after the Midwest United defender did well to close down and track back, putting Pool in a difficult spot.
The attacking momentum would stay with Detroit City FC with two more chances coming in minutes 18 and 22, just four minutes apart, both from Ellie Pool. The first of these two chances saw a clever run down the far side from Drew Martin who then looked up, spotted Pool in the box, and played an inch-perfect ball to Pool's feet, she was unable to settle it down and it sailed over the bar. Then Pool was played through on goal again but was denied the opening goal thanks to a phenomenal save by the Midwest United goalkeeper.
It was Detroit City FC who put the ball into the back of the net first, in the 30th minute, but the assistant referee on the near side had her flag up and the goal was disallowed. Just two minutes later, it was evident that heads did not drop following the chalked-off goal, as Brynn Gardner dribbled into space for herself and played a ball to the head of Pool who again, was denied by the Midwest United goalkeeper.
Midwest United would break the 0-0 deadlock just minutes later, in minute 33, as Elle Otto got her foot under a wonderful chip that found its way into the back of the net. Then, just seven minutes later, would double their lead through Jen Blitchok with a powerful strike from outside of the 18-yard box.
The score would remain 2-0 through the 66th minute when Detroit City FC won a free-kick in a dangerous position. Stepping up to take it was #17 Syd Blomquist who scored a brace on Saturday night against AFC Ann Arbor. Just as she did on Saturday, Blomquist placed an inch-perfect freekick into the back of the net to get Le Rouge back into it.
This hope would not last long, though, as Midwest United added their third goal just nine minutes later before adding their fourth goal just five minutes after that. Taking us to our final scoreline of 4-1.
Detroit City FC won't have to wait long for a chance at redemption as they host Midwest United FC at Keyworth Stadium on 6/9 with kickoff scheduled for 7:30 PM. Tickets for Friday's clash are available here.
Detroit City FC Starting XI: Schriver, Baeron (C), Smith, Soulis, Duncan (73'), Blomquist (73'), Stephan (82'), Pagett (60'), Martin (60'), B. Gardner, Pool (73')
Substitutes: Clark (60'), E. Gardner (73'), Addison (73'), Fisher (82'), Niomi Grimaldo (60'), Nicole Grimaldo (73'), Wamer
For more information about Detroit City FC, visit detcityfc.com and follow @DetroitCityFC on Twitter and Facebook and @detroitcityfootballclub on Instagram.
##DCFC##
Please send all media inquiries to media@detcityfc.com.
Primary Media Contact: Jarrett Maki
(Sports Information Director, Jarrett.Maki@detcityfc.com)