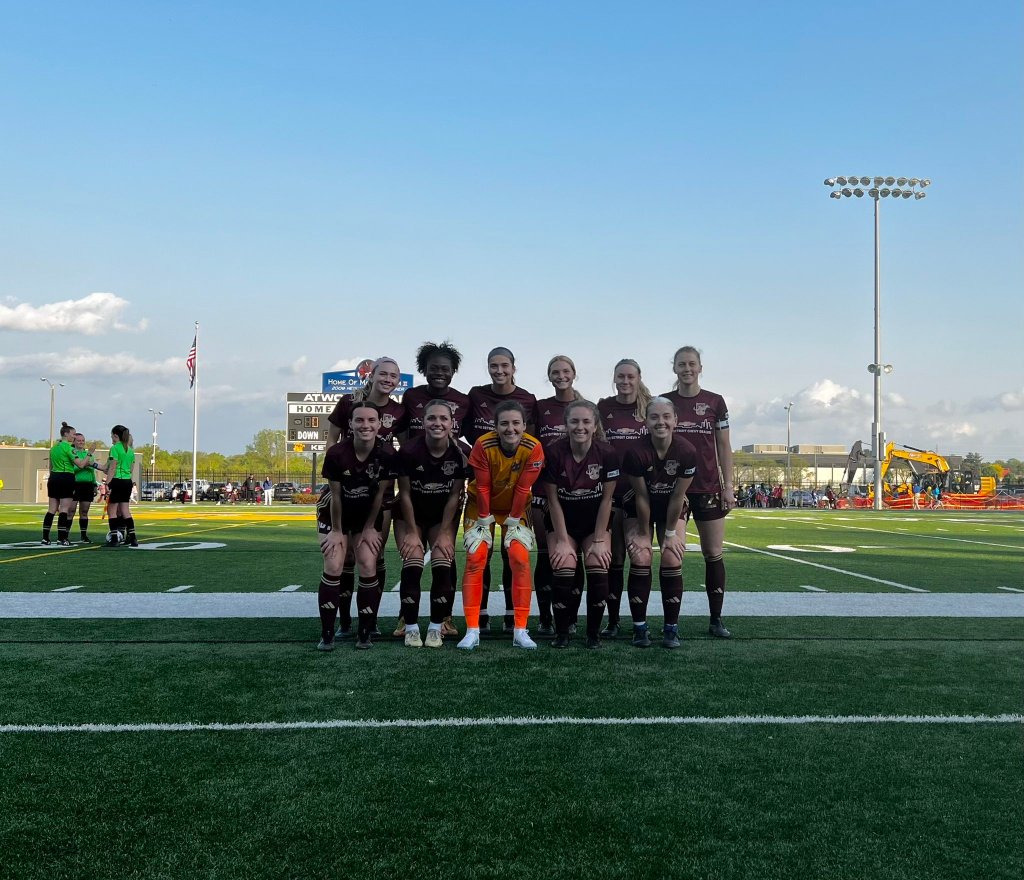 Flint, Michigan –  It was a blow-for-blow midfield battle between Detroit City FC and Flint City FC in what would be their second time meeting, and splitting the points in the last seven days. As they faced off once again in the USL W League.
It would be a slow first ten minutes of the match for DCFC fending off the early pressure in their half produced from an early Flint City onslaught.
The first action of the match for Le Rouge would come through Kayla Addison as she would find herself in the 18 yard box, shrugging off a defender and tidely slotting the ball into the bottom right corner. But celebrations would be cut short as the assistant referee would swiftly raise his offside flag denying DCFC an early lead.
Five minutes later disaster struck for DCFC. Flint City's initial shot would be saved by Gabby Schriver before an unlucky clearance would rebound off of Elisa Baeron and result in a DCFC own goal to make it 1-0 for Flint.
In the 25th minute Kayla Addison would continue to build on a strong first half, finding herself in behind the backline again winning a corner this time.
The Final action of the half for DCFC would come from Brynn Gardner who would find herself on the right flank a number of times putting in threatening crosses but no fruit would come from the chances.
Returning from the half Le Rouge would begin similarly to the first half, struggling to maintain the ball and fending off pressure in their own defensive half for a majority of the first 15 minutes.
In the 61st minute DCFC's Ellie Cook would lift a brilliant half volley effort over Flint City's goalkeeper to bring the game level and lift DCFC back into the game against the tide.
Cook's goal would serve as a shot of motivation for Le Rouge as they would completely take over the game from then on, including Francis' instant impact from the bench being involved in a number of chances.
Francis' hard work up top would reap rewards in the 79th minute. 14 year old Lily Jeakle would slip Francis in behind who would cooly roll the ball past the keeper to make it 2-1 for DCFC and give them their first lead of the match.
In the 85th minute DCFC would be stunned by a Micayla Johnson strike into the bottom corner which would bring Flint City back level.
In the final 5 minutes both teams would get chances to escape with the 3 points with both Francis of DCFC, and Johnson of Flint finding themselves one on one with the keepers but neither being able to provide that finishing touch.
This match marks DCFC's third tie in three matches. Le Rouge will be back in action next Wednesday on the 24th at 7pm when they head to Ohio to face off against Cleveland Force SC in more USL W League play.
Flint Starting Lineup: Radwanski (GK), McConnell, Gaetino, Caldwell, Baumann, Canada, Wethman, Piotrowski, Rush, Canada, Gaynor
Flint Subs: Johnson, Slater, Canada
Goalscorers: OG 15' Johnson 85'
DCFC Starting Lineup: Schriver(GK), Gardner, Stephan, Souls, Addison, Gardner, Karolok, Peters, White, Baeron(C), Pool
DCFC Subs: Jeakle Grimaldo, Blomquist, Francis. Martin
Goalscorers: Cook 61' Francis 79'
For more information about Detroit City FC, visit detcityfc.com and follow @DetroitCityFC on Twitter and Facebook and @detroitcityfootballclub on Instagram.
##DCFC##
Please send all media inquiries to media@detcityfc.com.
Primary Media Contact: Jarrett Maki
(Sports Information Director, Jarrett.Maki@detcityfc.com)