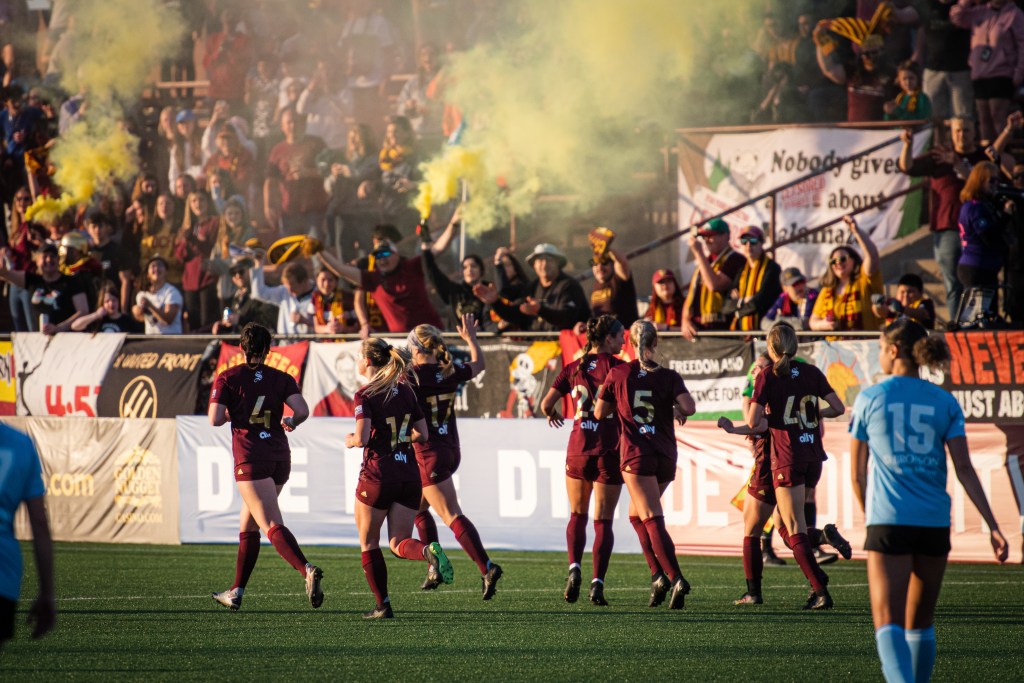 Live Stream Link (YouTube) | Women's Roster
Detroit, Michigan – Detroit City FC is ready to kickoff its sophomore campaign in the USL W League on Saturday with Flint City AFC coming to Keyworth Stadium. Kick off is scheduled for 7:30 PM and the match will be streamed live on YouTube and Eleven Sports. Tickets for Saturday's match are available here.
Le Rouge is looking to improve on last years campaign, their first in the USL W League, which saw the club finish fifth in the Great Lakes Division with a record of 3-3-6, amassing 12 points in 12 matches played. There were flashes of brilliance all throughout the season and a lot of good, hard work was done in building a foundation for future success with younger players getting a lot of time on the pitch.
Over the offseason, the club announced a change of leadership on the touchline as original owner, former player and club legend David Dwaihy will be heading up the coaching staff in 2023. Dwaihy has been coaching boys and girls teams at University Liggett School since the fall of 2002 where he took over the head coaching position for the girls team in 2009 and the boys in 2016. He also spent one year working under Aaron Byrd as a trainer for Next Level Training and a year as a head coach for a youth select team in Grosse Pointe, just outside of Detroit. He's been involved in coaching soccer camps for over 20 years and has served as the director of the Liggett Soccer Camp since 2012.
Dwaihy and his coaching staff, consisting of three current players in Gabby Schriver, Eliza Baeron and Dani Evans, welcome back a swath of returning players. Bringing back a solid core is crucial to success in a change of head coaching leadership.
The Great Lakes Division looks a little different this season as Kings Hammer FC, Racing Louisville FC and Indy Eleven have moved to the newly-formed Valley Division. Cleveland Force SC is a newcomer to the Great Lakes Conference for 2023.
Flint City AFC comes into Saturday's match having already played a game this season, defeating AFC Ann Arbor by a score of 5-1. Saturday's opponents are off to a far better start than they managed last season, as they finished in last place in the Great Lakes Division with a record of 2-1-9 with a -24 goal differential.
For more information about Detroit City FC, visit detcityfc.com.com and follow @DetroitCityFC on Twitter and Facebook and @detroitcityfootballclub on Instagram.
##DCFC##
Please send all media inquiries to media@detcityfc.com.
Primary Media Contact: Jarrett Maki
(Sports Information Director, Jarrett.Maki@detcityfc.com)