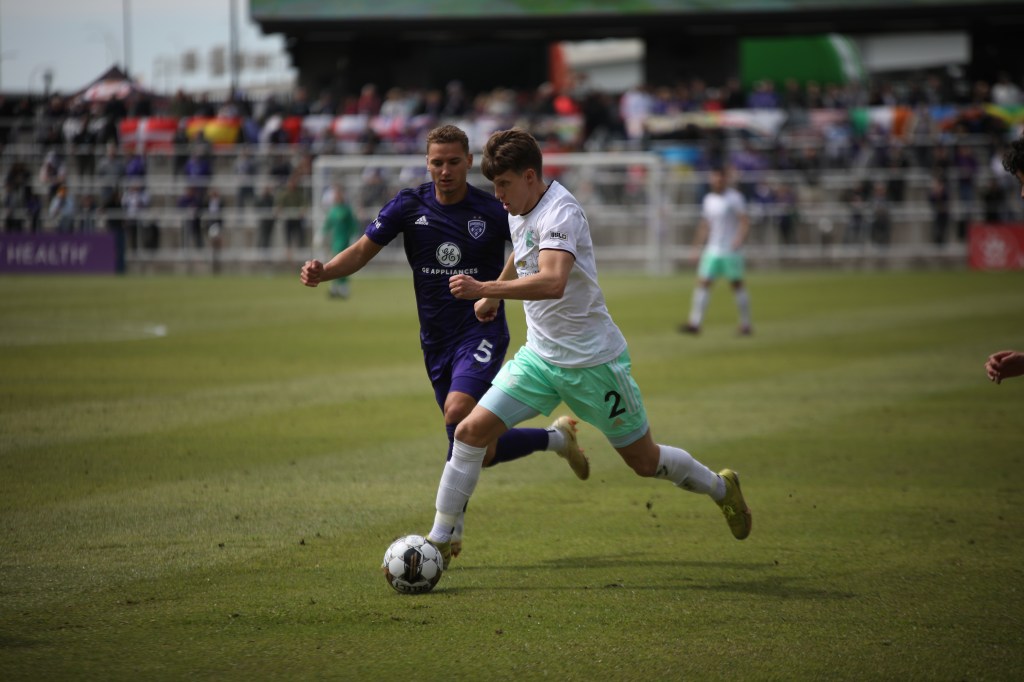 Stream (ESPN+) | DCFC Match Notes | 2023 DCFC Roster |The Miami FC Match Notes
Miami, Florida – Detroit City FC is back on the road yet again, this time traveling to South Beach to take on Miami FC at Riccardo Silva Stadium, kickoff is scheduled for 7:00 PM and streaming will be available on ESPN+.
Le Rouge is coming off of a game that was always going to be difficult, on the road to the 2022 Eastern Conference Champions, Louisville City FC. Louisville City controlled most of the game, doing well to exploit the Detroit City FC backline and create dangerous chances. This would force six saves out of Detroit City FC goalkeeper Nate Steinwascher who was named the Man of the Match for his performance.
Detroit City FC created chances of their own, though. Early on in the match forward Ben Morris won a physical battle against Louisville's Josh Wynder before turning on the jets and running in on goal. Wynder, just called up to the US Men's National Team, did well to close down the space and make the shot difficult for Morris who pulled it just wide.
In the second half, Detroit City FC would come close on a corner kick through Connor Rutz but his shot just missed the crossbar. It was a corner kick that would undo Le Rouge as the hosts took the lead in the 80th on a second ball played into the area following a Louisville corner kick.
Miami FC comes into Saturday's match fresh off of a 2-0 loss to their in-state rivals, the Tampa Bay Rowdies, last weekend. They are still looking for their first win of the season, currently sitting 10th with three draws and two losses.
Similarly to Detroit City FC, Miami FC are still in the process of getting their new players to gel with one another and is hoping that, once the gelling process is complete, results on the field will begin to shift in a positive direction. Miami FC brought in 10 players in the off-season while welcoming back 14 returning players.
Last season, Detroit City FC played well and was seconds away from earning all three points on the road to Miami FC early on in the season but a goal at the death from the hosts ensured the points were shared. Then, Miami FC defeated Le Rouge at Keyworth Stadium in Detroit City FC's regular-season finale in October of 2022 by a score of 1-0. The lone Miami goal was assisted by Richard Ballard who joined Le Rouge from Miami in the lead-up to the 2023 season.
Detroit City FC's next home match in the USL Championship is scheduled for April 29 when the Tampa Bay Rowdies visit town, tickets for that match are available and can be purchased at detcityfc.com/tickets, Le Rouge is also welcoming Minnesota United FC of Major League Soccer in the Third Round of the US Open Cup on April 25.
Follow @DetroitCityFCM on Twitter for in-match updates. For more information about Detroit City FC, visit detcityfc.com and follow @DetroitCityFC on Twitter and Facebook and @detroitcityfootballclub on Instagram.
Please send all media inquiries to media@detcityfc.com.
Primary Media Contact: Jarrett Maki
(Sports Information Director, jarrett.maki@detcityfc.com)