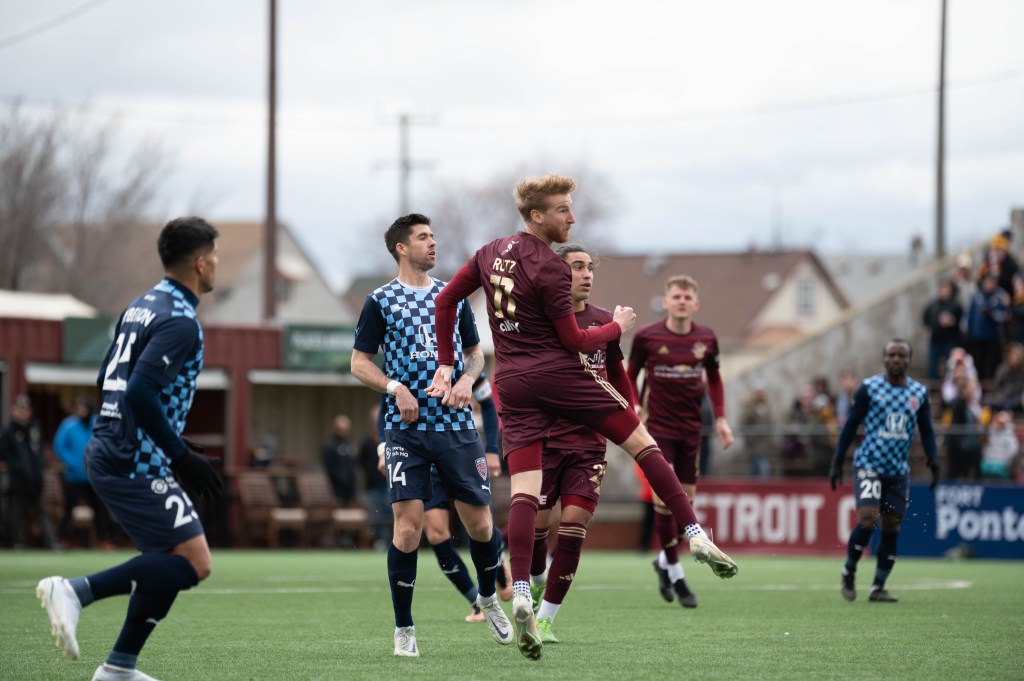 Detroit, Michigan – Detroit City FC (1-0-2) and Indy Eleven (1-1-0) squared off today in Le Rouge's 2023 Home Opener. With the elements being a factor all day and the game getting chippy at times, both teams struggled to get any kind of flow going and Indy Eleven came out victorious by a score of 1-0.
Detroit City FC, playing in a rare 4-2-3-1, thought they had taken the lead early thanks to a clever chip from Connor Rutz but Rutz, his teammates, and the 6,128 supporters on hand were disappointed to see the official on the near-side hold his flag off to indicate offsides.
They would have a similar chance just a few moments later, this time falling to #21 Maxi Rodriguez, but yet again the flag was raised, offsides yet again.
A huge story in this match was yellow cards with the sides picking up nine cards between themselves. A flashpoint in this contest was forward Yazeed Matthews picking up his second yellow card in the 74th minute and earning Detroit City FC's first-ever ejection in the USL Championship. Matthews has four yellow cards in the first three matches of the season.
Indy Eleven would earn their goal in the second half following a well-executed freekick on the edge of the Le Rouge penalty area. The finishing touch was by Indy's Bryam Rebellon. This was the only goal of the match. It was Rebellon's first ever goal in the USL Championship.
#12 Micheal Bryant was named the Man of the Match for Detroit City FC, playing all 90% while completing 21 of 27 passes, having three clearances and 11 recoveries.
This match saw 31 fouls at the end of the day, 15 for Detroit City FC, and 16 for the visiting Indy Eleven.
Le Rouge next takes the pitch on Saturday, April 1 when they welcome RGV Toros FC of the USL Championship's Western Conference to Keyworth Stadium. Kickoff is scheduled for 4 PM.
Scoring Summary:

IND – Rebellion 62'
For more information about Detroit City FC, visit detcityfc.com.com and follow @DetroitCityFC on Twitter and Facebook and @detroitcityfootballclub on Instagram.
##DCFC##
Please send all media inquiries to media@detcityfc.com.
Primary Media Contact: Jarrett Maki
(Sports Information Director, Jarrett.Maki@detcityfc.com)