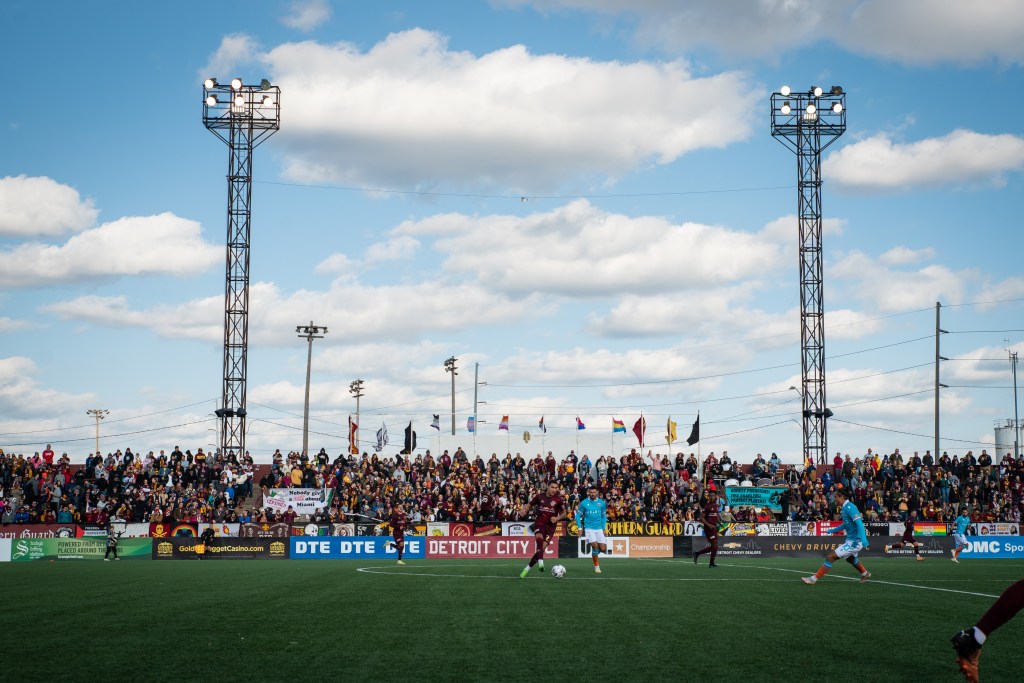 Stream (ESPN+) | DCFC Match Notes | 2023 DCFC Roster | USL Championship Notes
Detroit, Michigan – Detroit City FC returns home to Keyworth Stadium on Saturday afternoon for their 2023 home opener, welcoming in Indy Eleven FC with kickoff scheduled for 4 PM, streaming is available on ESPN+ with the game also being broadcast on TV20 in Detroit and FOX 47 in Lansing. Tickets for the home opener are still available at this link but are going fast with Rouge and Gold section tickets already sold out.
Le Rouge began their season with two matches on the road, both against teams from the USL Championship's Western Conference. Out of a possible six points, Detroit City FC comes home with three thanks to a 3-1 win over the El Paso Locomotive on 3/18. Detroit City FC scored more than two goals against a non-MLS affiliated team for only the second time since joining the USL Championship.
Midfielder Maxi Rodriguez was named to the USL Championship Team of the Week for Week Two thanks to his stellar performance against El Paso Locomotive FC. Rodriguez played all 90', scoring the third goal with a sensational strike from outside of the penalty area. He won 10/11 ground duels (91%) and completed 34 passes out of 47 attempts (72%), this was his first TOTW nomination of 2023. Goalkeeper Nate Steinwascher was named to the bench.
Indy Eleven comes into Saturday's contest having only played one match, earning a 1-1 draw on the road against the Tampa Bay Rowdies on the opening weekend of the USL Championship season thanks to a penalty scored in the dying seconds of second-half stoppage time. The penalty was converted by midfielder Aodhan Quinn.
Mark Lowry and co. at Indy Eleven had a busy off-season, continuing their work to overhaul the squad to their liking since joining the club ahead of the 2022 season. Working hard to do better than last season which saw them miss out on the playoffs, only amassing 41 points from 34 games, good enough for ninth in the Eastern Conference.
Detroit City FC and Indy Eleven squared off twice last season with Le Rouge winning at Indy by a score of 1-0 thanks to a Connor Rutz header and the two sides played to a 0-0 draw at Keyworth Stadium later on in the 2022 season. They have faced off in multiple friendlies, dating all the way back to 2019.
Follow @DetroitCityFCM on Twitter for in-match updates. For more information about Detroit City FC, visit detcityfc.com and follow @DetroitCityFC on Twitter and Facebook and @detroitcityfootballclub on Instagram.
Please send all media inquiries to media@detcityfc.com.
Primary Media Contact: Jarrett Maki
(Sports Information Director, jarrett.maki@detcityfc.com)