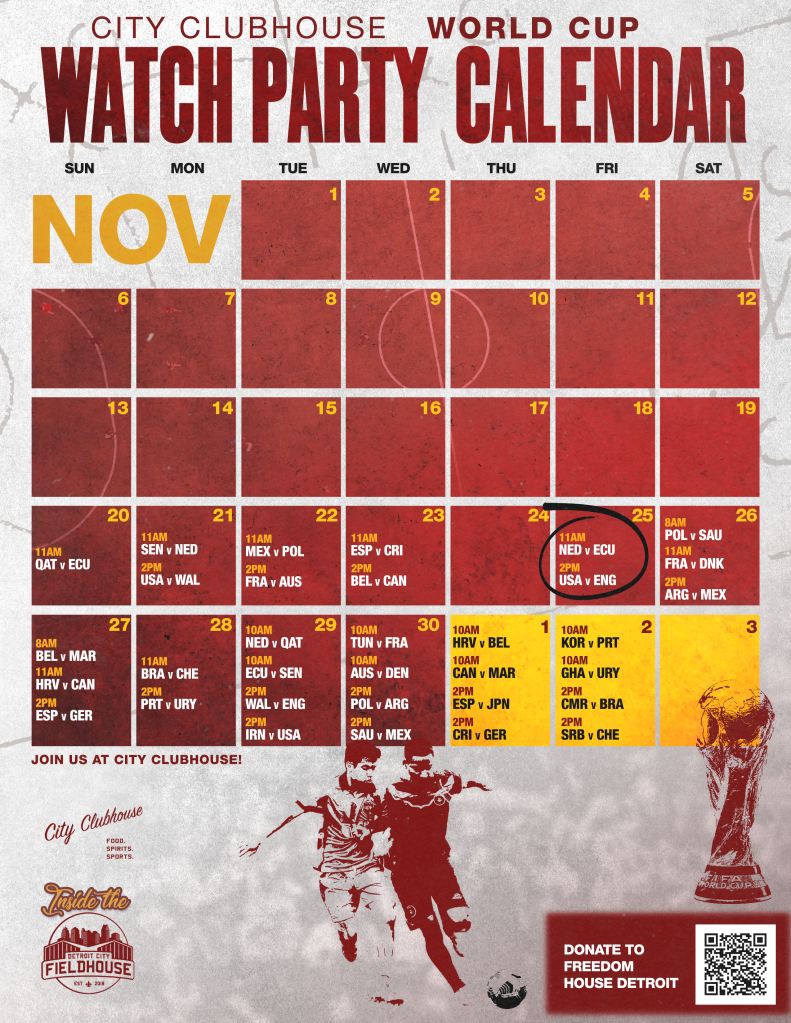 DETROIT CITY FC TO HOST SERIES OF WATCH PARTIES FOR 2022 WORLD CUP
CLUB TO USE OPPORTUNITY TO RAISE FUNDS FOR FREEDOM HOUSE DETROIT
Contact: Alex Wright
Email: media@detcityfc.com
FOR IMMEDIATE RELEASE
DETROIT, Michigan – Starting Sunday, the 2022 World Cup will capture the attention of the entire globe. To mark the largest sporting event in the world, Detroit City FC, Detroit's professional soccer team, will be showing a series of matches at City Clubhouse (3401 E. Lafayette, Detroit, MI), which is inside the Detroit City Fieldhouse. Watch parties will be hosted for most group games of the three-week tournament and all elimination matches, with food and drinks available for purchase.
The highlight of the World Cup events takes place on Friday, November 25, when the United States takes on England. The match will be projected onto a theater-sized screen at the Detroit City Fieldhouse. A $5 donation to Freedom House Detroit is encouraged. Attendees can bring lawn chairs and blankets to watch the match on the turf field, which can accommodate over 500.
At every watch party, DCFC will collect donations to help support the work of Freedom House Detroit. As part of the donation, donors can name their favorite World Cup team. The country that gets the most contributions throughout the tournament will dictate the theme for the World Cup Final watch party at City Clubhouse.
"The World Cup brings the nations of the world together in exciting and memorable ways, but a long and tragic path of human rights abuses got us to this tournament," Sean Mann, CEO of Detroit City FC. "However, most people will forget about the worst aspects of our sport once that first ball is kicked. DCFC strives to foster the passion surrounding our sport while using our platform to support those doing good in our community. It's always been an honor to work with Freedom House Detroit, and we look forward to using this opportunity to support their efforts to aid asylum seekers looking to start a new life in our community."
The full schedule of matches shown at City Clubhouse during the Group Stages is available below.
Full Match Schedule:
Sunday, Nov 20:
Qatar v Ecuador – 11AM
Monday, November 21:
Senegal v Netherlands – 11AM
USA v Wales – 2PM
Tuesday, November 22:
Mexico v Poland – 11AM
France v Austrailia – 2PM
Wednesday, November 23:
Spain v Costa Rica – 11AM
Belgium v Canada – 2PM
Thursday, November 24: THANKSGIVING, NOT OPEN
Friday, November 25:
Netherlands v Ecuador – 11AM
USA v England – 2PM – WATCH PARTY ON THE BIG SCREEN
Saturday, November 26:
Poland v Saudi Arabia – 8AM
France v Denmark – 11AM
Argentina v Mexico – 2PM
Sunday, November 27:
Belgium v Morocco – 8AM
Croatia v Canada – 11AM
Spain v Germany – 2PM
Monday, November 28:
Brazil v Switzerland – 11AM
Portugal v Uruguay -2PM
Tuesday, November 29:
Netherlands v Qatar – 10AM
Ecuador v Senegal – 10AM
Wales v England – 2PM
Iran v USA -2PM
Wednesday, November 30:
Tunisia v France – 10AM
Australia v Denmark – 10AM
Poland v Argentina – 2PM
Saudi Arabia v Mexico – 2PM
Thursday, December 1:
Croatia v Belgium – 10AM
Canada v Morocco – 10AM
Spain v Japan – 2PM
Costa Rica v Germany – 2PM
Friday, December 2:
South Korea v Portugal – 10AM
Ghana v Uruguay – 10AM
Cameroon v Brazil – 2PM
Serbia v Switzerland – 2PM
About Freedom House Detroit
Freedom House Detroit's mission is to support and empower asylum seekers on their journey to safety, security, and freedom by providing comprehensive services in an inclusive and welcoming space. Supporting Freedom House is our way of effecting positive change in our community. You can learn more about Freedom House at https://freedomhousedetroit.org/
About Detroit City FC
Founded in 2012, Detroit City FC has established itself as one of the most talked about soccer teams in North America. Our club motto, Passion for Our City, Passion for the Game, evokes the three ideas the grassroots organization was built upon: to satisfy the demand for soccer in downtown Detroit, represent the city in a positive light, and build community through "the beautiful game." You can learn more about Detroit City FC at detcityfc.com
Please send all media inquiries to media@detcityfc.com.
Primary Media Contact: Alex Wright (Co-Owner | Chief Creative Officer, alex.wright@detcityfc.com)
-###-