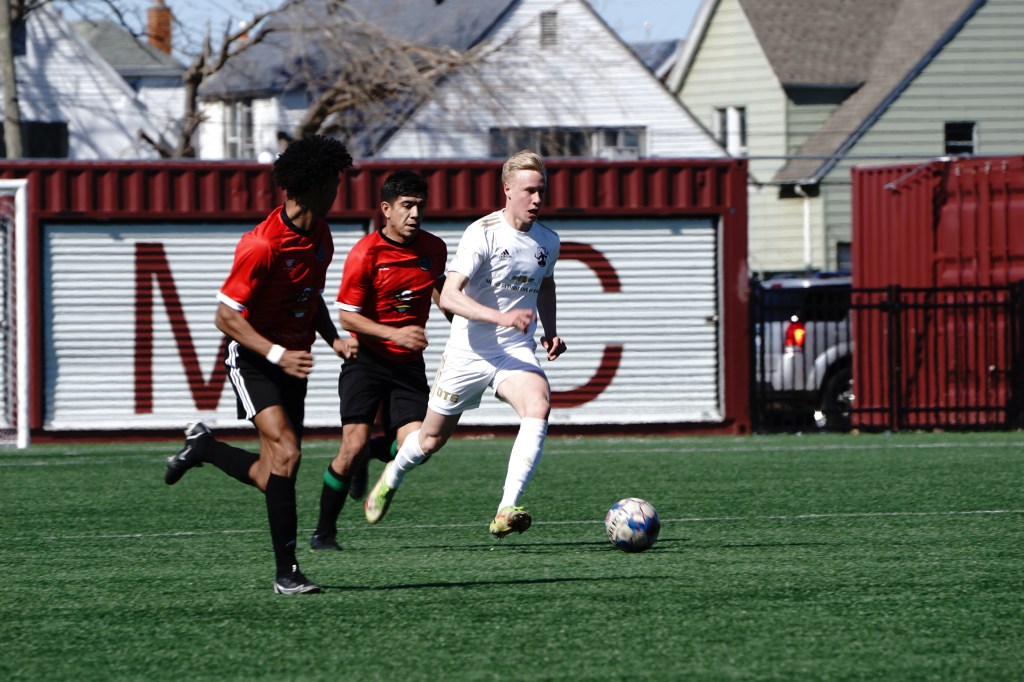 Detroit City FC is excited to announce the new USL Academy Program! The format will be aligned with the development standards of USL that will include player pools for U13, U15, and U20, both on the boys and girls sides. Players who join the USL player pathway will still retain their registration status with their current youth club while participating in the Academy Program.
ELIGIBILITY
Eligible birth years include: U13 = 2010 and younger, U15 = 2009-2008, and U20 = 2007-2004
U13 and U15 player pools will consist of ONLY Detroit City FC youth players, (i.e. City, Downriver, Genesee, South Oakland, and West). Selected players will compete in the USL Academy Cup, March 28-April 2 in Tampa, FL. Player pools will train once a week at the Detroit City Fieldhouse on Friday evenings, December-March. Apart from regular Friday trainings, there will be additional training sessions and friendly matches in the month of March in preparation for the USL Academy Cup.
U20 player pools will be open to the best players in the region who will compete in the USL Academy League, (June-August) throughout the Midwest region. Players selected to the player pool will train once a week at the Detroit City Fieldhouse on Friday evenings, December-May. There will be added training sessions and friendly matches leading up to and during the USL Academy League season.
TRYOUTS APPLICATION
Tryouts are Sunday, November 6th and Sunday, November 13th at Keyworth Stadium. All players interested must complete the application. Invitations and timing for tryouts will be sent out beginning Monday, October 31st to players who have applied. More details can be found in the application.
"The Detroit City FC academy creates the developmental phase of our football pyramid and is a huge step towards creating a meaningful professional pathway for our local players," Said Trevor James, General Manager and Head Coach of Detroit City FC. "Having a pre-professional tier that compliments and elevates the level of our first teams in our club is the structure needed for us to cultivate local talent."
During the summer months, the U20 academy teams will be positioned as the second teams to the men's USL Championship team and the women's USL W League team. The development standards of USL Academy competition will open up opportunities for selected local youth players, who are identified as being ready to take the next step, to be integrated within the first team environments.
"This is a big step for our youth system and player pathway," said Tyler McManus, Director of Youth Development at Detroit City FC. "It is our goal to provide a professional training environment for these players to develop within our club's philosophy and style of play. It will be very exciting to see further integration between the academy program and our men's and women's first teams. We hope to prepare these players for their respective USL competitions in 2023 as well as the next step within their soccer careers."
BACKGROUND
The beginning of Detroit City FC's Academy was introduced during the 2021-2022 season as a supplemental training program for top players from the DCFC youth clubs. Player pools included boys and girls U11-U18 and featured top coaches from the DCFC youth clubs in cooperation with first team technical staff. The training sessions were deeply rooted in the Detroit City FC philosophy and style of play.
This past spring, Detroit City FC formed a U19 boys team that traveled to Tampa, FL to compete in the USL Academy Cup as a pilot program. The squad placed third in the second division, with a record of 3-1, scoring seven goals and conceding four.
Since then, Detroit City FC has taken advantage of player pathway opportunities within the USL development standards. Dominic Gasso was recruited to join the U19 Academy Cup team after an open try-out in February of 2021. After his performance in Tampa, Dom was able to earn the opportunity to train with the Detroit City FC professional men's team on trial. After months of hard work and determination, Dom was offered an Academy Contract to join the professional team. Gasso has also earned two caps in 2022 USL Championship competitions and continues to remain an integral part of the Detroit City FC professional team.
"We're incredibly excited to see Detroit City FC build off the launch of their USL Academy player development pathway with a significant expansion of the programming available to local players in 2023," said Liam O'Connell, USL Technical Director. "The investments that DCFC is making in providing real opportunities for both boys & girls of all ages, with a clear plan to progress the top talents to their Men's & Women's Senior Teams, will undoubtedly help grow the game in the greater Detroit area for years to come."
For more information about the Detroit City FC USL Academy Program, please visit detcityfc.com/academy or reach out to academy@detcityfc.com. For more information about the USL Academy, please visit usl-academy.com