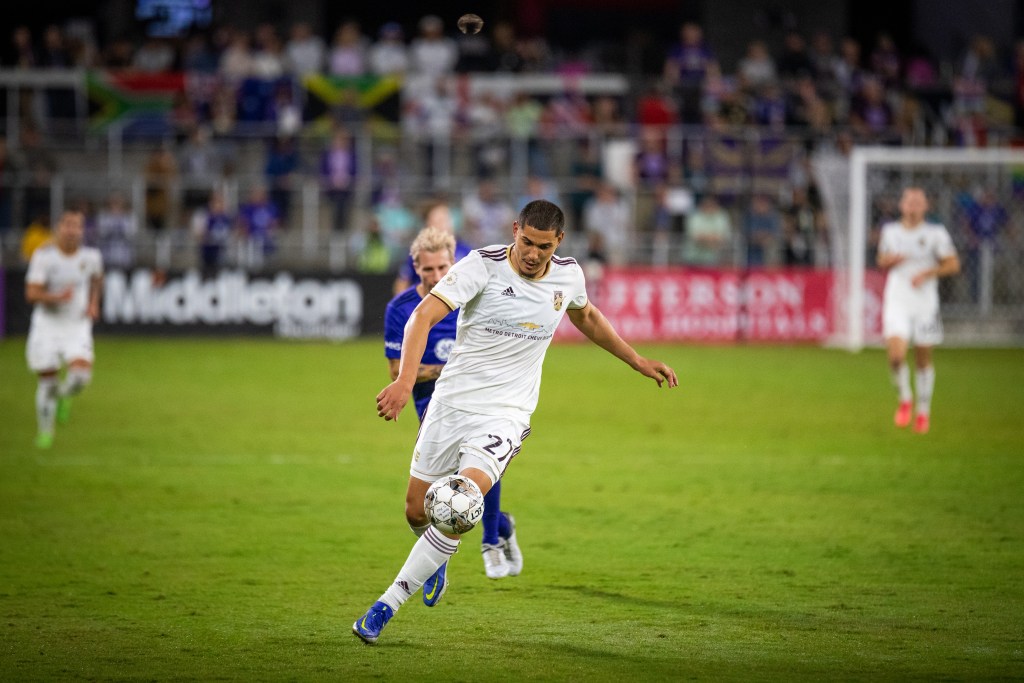 Louisville, Kentucky – After a battle for three important points, Detroit City Football Club (13-12-7) was unable to leave Kentucky with a win, suffering a 2-1 loss to Louisville City FC (21-6-6) at Lynn Family Stadium on Wednesday night. This is Detroit's first loss in seven games and their only loss since falling to Louisville at home on August 20th.
It was a fight through the first half with both City and Louisville having multiple scoring opportunities, but it was Detroit on the scoreboard first.
At 42', pushing down the left side, defender Michael Bryant passed the ball to a wide defender Deklan Wynne. Wynne made the perfect through ball to a running forward Antoine Hoppenot, who took a left footed shot to beat goalkeeper Kyle Morton through his legs, for his 7th goal of the season.
DCFC lost their captain, defender Stephen Carroll, to a lower body injury in the first half, with defender Karl Ouimette replacing him. Carroll was given a yellow card for a tackle on the play where he became injured.
Louisville controlled 59.6% of the possession in the first 45 minutes but it was DCFC who had 50% of shots on target, to Louisville's 13%.
Louisville continued to push for the equalizer into the second half and they found it at 61', when forward Wilson Harris was able to create his own deflection off Bryant and was able to get the ball past goalkeeper Nate Steinwascher.
Just three minutes later from a corner, defender Joshua Wynder cleanly headed the ball into the back of the net to take a 2-1 lead.
In the second half, DCFC was unable to get any shots either off or on target. Louisville ended the game with 17 shots and four on target.
Le Rouge will play their final league game of the season on Saturday October 15th at home against The Miami FC at Keyworth Stadium, at 4:00pm with streaming available on TV20, FOX47, CW46, CW7, and ESPN+.
For more information about Detroit City FC, visit detcityfc.com.com and follow @DetroitCityFC on Twitter and Facebook and @detroitcityfootballclub on Instagram.
Goal Summary:
DET – Antoine Hoppenot (Deklan Wynne) – 42'
LOU – Wilson Harris – 61'
LOU – Joshua Wynder (Ray Serrano) – 64'
##DCFC##Please send all media inquiries to media@detcityfc.com.
Primary Media Contact: Alex Wright (Co-Owner | Chief Creative Officer, alex.wright@detcityfc.com)