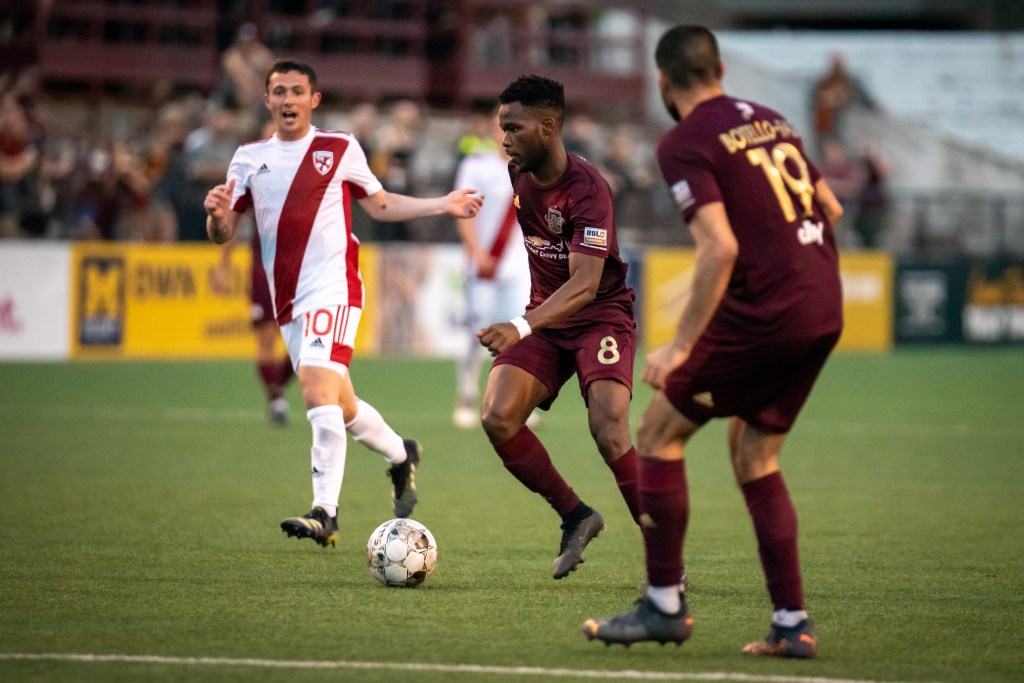 Stream (ESPN+) | DCFC Match Notes | 2022 DCFC Roster | Loudoun United Notes
DETROIT, Michigan – Le Rouge will start a two-match road trip this Saturday against Loudoun United of the Eastern Conference. This game will be played at Segra Field in Leesburg, Virginia, at 6:30pm and it will be streamed on ESPN+.
This will be the second match up this season for DCFC versus Loudoun United. The first game Detroit came away with a 4-2 win. The four goal scorers for City that night were forward Pato Botello Faz, defender Michael Bryant, midfielder Maxi Rodriguez and an own goal by defender Grant Lillard.
This past Saturday, Le Rouge played FC Tulsa at Keyworth Stadium, a match that ended in a 2-2 draw. DCFC took the lead first in the 47' minute on a goal from forward Yazeed Matthews, who found the back of the net for the first time this season. Defender Rhys Williams sent a deep ball cross on the right side of the net to defender Richard Foster, who redirected back to Matthews in front of the net for the goal. FC Tulsa fought back and scored twice in a span of three minutes in the 67' minute and 69' minute. Forward Darío Suárez scored from outside the box with his left foot, even though goalkeeper Nate Steinwascher was able to get a piece of the ball. The second Tulsa goal came from midfielder Eric Bird, who was able to settle the ball from his chest to his feet and took a right foot shot immediately to get the ball over the line. This goal gave Tulsa a 2-1 lead. In the 75' minute, DCFC equalized the game on a set piece. Forward Antoine Hoppenot took the corner, who found defender Michael Bryant for a header and it was Bryant's fourth goal of the season.
Detroit now has a 13-12-6 record, which has them currently sitting in sixth place in the USL Championship Eastern Conference, just 12 points off first place Louisville City. They are just two points off fifth place, behind the Pittsburgh Riverhounds.
Hoppenot earned his tenth league assist this season last game, which has him tied for first in the league. His 71 chances that he has created also has him sitting in third place in league play. His six goals this season has him tied for second on the team.
Defender Michal Bryant made the USL Championship Team of the Week for Week 29 for the first time this season. He scored his fourth goal of the season in the last match and scored for the first time since May 14th against Loudoun United.
Currently sitting in 11th place in the Eastern Conference is Loudoun United FC, who has 27 points and a record of 8-3-20. In their last five games, Loudoun United FC has a 1-0-4 record. Their only win came against Hartford Athletic, where they won 3-0. Their four losses were against Pittsburgh Riverhounds SC (2-1), Sacramento Republic (4-0), Louisville City FC (4-2), and Indy Eleven (1-0).
With eight goals this season, midfielder Tyler Freeman is tied for 33rd place in the league. In his 21 appearances this season, he leads the team with 26 shots and 18 shots on target. He has also created 17 chances this season and has a passing accuracy of 78.8%. Freeman was named to the Team of the Week for Week 29.
Midfielder Skage Simonsen Lehland has seven assists this season, which has him sitting tied for 12th place in the league. He is the team leader with 254 duels. He also has two goals this season, 21 shots, nine shots on target and has created 31 chances.
Defender Carson Vom Steeg has played in 20 games this season and sits in 10th place overall in the league with 110 clearances. He also leads his team with 41 interceptions. He has a passing accuracy of 88.3%, has won 69 duels and has had 13 blocks.
Le Rouge will be on the road next Wednesday October 5th playing at Lynn Family Stadium in Louisville, Kentucky, where they will take on Louisville City FC at 7:30pm. The game will be streamed on TV20 and ESPN+.
Follow @DetroitCityFCM on Twitter for in-match updates. For more information about Detroit City FC, visit detcityfc.com and follow @DetroitCityFC on Twitter and Facebook and @detroitcityfootballclub on Instagram.
Please send all media inquiries to media@detcityfc.com.
Primary Media Contact: Alex Wright (Co-Owner | Chief Creative Officer, alex.wright@detcityfc.com)