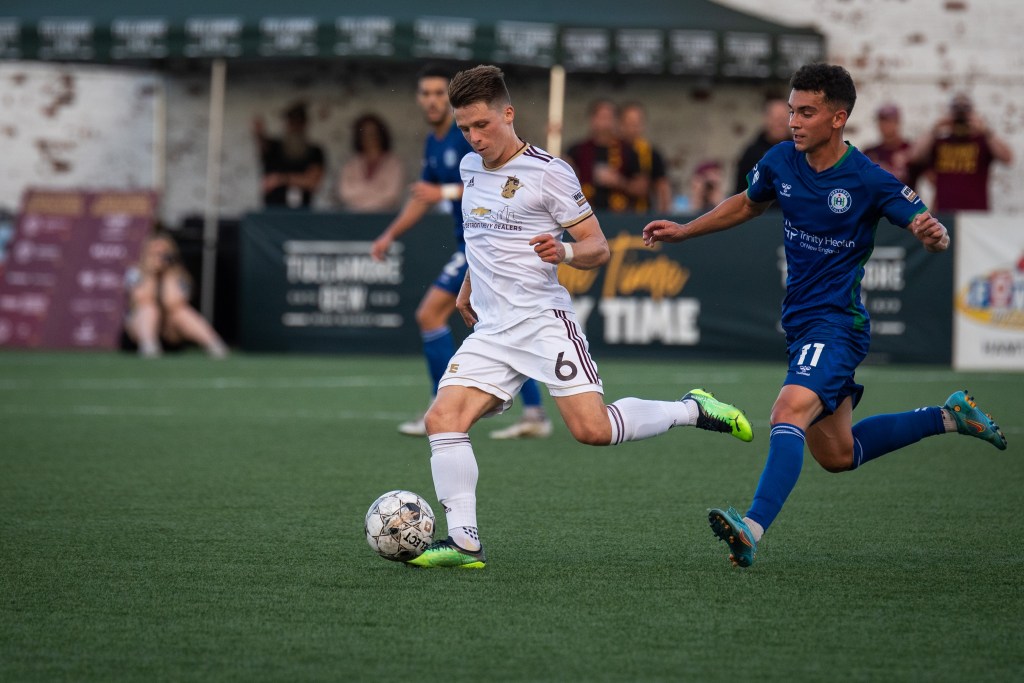 Brad Dunwell missed 77 days due to injury, finding new ways to contribute to the team's success while getting back to the pitch as soon as possible. 
Midfielder Brad Dunwell has been preparing to play in his first match since April 9 against Atlanta United. That day, towards the end of the match, he was involved in a rough collision that resulted in a red card for Atlanta United II and a fractured knee and slight meniscus tear for Dunwell that would ultimately sideline him for 77 days.
"The initial reaction was, I just thought it was a bad bone bruise or like my thigh just got hit so hard that it was super stiff, but the next day in the airport, I was struggling a lot," he said.
When it became clear that the injury was more than just a bone bruise, the trainer suggested he go in for a scan, where he was given the bad news. The meniscus tear would not require surgery, but the knee fracture would need time to heal.
"The first timeline I was given was, I think, seven weeks after the injury, and it actually ended up being seven to nine from when I was cleared for contact," he said. "As we were approaching the initial like six, seven week timeline, we did a follow up MRI, and I was getting kind of excited and started to feel good and started to have the boot on, but then our doctor recommended that we take another like three to four weeks off and to be fair, I didn't feel ready for contact."
He was asked "if you had to go into a hard tackle with that knee would you be comfortable, confident, and able to do it?" Dunwell answered truthfully that he wouldn't be able to do it, keeping him sidelined a little while longer.
In the meantime, he decided to take on a different role with the team, a supporter. Although it wasn't how he planned to contribute, he took on the role with a smile, hyping up his teammates at half, getting water for them, and supporting the team in any way he could.
"Something that I really like to advise, especially as a footballer, is to not take any opportunity for granted," he said. "This is probably the longest and most serious injury I've had, which I guess in the bigger scheme of things I'm quite fortunate, because there are a lot of players that do end up with worse, longer, more serious injuries. It's good to live every day with some level of gratitude for what you're doing, and I like to think that I carry that with me."
Matt Lewis has been by Dunwell's side in the supporter role since he went down with his own injury against FC Tulsa on May 7. Since then, Lewis has viewed him as a mentor during their rehab journey and they both shared the pitch together on the road at Indy Eleven on July 9.
"Brad's one of those guys who's always gonna outwork you and do everything he can to get better and get himself back on the field," said Lewis. "It's been really cool going through the same things and just having him be a little bit in front of me because I know what I'm working towards myself, and seeing his work ethic and his ability to mentally be there and play a role, whatever it may be on a daily basis, is pretty impressive."
Lewis isn't the only one to notice the work Dunwell has put in off the pitch to rehab his injury, while still supporting the team. General Manager and head coach Trevor James has taken notice as well.
"He's probably done everything possible to get himself back as quickly as he can," James said.
In addition to the work he's put in off the pitch, James has also taken notice of his role on the bench and the positive effect he's had on his teammates.
"He's very supportive around the team. Even while he was unavailable, we had him on the bench a couple of times and so that he was part of it and still still encouraging the boys, but what he's been off the field is he's done everything he can to get back on."
Now after months of rehab, Dunwell is ready to rejoin the club and start contributing on the field in any way he can.
"Hopefully, I'll just be the same player and contribute the same types of things," Dunwell said. Any kind of support I can give the guys on the team to help them walk away with three points I'll step into that role."
Dunwell made his return on the road against Memphis 901 FC on June 25. He logged 31 minutes during the 2-0 loss. Dunwell made his first start since his injury on April 9 when Hartford Athletic came to town on July 6. Dunwell played 67 minutes and was the most accurate passer to play at least 45 minutes, completing 92% of his passes.