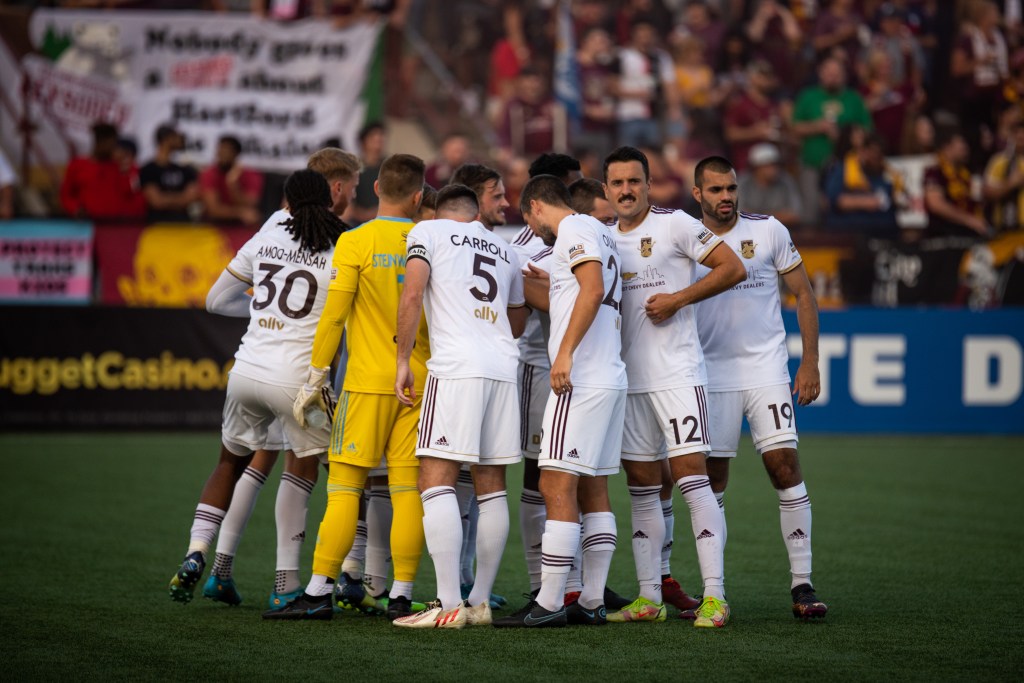 Detroit City FC and Indy Eleven have faced-off in four friendlies since 2019, this will be the first time these two men's sides meet in a competitive setting.
Stream (ESPN+) | DCFC Match Notes | 2022 DCFC Roster | Indy Eleven Notes | USL Championship Notes
DETROIT, Michigan – After one match back at Keyworth Stadium, Detroit City is right back on the road for a two-match road trip. This weekend, the team travels to Indianapolis to play the Indy Eleven on Saturday July 9. Kickoff is at 7:00pm EST at Carroll Soccer Stadium and will be streamed on ESPN+ and broadcast on TV20.
This past Wednesday, DCFC drew with the Hartford Athletic 1-1, gaining another point in the standings. Forward Pato Botello Faz scored the first goal of the game in the 20th minute, his sixth goal of the season. Defender Deklan Wynne received a cross from forward Antoine Hoppenot and was able to get the ball to a waiting Botello Faz who was unmarked in front of the net. Wynne earned his fifth assist of the season on the goal; he now leads Le Rouge in assists this season. Near the end of the first half, captain Stephen Carroll was injured while deflecting a ball in front of his own net, which forced him out for the remainder of the game. The Hartford Athletic tied the game early in the second half on a goal by midfielder Andre Lewis.
Detroit City now has an 8-6-4 record, sitting currently in fifth place in the USL Championship Eastern Conference, just six points off first place Louisville City.
Indy Eleven currently sit in eighth place in the USL Championship Eastern Conference, holding a 6-3-8 record, good enough for 21 points. They have scored 22 goals so far this season, which is the 19th most in the league. They also have conceded 27 goals bringing their goal differential to -5.
Indy Eleven come into this match in quite the mid-season funk, winless since June 4 when they defeated the Charleston Battery by a score of 4-3. Since then, they have had a draw against The Miami FC (1-1) and have lost four straight games: to the Colorado Springs Switchbacks (4-3), the San Diego Loyal (5-0), The Miami FC (1-0) and the Pittsburgh Riverhounds (1-0).
Indy Eleven forward Stéfano Pinho sits tied for 12th overall in the league with seven goals on the season, leading his team. He has 26 shots on the season, good for a tie for 26th place in the league. Pinho also leads the team with 201 duels and 98 aerial duels. He has created 10 chances this season and has a passing accuracy of 63.1%. Another Indy Eleven forward, Manual Arteaga has found the back of the net five times this season. Arteaga leads his team with 29 shots which puts him tied for 17th overall in the league and he also leads his team with 18 shots on target. He has created 12 chances and has two assists in his 12 games played so far this season.
City's next game will be away Saturday July 16, as Le Rouge heads west to take on Monterey Bay FC at Cardinale Stadium at 10:00pm EST in Seaside, California.
Follow @DetroitCityFCM on Twitter for in-match updates. For more information about Detroit City FC, visit detcityfc.com and follow @DetroitCityFC on Twitter and Facebook and @detroitcityfootballclub on Instagram.
Please send all media inquiries to media@detcityfc.com.
Primary Media Contact: Alex Wright (Co-Owner | Chief Creative Officer, alex.wright@detcityfc.com)