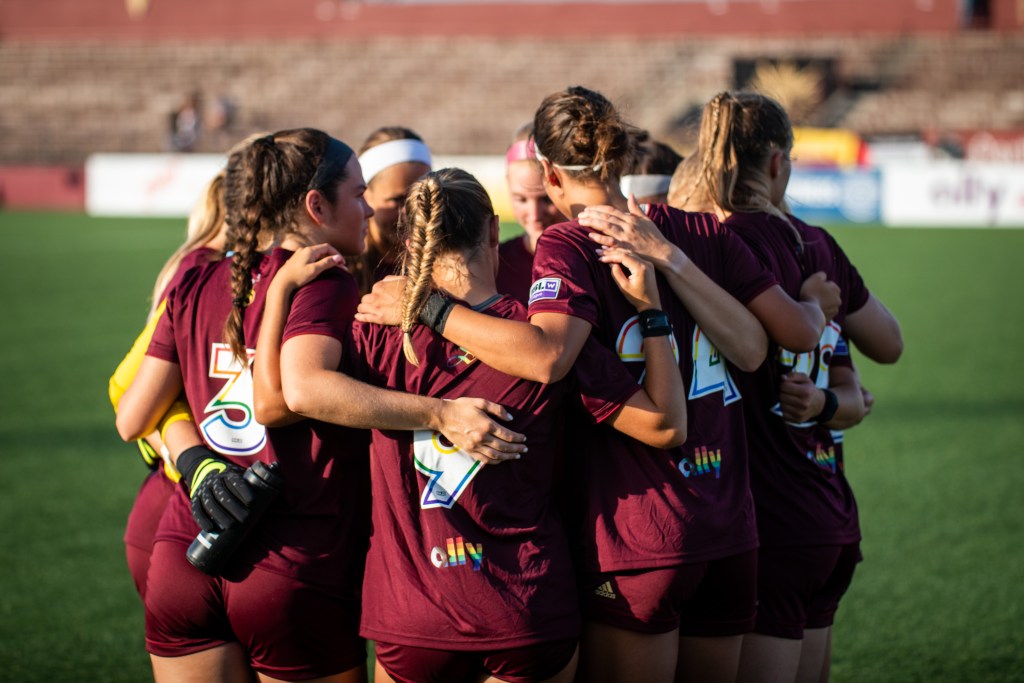 W League action is back on Tuesday night with City hosting Midwest United in a divisional showdown at Keyworth.
Stream | DCFC Match Notes | DCFC Roster | Tickets
DETROIT, Michigan – The Detroit City Football Club looks to continue its three-match unbeaten run as it hosts Midwest United FC this Tuesday, June 28. Kickoff from Keyworth Stadium is set for 7:30 pm ET and streaming on ELEVEN sports.
Detroit City has claimed six points over the past two outings, most recently a 4-2 road win over Kalamazoo FC. Forward Kenna White led the charge at Kalamazoo, netting a goal and two assists on her way to Woman of the Match honors, while defender Shannon McCarthy has netted a goal in each of the past two efforts.
Last time the side's met, Midwest United came away with a 3-1 win. Le Rouge got off to an early lead thanks to forward Faith Webber's goal in the 12th minute, but City was unable to capitalize on opportunities later in the match and allowed Midwest United to net three goals before the end of the first half.
Since 2022's first meeting, the two sides have had similar seasons that landed both clubs in the middle of the USL W League Great Lakes division standings. Separated by just two points, Midwest United is currently in fourth place with a 4-2-2 record, while Detroit City is in fifth place with a mark of 3-3-3.
DCFC and Midwest United have been league foes since 2020, with Midwest getting the better of Le Rouge in each of the five meetings, holding a +8 goal differential over City.
Three points are crucial for both sides in the playoff wild card race as the end of the season approaches. The wild card bid will be distributed to the Metropolitan division or the Great Lakes division – both divisions have more members and are playing more matches than the other five divisions.
After Tuesday's match, Le Rouge will remain at Keyworth for the front end of a home-and-home with Indy Eleven – currently at the top of the Great Lakes table.
Gates open at 6:30 pm on Tuesday and tickets are available at tickets.detcityfc.com. Tuesday's match is K9's at Keyworth presented by Strategic Staffing Solutions along with the ring ceremony for the 2021 NISA Championship men's side at halftime.
Follow @DetroitCityFCW on Twitter for in-match updates. For more information about Detroit City FC, visit detcityfc.com and follow @DetroitCityFC on Twitter and Facebook and @detroitcityfootballclub on Instagram.
##DCFC##
Please send all media inquiries to media@detcityfc.com.
Primary Media Contact: Alex Wright (Co-Owner | Chief Creative Officer, alex.wright@detcityfc.com)