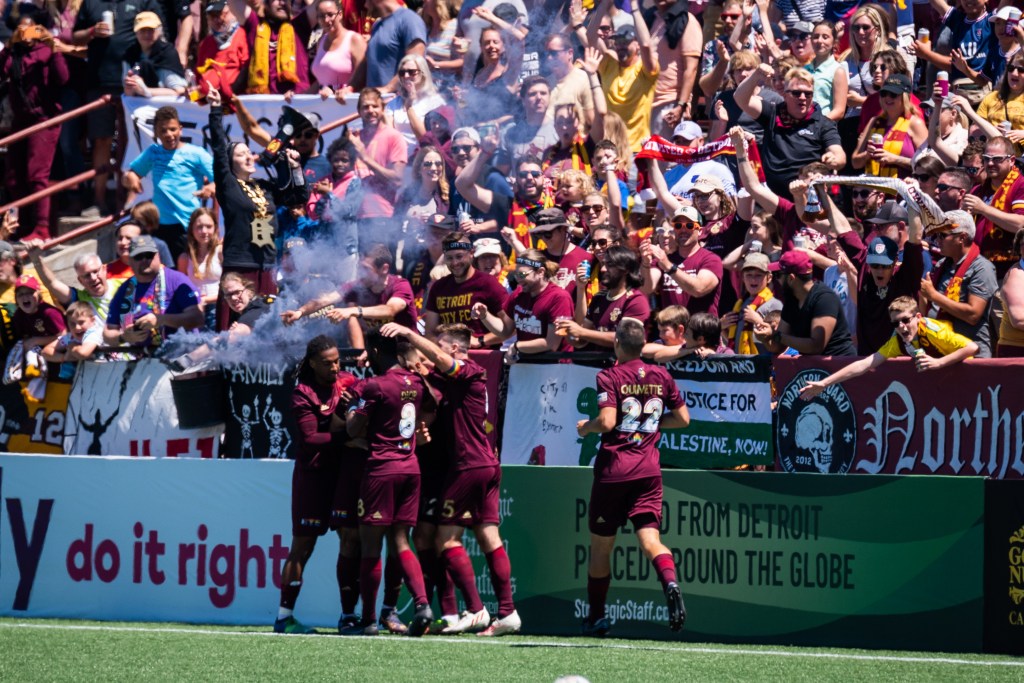 Botello Faz put Le Rouge up early on Saturday before surrendering an equalizer just nine minutes later.
HAMTRAMCK, MICHIGAN – In front of a sellout crowd of 7,267 and nationally televised on ESPN, Detroit City Football Club (7-5-3) and El Paso Locomotive FC (7-4-6) came to a 1-1 draw at Keyworth Stadium on Saturday afternoon.
After 45 minutes of play, both teams were able to hit the back of the net. Le Rouge struck first with a great finish from forward Pato Botello Faz in the 23rd minute. The play was set up by a backheel pass from midfielder Michael Bryant to left back Deklan Wynne down the left side of the pitch. Wynne played a ball into the penalty area that bounced through a series of defenders and to Botello Faz for his fifth goal of the season. 
El Paso was quick to respond though, capitalizing on a defensive miscue from City just nine minutes later. Locomotive midfielder Eric Calvillo beat goalkeeper Nate Steinwascher to his near post for the equalizer.
Detroit City had multiple opportunities to find a winner. Forward Antoine Hoppenot almost had the go-ahead goal with a strike in the 59th that rang off the crossbar. The rebound fell to the head of forward Connor Rutz, who couldn't keep the rebound attempt down and put it over the bar.
Forward Francis Atuahene – who came on for Botello Faz in the 79th – had a one-v-one opportunity with the keeper, but El Paso's Evan Newton, coming off a Team of the Week performance last time out, was able to get an outstretched hand on the chip to save a point for his side.
The Locomotive controlled the majority of play with 64% possession and also had 524 passes to City's 282.
Detroit had the edge in shots with 17, including five on target, while El Paso had 13 shots with seven landing on frame.
Le Rouge will be back in action next week at Memphis 901 FC on next Saturday, June 25th, at 8:30 pm at Autozone Park on ESPN+.
For more information about Detroit City FC, visit detcityfc.com and follow @DetroitCityFC on Twitter and Facebook and @detroitcityfootballclub on Instagram.
Goal Summary:
DET –  Pato Botello Faz 23′
ELP – Eric Calvillo (Ricardo Zacarias) 32′
##DCFC##
Please send all media inquiries to media@detcityfc.com.
Primary Media Contact: Alex Wright (Co-Owner | Chief Creative Officer, alex.wright@detcityfc.com)