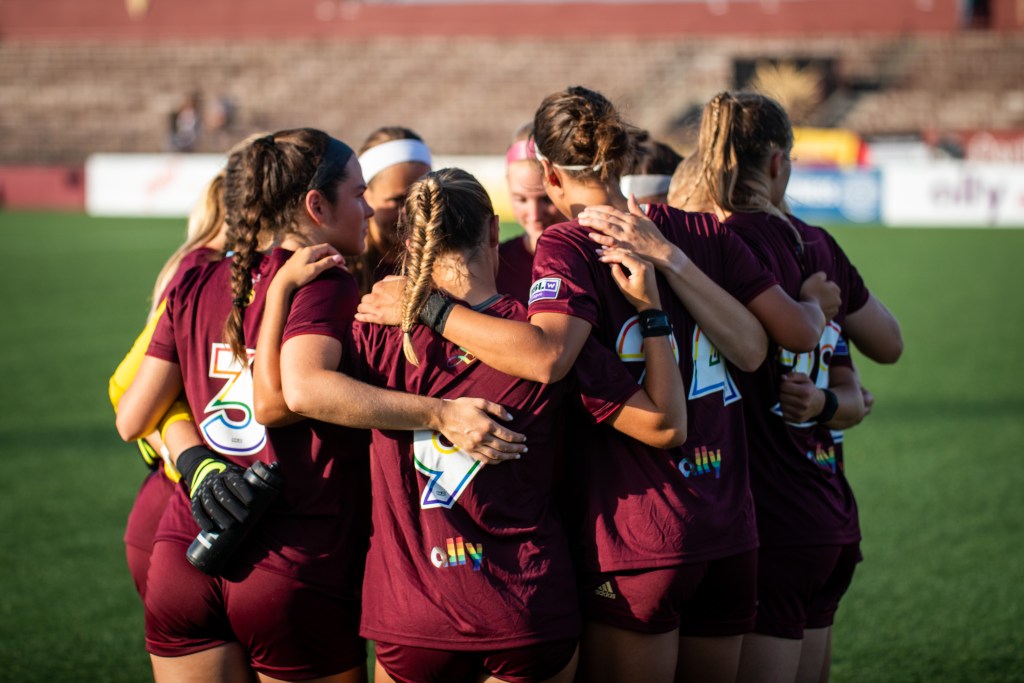 Le Rouge heads to the west side for second matchup with Kalamazoo FC .

Stream | DCFC Match Notes | DCFC Roster | Tickets
DETROIT, Michigan– The Detroit City Football Club travels to Kalamazoo on Saturday, June 18, for a W League matchup against Kalamazoo FC. Kickoff is set for 7 pm from Mayor's Riverfront Park.
Le Rouge took on Kalamazoo to open the season at Keyworth on May 7, a match that ended in a 1-1 draw. Defender Alia Fredericks led the way early in the match, weaving through the Kalamazoo defense to set up Ellie Pool for City's opening goal of 2022.
Most recently, Detroit City took down AFC Ann Arbor in a 2-1 victory at Keyworth on Wednesday night. Le Rouge was dominant throughout the entire match, never taking its foot off the gas despite the extreme heat in the area. Defender Shannon McCarthy was instrumental in the win, earning herself the Woman of the Match honors with a goal and an assist on the night. McCarthy paces DCFC – along with Fredericks – with two assists in the campaign. 
Detroit's goalkeepers have also performed well this season. Gabby Shriver has posted a .808 save percentage in four games played while Deighton Wamer and Bethany Kopel have posted .800 and .765 save percentages respectively, in two games apiece. In total, Le Rouge has turned aside 42 shots through eight outings.
Since the first meeting, Kalamazoo has posted a 2-4-1 record – good for sixth place in the Great Lakes division, just one place below Detroit City in fifth with a 2-3-3 record. The two clubs are separated by just two points.
Le Rouge next returns home to take on Midwest United on Tuesday, June 28, for the second matchup of the season between the familiar foes.
Follow @DetroitCityFCW on Twitter for in-match updates. For more information about Detroit City FC, visit detcityfc.com and follow @DetroitCityFC on Twitter and Facebook and @detroitcityfootballclub on Instagram.
Please send all media inquiries to media@detcityfc.com.
Primary Media Contact: Alex Wright (Co-Owner | Chief Creative Officer, alex.wright@detcityfc.com)