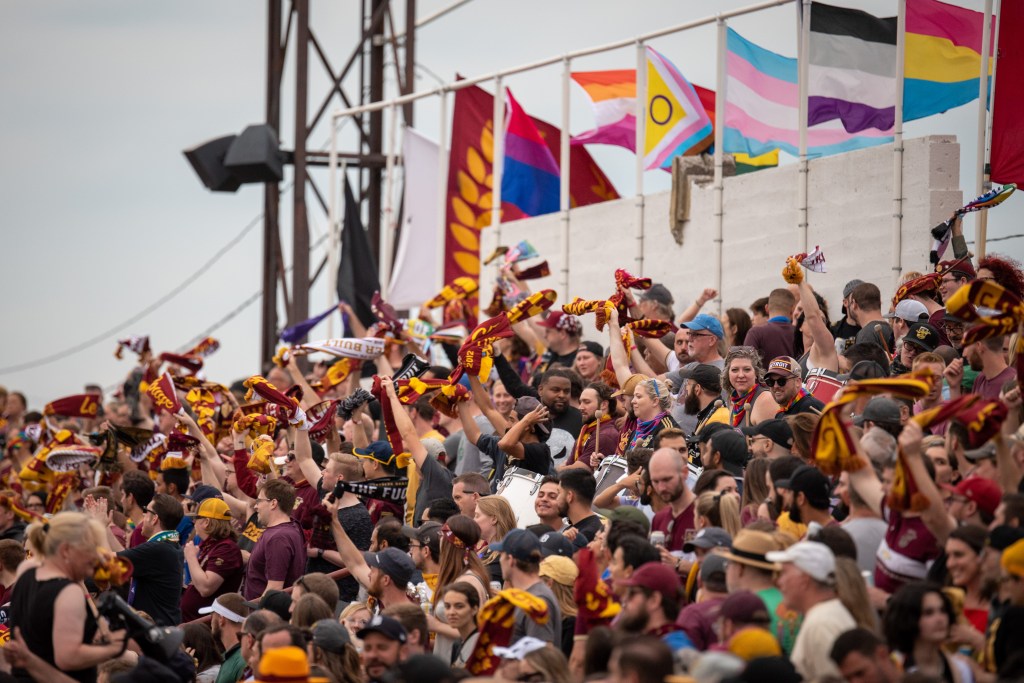 Saturday's fixture against El Paso airing on ESPN is sold out. Kickoff set for Noon.
DETROIT, Michigan – The Detroit City Football Club announced its first-ever pre matchday sellout of Keyworth Stadium ahead of Saturday's fixture against the El Paso Locomotive. The match is the USL Championship's first-ever regular season game to air on ESPN.
Kickoff on Saturday is set for noon with gates opening at 10:30 a.m. To mark the early start for the nationally televised match, the Club will have special matchday features including, DCFC themed donuts from Yellow Light Donuts, games, a dj, and special brunch items from the regular matchday food truck vendors.
Detroit City will appear on a national broadcast for the second time this season. April 15's fixture against Birmingham Legion at Keyworth – a 1-0 victory for Le Rouge – aired on ESPN Deportes.
Le Rouge announced a season-high attendance of 7,011 last time out against Sacramento Republic. Detroit City listed capacity at Keyworth for the 2022 season at 7,231.
Keyworth has hosted more than 7,000 for a Detroit City match on nine different occasions since 2016 – the largest announced attendance was 7,887 coming on July 31, 2018, as City hosted Italy's Frosinone Calcio.
Saturday marks just the second time that Le Rouge has announced an official sellout prior to kick-off at Keyworth. During the 2017 NPSL playoffs, DCFC sold out for the national semifinals against Midland-Odessa on matchday. The attendance was announced at 7,553.
DCFC All-time Attendance Highs at Keyworth:
7,887 v Frosinone Calcio on 7/31/18 (Friendly)
7,533 v Midland-Odessa on 8/5/17 (NPSL National Semifinal)
7,478 v Club Atlas on 9/7/19 (Friendly)
7,449 v Club Necaxa on 7/10/18 (Friendly)
7,410 v AFC Ann Arbor on 5/20/17 (NPSL Regular Season)
7,264 v St. Pauli on 5/19/18 (Friendly)
7,231 v LA Force on 7/31/21 (NISA Championship)
7,097 v Windsor TFC on 7/24/18 (Friendly)
7,011 v Sacramento Republic on 6/11/22 (USL Championship Regular Season)
For more information about Detroit City FC, visit detcityfc.com and follow @DetroitCityFC on Twitter and Facebook and @detroitcityfootballclub on Instagram.
##DCFC##
Please send all media inquiries to media@detcityfc.com.
Primary Media Contact: Alex Wright (Co-Owner | Chief Creative Officer, alex.wright@detcityfc.com)