The Detroit City Football Club, along with its partner Strategic Staffing Solutions, is excited to announce the relaunch of the Let's Make Roots campaign for the 2022 season.
Let's Make Roots is a supporter-created initiative to distribute tickets to community members who may not otherwise be able to attend a professional sporting event.
Core to the values of our organization after all the years, is being the most accessible and affordable sporting experience in Detroit. As our Club grows and takes on higher levels of competition, it is more important than ever to stay rooted in the community.

– CEO and Co-Founder Sean Mann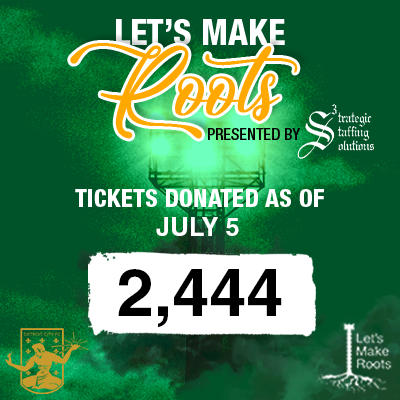 Here's how it works:
Fans can buy an additional single-game ticket or a season-long pass to contribute to the program.
Season ticket holders can donate their ticket to any fixture that they are unable to attend.
For the first time ever, Strategic Staffing Solutions is matching ticket donations during the 2022 season. That means your donation goes twice as far!
Community groups interested in participating in the Let's Make Roots campaign should email tickets@detcityfc.com.
How to Donate Your Unused Upcoming Match Ticket as a Season Ticket Holder
Log into your Detroit City ticketing account on Passage.
Find the match and click 'Transfer Tickets'.
Click 'Send As Gift'.
In the email address field, enter tickets@detcityfc.com
In the message field, enter 'Let's Make Roots'.
We will distribute your ticket!