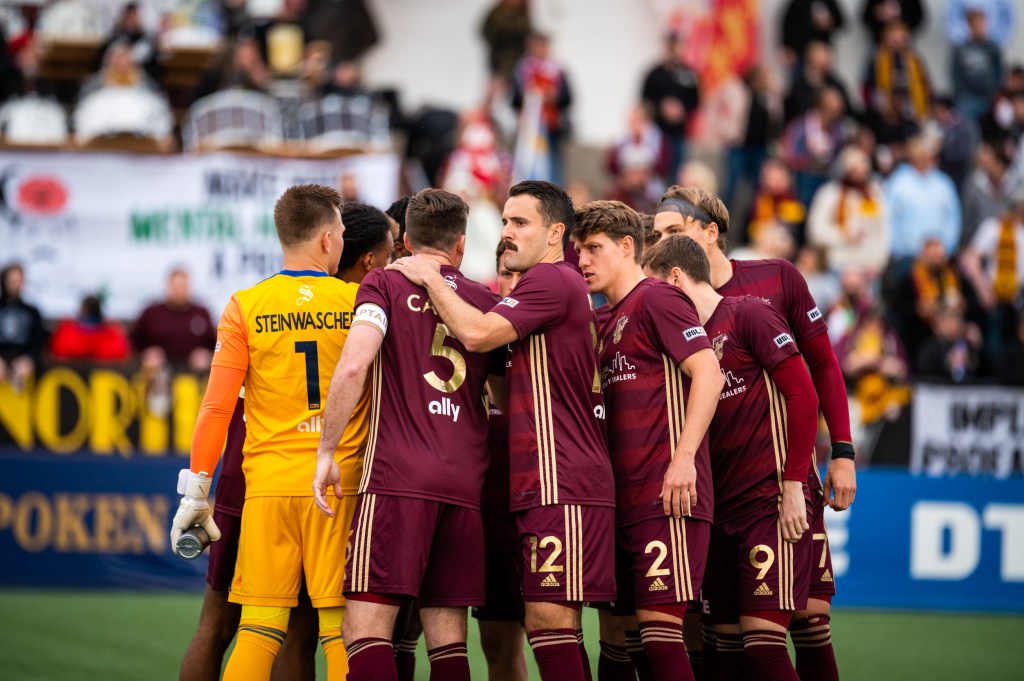 ESPN + | DCFC Match Notes | 2023 DCFC Roster | Pittsburgh Riverhounds Notes
Detroit, Michigan – It's down to the wire for Detroit City FC's playoff hopes as they welcome the Pittsburgh Riverhounds to Keyworth Stadium on Saturday, but it will also be the final home match in Head Coach Trevor James' illustrious DCFC career. Kickoff is scheduled for 4:00 PM Eastern and will be streamed live on ESPN+ and broadcast on TV20 Detroit, FOX47 Lansing, and Sirius XM FC Channel 157.
Detroit is coming into this match off of a 3-0 victory against Loudoun United FC. A Maxi Rodriguez first-half brace plus a Ben Morris goal in the second half carried Le Rouge to victory in Virginia last Saturday night. For their performances, both Maxi Rodriguez and Nate Steinwascher were named to the USL Championship Week 31 Team of the Week. Rodriguez's two shots during the game were converted into two goals, and Steinwascher made five crucial saves to keep a clean sheet.
Even with the win, Detroit still currently sits in 9th place in the Eastern Conference, one point outside a playoff spot. With that being said, this game for Le Rouge is do or die. Detroit does not control its own destiny, and if it wants to make the playoffs, Detroit City needs to get more points on Saturday than Miami FC to advance to the playoffs. Miami travels to Sacramento to face off against Sacramento Republic FC. Kickoff for that game is 10:00 PM Eastern.
After the match, Detroit will be honoring the club's first four City Centurions, players who have played over 100 professional matches with Le Rouge. Stephen Carroll, Maxi Rodriguez, Connor Rutz, and Nate Steinwascher are the first four players with 100 matches for the club.
Club Captain Stephen Carroll has been with Le Rouge since the 2017 season and became the captain of the club in 2019. From Cork, Ireland, Carroll has played in 109 professional matches for Detroit City and is the club's all-time appearance leader.
Maxi Rodriguez joined the club ahead of the 2021 season and has scored some crucial goals in the club's history. From San Antonio, Texas, Rodriguez has made 102 appearances for Le Rouge and has played in some of the club's biggest games.
Connor Rutz has been with Detroit City since 2020. Rutz is from Commerce Township, Michigan, and has appeared in the most professional matches for Le Rouge, with 112 since the start of the 2020 season, and won the 2021 Black Arrow MVP award.
Finally, Nate Steinwascher made his debut with Detroit City back in 2016 and played for the club up until 2018, when he went over to Sweden for a season before returning to Detroit in 2019. Steinwascher is from Sterling Heights, Michigan, and has made 102 professional appearances for the club and won the 2022 Black Arrow MVP award. 
The winners of the 2023 Black Arrow MVP and Player's Player of the Year awards will also be announced and honored following the conclusion of Saturday's match.
Trevor James will be coaching in his final regular season match for Le Rouge on Saturday. James was appointed head coach of Detroit City in 2019 when Detroit was still in the NPSL. James led them up to the NISA and then led them to the USL Championship. Following the conclusion of the 2023 season, James will be promoted to Sporting Director and is currently leading the Head Coaching search to fill the vacancy he is leaving.
Pittsburgh Riverhounds come into this game sitting top in the Eastern Conference and are on a 7-match unbeaten streak. Riverhounds come into the game having already clinched the top spot in the East and as the winners of the Players Shield, awarded to the team with the best regular season record.
These two teams faced off in July at Highmark Stadium in Pittsburgh. Riverhounds walked away with a 2-0 victory off of an Edward Kizza goal in the 8th minute and a Burke Fahling goal in the 51st minute to give Pittsburgh the three points.
For more information about Detroit City FC, visit detcityfc.com and follow @DetroitCityFC on Twitter and Facebook and @detroitcityfootballclub on Instagram.
##DCFC##
Please send all media inquiries to media@detcityfc.com.
Primary Media Contact: Jarrett Maki
(Sports Information Director, Jarrett.Maki@detcityfc.com)