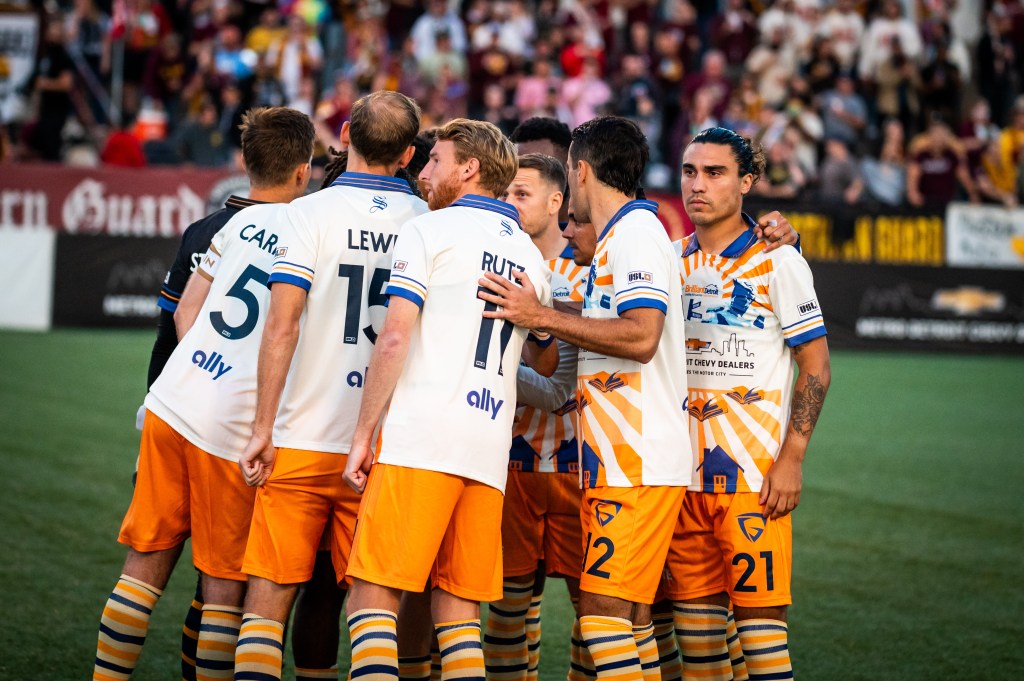 ESPN + | DCFC Match Notes | 2023 DCFC Roster | Colorado Springs Notes
Detroit, Michigan – Detroit City FC play at home once again for the second time in four days as they get ready to face off with Colorado Springs Switchbacks FC this Wednesday at Keyworth Stadium. The match is scheduled to kick off at 7:30 PM Eastern and will be streamed live on ESPN+. Tickets are still available and can be purchased here.
Detroit City is coming off a 3-0 victory this past Saturday that put them back into a playoff spot with only four games left in the regular season. Goals from Darío Suárez, Michael Bryant, and Matt Lewis, plus a clean sheet from Nate Steinwascher, helped Le Rouge cruise to victory over Hartford for the second time this season.
After his stunning back-heeled goal of a second-half corner kick, Defender Matt Lewis earned a spot in the USL Championship Team of the Week for Week 29. In addition to his goal, Lewis was strong on the back line for Detroit on Saturday, winning two tackles, three duels, and completing 38 out of 43 passes.
With the Saturday win, Detroit has again jumped into the 8th and final playoff spot in the Eastern Conference. With only four games to go, Detroit still controls its own destiny, plus they still have games ahead against other Eastern Conference playoff hopefuls, Indy Eleven and Loudoun United. A win against the Switchbacks would see a four-point cushion for Le Rouge inside of the playoff places.
Colorado Springs comes into this game on a three-match unbeaten streak, most recently defeating Sacramento Republic FC 2-0 on Saturday. Switchbacks currently sit in 6th place in the Western Conference standings with 43 points from 30 games played.
Detroit won the only previous matchup between these two sides, a 2-1 victory in Colorado Springs last September, a match which saw goalkeeper Ryan Shellow make his professional debut, leading the side with an impressive performance that saw one of his saves nominated for Save of the Week.
Following the midweek clash, Detroit City FC will hit the road, heading to Indiana to take on Indy Eleven on Saturday.
For more information about Detroit City FC, visit detcityfc.com and follow @DetroitCityFC on Twitter and Facebook and @detroitcityfootballclub on Instagram.
##DCFC##
Please send all media inquiries to media@detcityfc.com.
Primary Media Contact: Jarrett Maki
(Sports Information Director, Jarrett.Maki@detcityfc.com)