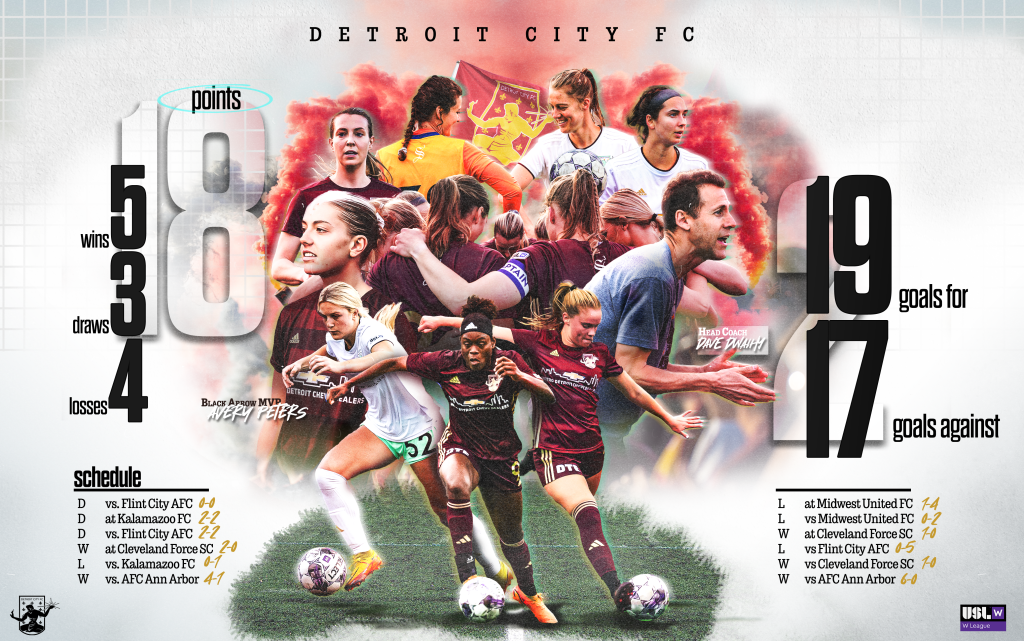 Detroit, Michigan – After finishing 3-6-3 in the 2022 USL W League regular season, Detroit City FC brought in club legend, former player, and current co-owner David Dwaihy to help sway the team's direction.
Under his guidance, the team saw improvement in the 2023 slate of matches. Le Rouge finished with a record of 5-4-3, just barely failing to qualify for postseason play.
"I think we had a very talented group," Dwaihy said. "It's tough to get results in this league without having some talent. I also thought we had a really good blend of younger and older players, you know, current college players and some of the more experienced players who are out of school and I thought that older group did a really nice job, sort of setting the tone for the expectations in terms of commitment and intensity of training and the level of investment. Then, in turn, the younger players really stepped up and embraced the challenge and really maintained a really excellent commitment as well."
While there were a decent amount of memorable moments from the season, Dwaihy said the final game against Ann Arbor was his favorite out of the 12 regular season matches.
"Pulling away on the scoreboard, we were up six nothing when the rain delay happened and everything was kind of going our way that day," Dwaihy said. "I thought it was like a perfect culmination of a season of hard work. You hope you'll have one or two a season when everything just kind of clicks. I thought it was especially rewarding that that happened in that final game and we were able to send everyone off with a really good feeling about the team and the season."
Even though this year the squad showed improving strides, there still is more work to be done in order to qualify for the playoffs in the future and find a consistent amount of success with roster change seeming inevitable due to the career situations of some of the players.
"We certainly don't expect that every single player will be available or in next year, but I do hope that we'll return the majority of our roster," Dwaihy said. "I thought our backline was consistently really strong. We had great depth in the goalkeeper position. And I thought we had a lot of talent in the midfield and upfront as well. One player that we didn't get to see this year was Julia Washington, who was recovering from knee surgery and didn't quite get cleared. And I think she's somebody that's already in the pool who stands to make a big impact next year. If we return to the majority of our defensive players, I think we're well within our ability to keep some clean sheets and only concede a few goals. I think if we could get a little bit more offensive production, we'll be in really good shape."
While players will either be returning to college, going home, or staying local, captain, defender and Sports Performance Manager Elisa Baeron has a vision to keep everyone affiliated with the club in shape and prepared for next year.
"I think now in the offseason, she's going to be well equipped so everyone kind of has a plan in terms of staying fit, getting faster and stronger between now and next season," Dwaihy said. "I know that the players who are out of school who are local, they really look forward to that as an outlet, a form of recreation and in the midst of their busy, professional lives, so I think we'll all be eager to take some steps toward getting even more fit and ready for next year."
All things considered, Dwaihy said that his first season coaching Detroit City FC's first team exceeded his expectations thanks to everyone involved with the organization.
"I want to take this opportunity to thank all the supporters and the ownership group for having faith in me to do the job and of course, the players, they really made it an enjoyable season. Each and every one of them brought something valuable so I really, really enjoyed it because of them."
Le Rouge finished the season in third place in the Great Lakes Conference of the USL W-League, amassing 18 points from 12 matches. Both are up from 12 points from 12 matches in 2022 and a 5th-place finish in last year's Great Lakes Division.
The 2023 Black Arrow MVP for the USL W League campaign was midfielder Avery Peters who appeared in nine matches, starting seven, totaling 668 minutes of play. Peters also found the back of the net on two occasions, also setting up a teammate for an assist as well. Peters is entering her Junior year at the University of Michigan.
This story was written by Nick Lundberg, Michigan State University
For more information about Detroit City FC, visit detcityfc.com and follow @DetroitCityFC on Twitter and Facebook and @detroitcityfootballclub on Instagram.
##DCFC##
Please send all media inquiries to media@detcityfc.com.
Primary Media Contact: Jarrett Maki
(Sports Information Director, Jarrett.Maki@detcityfc.com)