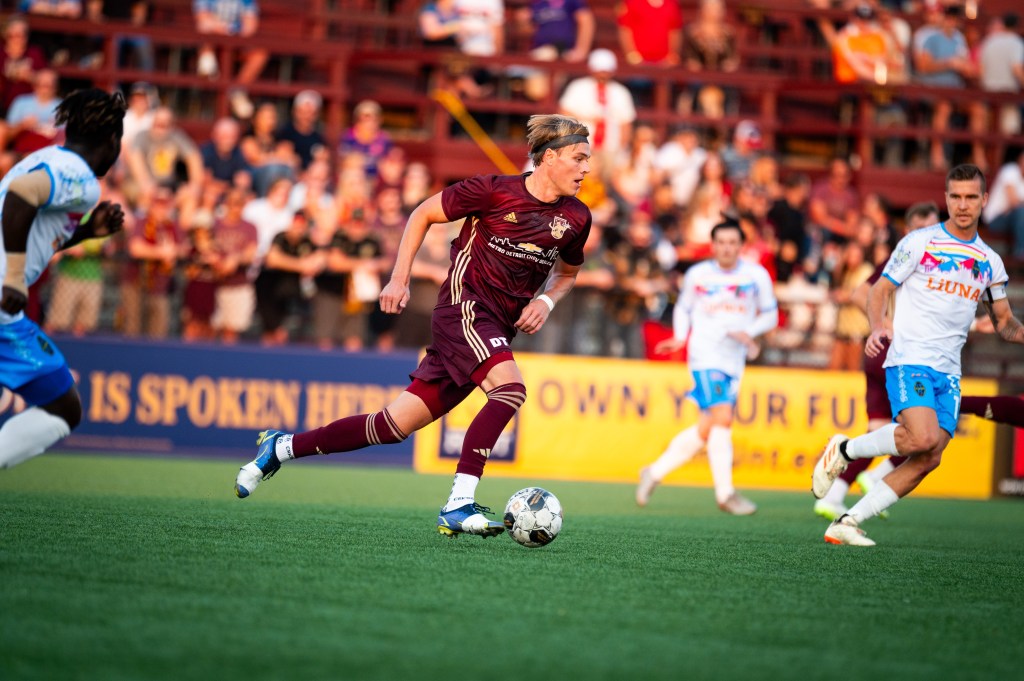 Detroit, Michigan – Detroit City FC faced off against bottom of the Western Conference Las Vegas Lights FC, winning the match by a score of 1-0 with a comfortable performance that saw Le Rouge dominate possession for a majority of the 90 minutes.
DCFC Manager Trevor James made four changes to his starting lineup following the one-nil loss to Charleston Battery last weekend. Swapping Brett Levis out for Matthew Lewis, along with switching Richard Ballard, and the injured Abdoulaye Diop out of the midfield for Conner Rutz, and Dominic Gasso. While the final change would be Skage Simonsen coming in for Dario Suarez.
Lights Manager Isidro Sanchez would make just one change to his lineup from their previous match which ended in a 3-0 loss to Loudon United. Electing Andre Zuluaga-Silva to fill in between the sticks stepping in for Alan Diaz.
The first action of the match came early on as the visitors would test their luck in the second minute with a shot from the top of the 18-yard box but Steinwascher would produce an impressive diving save to prevent the visitors from taking an early lead.
As Le Rouge began to settle into the match they would begin to dominate possession while maintaining a majority of it in the Las Vegas defensive half.
In the 18th minute, DCFC would get their first chance of the half as a clearance from Detroit's defensive half would find Skage Simonsen in the Vegas 18-yard box as he would hold off a defender on his back before turning and firing a shot on target that would call on Silva of Vegas to save.
In the 27th minute, Le Rouge would go calling for a goal once again after an impressive run of possession around the Vegas 18-yard box would end in Rhys Williams finding himself free on the right flank before floating a ball into the back post that would go begging to be taped in.
Just 5 minutes later Las Vegas would get their best chance of the half on the counterattack, as a ball would be flashed across the DCFC six-yard box before being met by Bagley of Vegas who would lift his shot over the empty net.
In the 36th minute, DCFC would take the lead after a weak back pass from a Las Vegas Lights defender to their goalie would be cut out by Maxi Rodriguez, as he would calmly pick out the crashing Skage Simonsen who would fire into the empty net from six yards out.
The final action of the half would fall to Las Vegas as Taboretaka would dance into the 18-yard box before firing a shot on target at the near post that would be caught by the safe hands of Steinwascher.
The second half would be a rather uneventful one with Detroit City FC looking to set up shop and preserve their three points.
In the 58th minute, Steinwascher would be called into action making a flash save to his right side as he would face a shot from eight yards out.
In the 63rd minute, Skage Simonsen would cleverly flick a ball the first time around the corner for Rhys Williams to run onto before being brought down on the top of the 18-yard box for a free kick. Maxi Rodriguez would stand over the free kick and fire a shot on target towards the top left corner that would be batted away by Silva of Vegas to keep the score at one-nil.
Steinwascher would be called back into action in the 76th minute as a cutback would find Ingram of Vegas on the top of the 18-yard box before he would fire a shot on target that would be met by a flying Steinwascher to preserve the Le Rouge lead.
The final 15 minutes of play would see Vegas continue to push men forward but be unable to create a decisive chance that would see them sneak away with a point.
Le Rouge will be on the road for their next match in USL Championship action as they head to Birmingham to face off against 6th in the Eastern Conference Birmingham Legion on the 27th of August with kickoff set for 5 pm ET.
DCFC Starting Lineup: Steinwascher (GK), Amoo-Mensah, Bryant, Carroll (C), Lewis, Gasso 84', Rodriguez, Rutz, Williams, Morris, Simonsen 69'
DCFC Used Subs: Ballard 69', Fisher Jr 84'
Goalscorers: Simonsen 36'
Bookings: Steinwascher 82' Ballard 88'
Las Vegas Starting Lineup: Zuluaga (GK) Stauffer, Zali, Lage, Mitrano, Bushue (C), Carleton 89', Jimenez 60', Oteng 72', Preston, Bagley
Las Vegas Used Subs: Ingram 60', Dolling 72', Ledesma 89'
Goalscorers:
Bookings: Tabortetaka 54', Ingram 73', Bushue 90'
For more information about Detroit City FC, visit detcityfc.com and follow @DetroitCityFC on Twitter and Facebook and @detroitcityfootballclub on Instagram.
##DCFC##
Please send all media inquiries to media@detcityfc.com.
Primary Media Contact: Jarrett Maki
(Sports Information Director, Jarrett.Maki@detcityfc.com)