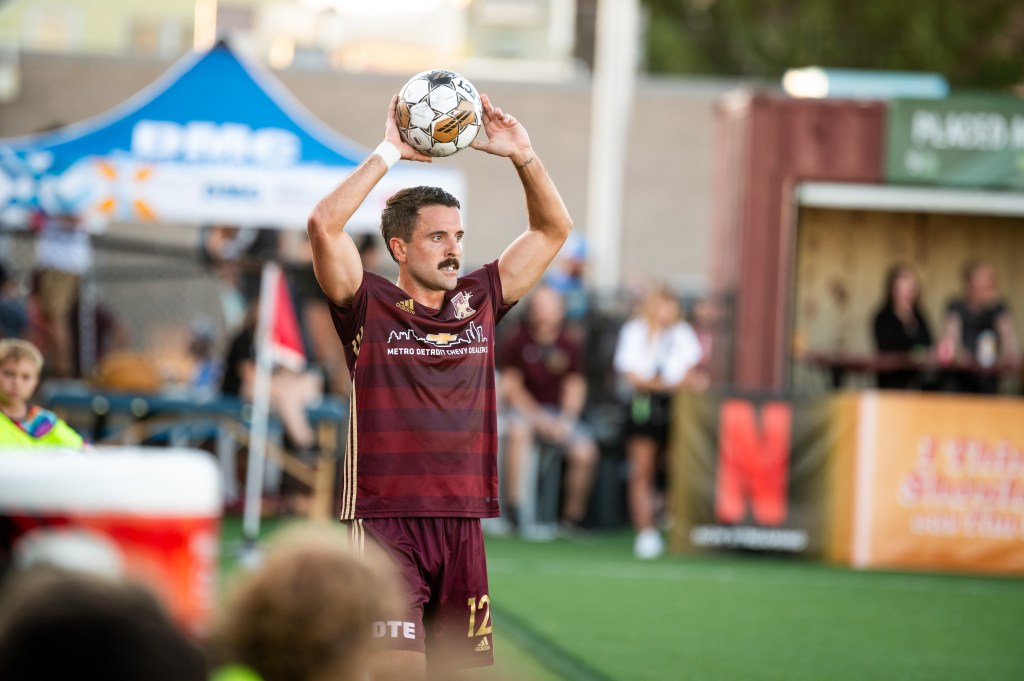 Detroit, Michigan — After an off-week following a 1-1 draw on the road against Oakland Roots SC, Detroit City FC fell by just a goal at Keyworth Stadium against the Charleston Battery Saturday evening. 
It was a season high turnout for the Le Rouge faithful on the beautiful evening as 7,000 plus packed the Keyworth stands.
The match got off to a chippy start as both teams committed fouls within the first five minutes. The game also saw its first yellow card handed out to Le Rouge defender Matt Lewis in the seventh minute.
Detroit's offense started to piece together some quality first half chances starting in the 13th minute as forward Ben Morris was involved heavily in the action.
Forward Dario Suarez also got in on the action about midway through the first half as his shot in space just sailed over the crossbar.
City kept on attacking as the first half progressed as Morris found midfielder Abdoulaye Diop who's shot could not sneak its way through the Charleston penalty box.
City continued the pressure after a scoreless first half from both sides as defender Devon Amoo-Mensah got his head on DCFC's second corner kick of the match but his chance skipped out of play.
The Battery broke the 0-0 stalemate in the 71st minute as forward Pierre Reedy found fellow forward Augustine Williams on the right side of the box as he fired his shot past a diving Le Rouge keeper Nate Steinwascher.
Detroit could not put together an equalizing chance in the final 20 minutes, ultimately resulting in a 1-0 defeat. With the loss, DCFC stays pat at 10th on the USL Championship Eastern Conference table.
Detroit City will be back home next Saturday to host a Western Conference foe in the
Las Vegas Lights in a match that will be broadcast nationally on ESPN2. Tickets can be purchased here.
DCFC Starting Lineup: Steinwascher (GK), Williams, Bryant, Amoo-Mensah, Lewis, Ballard (78'), Morris, Diop (60'), Levis, Rodriguez, Suarez (78')
Bookings: Lewis (7'), Bryant (27'), Levis (82')
DCFC Used Subs: Gasso (60'), Fisher Jr. (78'), Rutz (78')
Charleston Starting Lineup: Muse (GK), Crawford (65'), Wynne, Archer, Palma, Dodson, Allan, Ycaza, Barajas, Williams (88'), Reedy
Goalscorers: Williams (71')
Charleston Bay Used Subs: Markinich (65'), Cochran (88')
Bookings: Palma (40'), Reedy (75')
For more information about Detroit City FC, visit detcityfc.com and follow @DetroitCityFC on Twitter and Facebook and @detroitcityfootballclub on Instagram.
##DCFC##
Please send all media inquiries to media@detcityfc.com.
Primary Media Contact: Jarrett Maki
(Sports Information Director, Jarrett.Maki@detcityfc.com)