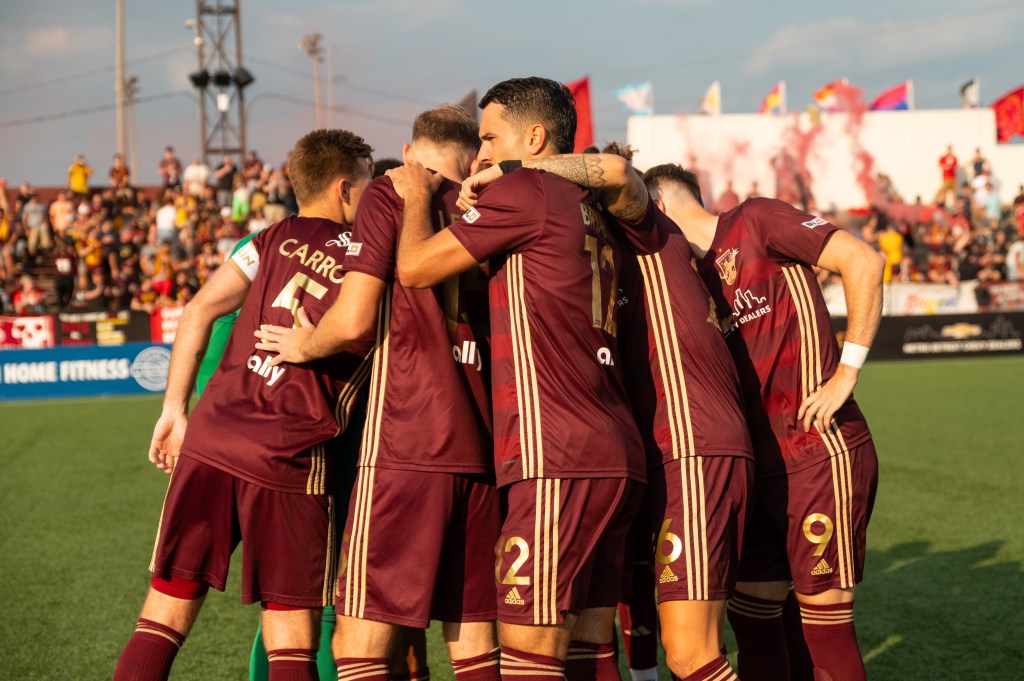 Stream (ESPN+) | DCFC Match Notes | Charleston Battery FC Match Notes | 2023 DCFC Roster | USL Championship Notes
Detroit, Michigan – After drawing 1-1 two weekends ago in California against Oakland Roots SC, Detroit City FC is returning home after a 14 day break to host the Charleston Battery for their second bout of the season. Kickoff is scheduled for 7:30 and tickets are still available but going fast! Get yours here. The match will be streamed live on ESPN+ while being broadcast on TV20 Detroit.
Le Rouge forward Dario Suarez will be looking to make his 100th appearance in the USL Championship on Saturday. Suarez, recently acquired from FC Tulsa, made most of his appearances for Tulsa after beginning his USL career at The Miami FC.
In the last time out in South Carolina, both City and Charleston failed to get in the scoring column, resulting in a 0-0 draw that saw both sides create dangerous chances in front of goal but failed to convert.
Detroit currently sits at 10th on the USL Championship Eastern Conference table with a record of 6-6-11. On the other hand, the Battery are right at the top of the league with a total of 40 points, which puts them just behind Pittsburgh who holds the top spot.
Detroit City's backline will have to be wary of Battery forward Augustine Williams. The 26 year old has notched nine goals in 22 games this year. Similar to City, Charleston also is stout between the sticks as their goalkeeper Trey Muse has recorded 62 saves in 24 appearances. He sits just one spot behind Le Rouge tender Nate Steinwascher on the USL Championship save leaderboard as Steinwascher has secured 64 saves in 2023, which ranks him fifth in the entire league.
Charleston is coached by former Detroit City FC head coach Ben Pirmann, who will be visiting Keyworth Stadium for the first time with his newest club, the Battery. Pirmann was at the helm of Detroit City FC for six seasons in the National Premier Soccer League, spanning from 2013-2018, before taking an assistant coaching job at Memphis 901 FC. Pirmann would eventually rise to the head coach role at Memphis and stayed there until the conclusion of the 2022 season which saw his side knock Le Rouge out of the 2022 USL Championship Playoffs by a scoreline of 3-1.
For more information about Detroit City FC, visit detcityfc.com and follow @DetroitCityFC on Twitter and Facebook and @detroitcityfootballclub on Instagram.
##DCFC##
Please send all media inquiries to media@detcityfc.com.
Primary Media Contact: Jarrett Maki
(Sports Information Director, Jarrett.Maki@detcityfc.com)