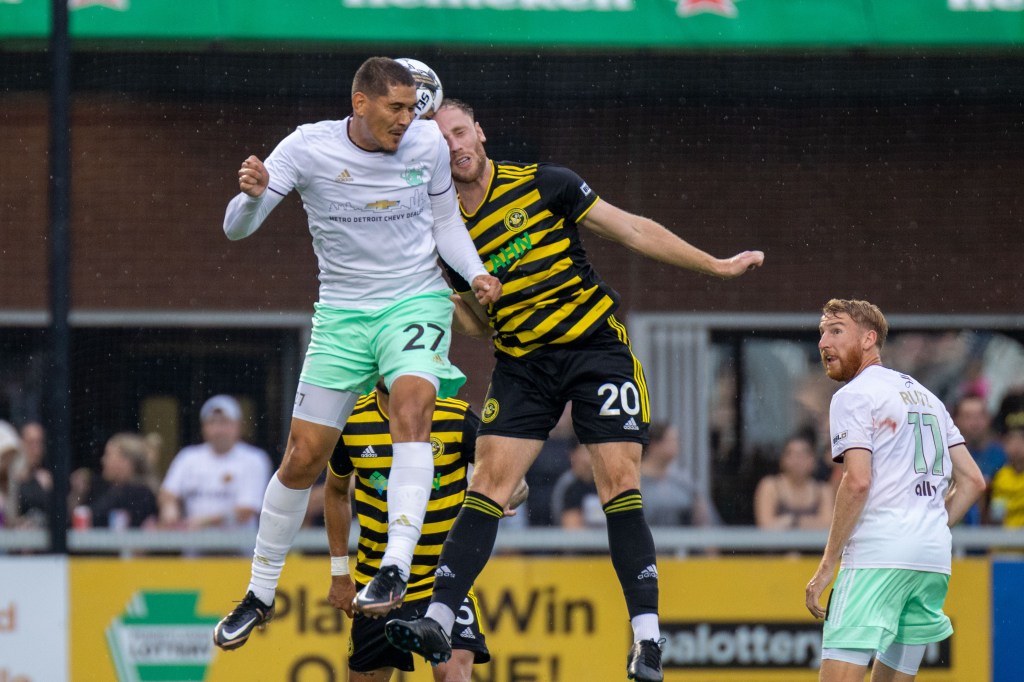 Pittsburgh, Pennsylvania – Detroit City FC falls to the top of the Eastern Conference Pittsburgh Riverhounds by a score of two to nil in what was a top-notch defensive performance from the hosts. It was a chippy match that saw Pittsburgh score early on in both halves and proceed to set up shop to protect their three points.
Manager Trevor James would line up Le Rouge in their usual 3-5-2 shape after playing in a 4-4-2 in their previous 1-1 draw against Loudoun United. Making three changes to the starting lineup with Ballard, Levis, and Gasso all being given the nod to replace Morris, Williams, and the injured Matthew Lewis.
Pittsburgh's Manager Bob Lilley would make a number of rotations to his starting 11 with five players being rotated from their previous 1-0 win against Louisville City FC.
The first action of the half would come in the eighth minute when Kizza of Pittsburgh would find himself slipped into the 16-yard box on the left-hand side and tidily tuck the ball in the back of the net.
DCFC would go on the search for an equalizer, dominating possession for a majority of the first 20 minutes but struggling to find a decisive pass in the final third that would lead to a chance on goal.
In the 23rd minute, Levis would look to catch the keeper off his line with a half-volley effort that would go flying over the bar.
Pittsburgh would begin to fashion more chances in the final third with many crosses, none of which would beat Steinwascher who would claim multiple crosses and make a couple of routine saves from on-target shots—sending the two teams into the break still at the score of 1-0 to Pittsburgh.
The first action of the second half would come in the 49th minute when Gasso would give away a free kick on the top of the 18-yard box that would be smashed into the top right corner by Fahling to give the hosts a 2-0 lead.
DCFC would continue to dominate possession in search of an equalizer but struggle to break down Pittsburgh's low block that would see their 18-yard box as impenetrable.
In the 62nd minute, DCFC would go to their bench for the first time bringing on Williams for Levis.
Seven minutes later Le Rouge would have a sustained period of possession around the 18-yard box that would end in a shot from Rodriguez being blocked.
In the 74th minute, DCFC would go to the bench again making attacking-minded changes swapping Suarez for Morris, and midfielder Gasso would come off for forward Simonsen.
The final substitution of the match would come in the 82nd minute when Billhardt would enter the match for Yazeed Matthews.
The last action of the match would come In the 87th minute Ballard would dance into the 18-yard box and fire a shot off the crossbar for DCFC's best chance of the match.
With this loss, DCFC is winless in six but will have a chance to bounce back midweek when they return to Keyworth Stadium to face off against Louisville City on Wednesday, July 19th. Streaming will be available on ESPN+.
DCFC Starting Lineup: Steinwascher (GK), Amoo-Mensah, Bryant, Carroll (C), Ballard, Levis 62', Gasso 74', Rodriguez, Rutz, Suarez 74', Matthews 82'
DCFC Used Subs: Williams 62', Morris 74', Simonsen 74', Billhardt 82'
Goalscorers:
Bookings:
Pittsburgh Starting Lineup: Waite, Fahling, Ordonez, Farrell, DeShields, Rovira, Forbes (C) 83', Zwetsloot 62', Griffin, Dikwa 83', Kizza 62'
Pittsburgh Used Subs: Ybarra 62', Mertz 62', Hogan 72', Obregon 83', Showunmi 83'
Goalscorers: 8' Kizza, Fahling 90'
Bookings: Forbes 37', Ordonez 47'
For more information about Detroit City FC, visit detcityfc.com and follow @DetroitCityFC on Twitter and Facebook and @detroitcityfootballclub on Instagram.
##DCFC##
Please send all media inquiries to media@detcityfc.com.
Primary Media Contact: Jarrett Maki
(Sports Information Director, Jarrett.Maki@detcityfc.com)