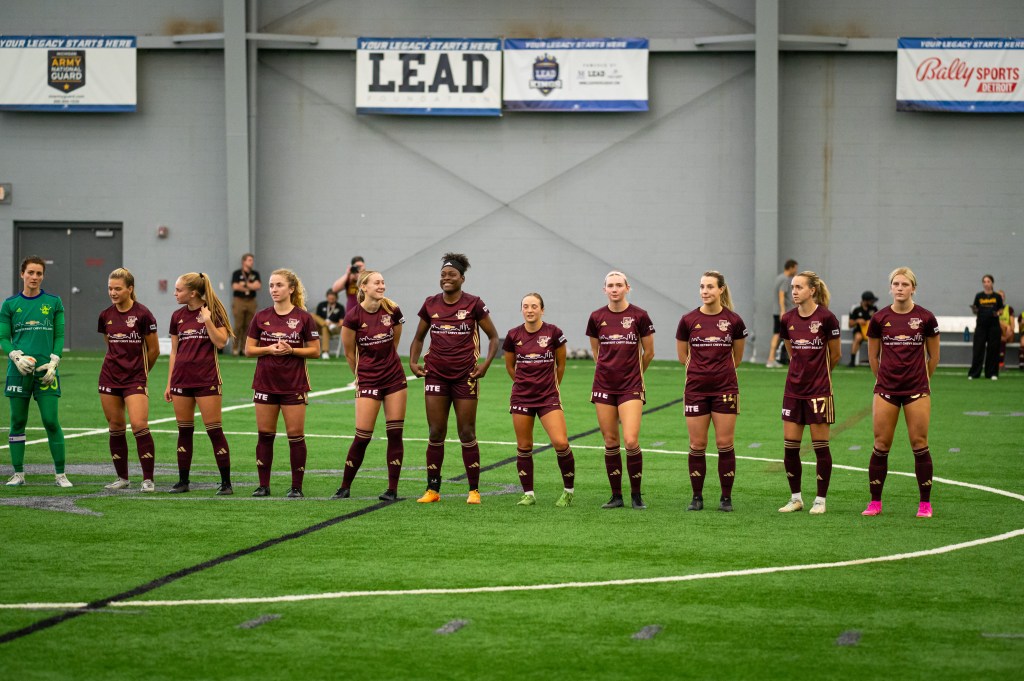 Detroit, Michigan – Detroit City FC is looking to end its Sophomore season in the USL W League on a high note Saturday evening as the squad heads to Ann Arbor to face off against AFC Ann Arbor at Holloway Field. Kickoff is scheduled for 7:30 PM and the match will be streamed live on Eleven Sports.
Despite a change in venue, Detroit City FC closed out their home schedule with a 1-0 win over Cleveland Force SC on Wednesday night, looking strong all match but winning thanks to a goal-mouth scramble that saw forward Kayla Addison poke the ball over the line. Le Rouge was dangerous going forward and kept the visitors at bay for most of the match, only allowing a few half-chances.
Detroit City FC currently sits in fourth place in the W League Great Lakes Conference, two points behind third-placed Midwest United FC, a win against AFC Ann Arbor would leapfrog Le Rouge into finishing in third place in the Conference, two spots higher than the team was able to finish last season under former Head Coach Sam Piraine.
A win for AFC Ann Arbor on Saturday would see them jump over Detroit City FC to finish their season in fourth place.
This will be the second meeting of the season between these two teams, with the first coming on June 3 at Keyworth Stadium when Detroit City FC was able to defeat the Mighty Oak by a scoreline of 4-1 after the visitors went a player down early in the first half of play.
The match was highlighted by a brace from midfielder Syd Blomquist which featured an inch-perfect freekick that sailed its way into the top left-hand corner of the frame and received a USL W League Goal of the Week Nomination.
Longtime fans of Detroit City FC will be familiar with AFC Ann Arbor, as the clubs have played each other for years, dating back to 2016 when the sides faced off in the National Premier Soccer League before the men's side joined the professional ranks.
For more information about Detroit City FC, visit detcityfc.com and follow @DetroitCityFC on Twitter and Facebook and @detroitcityfootballclub on Instagram.
##DCFC##
Please send all media inquiries to media@detcityfc.com.
Primary Media Contact: Jarrett Maki
(Sports Information Director, Jarrett.Maki@detcityfc.com)