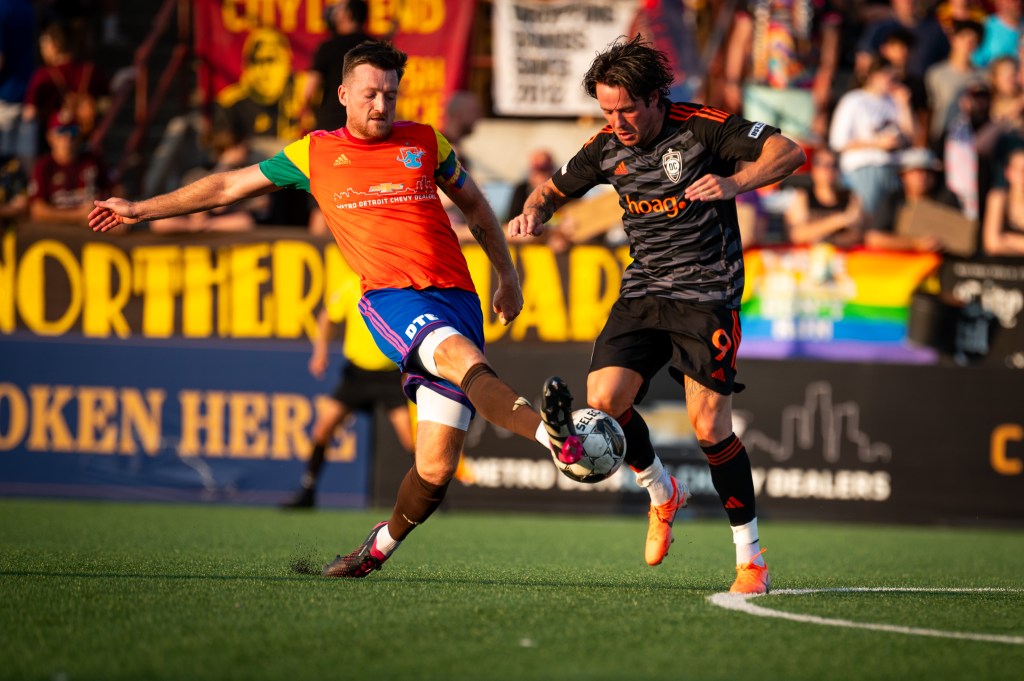 Detroit, Michigan – After going through their last five matches unbeaten, Detroit City FC was unable to extend their unbeaten streak as they fell to the 2021 USL Champions Orange County SC by a score of 1-0 Saturday evening.
The first 20 minutes of match play proved to be a feeling out process for both sides as Detroit City and Orange County traded runs but neither squad could get on the board in the early portion of the first 45.
Orange County would shortly find their goal-scoring rhythm in the 23rd minute as forward Milan Illoski got under a 50/50 ball right in front of DCFC goalkeeper Steinwascher's box and headed in the opening score to put Detroit City behind by one.
City would make their first sub of the game 10 minutes later as midfielder Dominic Gasso would come on for an injured Abdoulaye Diop.
Detroit City would start to find some looks in the final five minutes of the first half but none of the chances could turn into scores as Le Rouge would take a one goal deficit into the second half.
After closing out the half with some urgency, DCFC would continue to pressure OC early on into the second stanza.
Besides the goal allowed, which was more of a defensive error than a keeper error, Steinwascher continued his strong day into the second half with a punch save that kept Le Rouge in the game five minutes into the second half.
The yellow cards started flowing 10 minutes into the second half as Orange County midfielder Brian Iloski tripped up DCFC defender Amoo-Mensah.
Orange County would find themselves with another quality scoring opportunity after their first yellow card but Detroit City defender and captain Carroll was able to make a goal-line clearance to keep Detroit within a score.
Forward Simonsen found himself with a tap-in look in the 60th minute but OC goalkeeper Shutler was able to deflect the chance to keep DCFC off the board.
Detroit City switched up their tactics 20 minutes into the second 45 minute period as they went into a 4-2-3-1 set.
In the final 15 minutes City pushed all their men forward in search of an equalizer, creating multiple chances but failing to find that decisive ball that would give Le Rouge the equalizer they needed.
Le Rouge will hit the road this Friday as they head to ONEOK Field for their second match of the season against FC Tulsa.
DCFC Starting Lineup: Steinwascher (GK), Amoo-Mensah, Carroll (C), Robinson (65'), Williams, Fisher Jr. (81'), Diop (32'), Rodriguez, Rutz, Simonsen (65'), Morris (65')
DCFC Used Subs: Gasso (32'), Levis (65'), Suarez (65'), Matthews (65'), Ballard (81')
Bookings: Williams (62'), Levis (69'), Carroll (71')
Orange County Starting Lineup: Shutler (GK), Doghman, Nakkim, Powers, Lambe, Caspile (72'), Partida (80'), Scott (72'), R. Iloski (59'), McNulty (59'), M. Iloski
Orange County Used Subs: Chattha (59'), Amang (59'), Pedersen (72'), Fox (72'), Osundina (80')
Goalscorers: M. Iloski (23')
Bookings: R. Iloski (55'), Partida (64'), Nakkim (89'), Scott (ET, Red card)
For more information about Detroit City FC, visit detcityfc.com and follow @DetroitCityFC on Twitter and Facebook and @detroitcityfootballclub on Instagram.
##DCFC##
Please send all media inquiries to media@detcityfc.com.
Primary Media Contact: Jarrett Maki
(Sports Information Director, Jarrett.Maki@detcityfc.com)