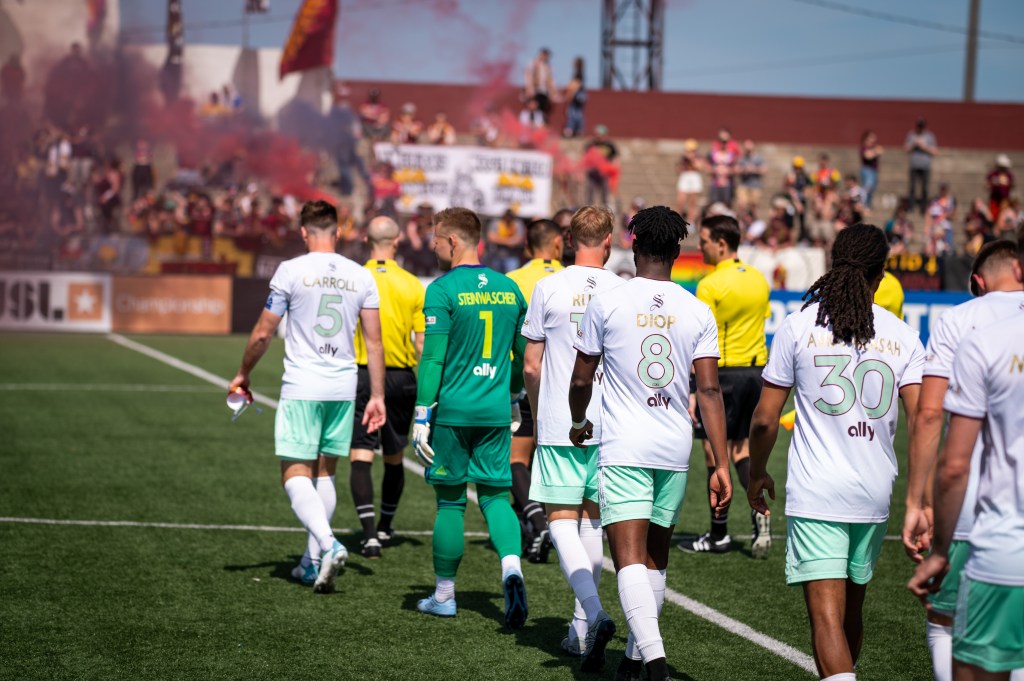 Stream (ESPN+) | DCFC Match Notes | Orange County SC Match Notes | 2023 DCFC Roster | USL Championship Notes | Tickets
Detroit, Michigan – Detroit City FC returns to Keyworth after their three-match road trip that saw Le Rouge pick up five points and extend their unbeaten streak to five matches. They are hosting Orange County SC of the Western Conference, kickoff is scheduled for 7:30 PM with streaming available on ESPN+, it will also be broadcast on FOX 47 in the Lansing Area and TV20 Detroit. Tickets are still available and can be found here.
In their previous match, DCFC faced off against now third in the Eastern Conference Memphis 901 who have won five out of their last six matches, the one they failed to win would be the draw that DCFC secured while visiting them at their home field AutoZone Park.
Le Rouge comes into this match having just entered a playoff spot after reaching eighth in the Eastern Conference. This rise in the standings is thanks to their improved form, and remarkable defensive performances, in which they have only conceded one goal in the past 450 minutes of play.
Striking duo Skage Simonsen, and Ben Morris will be the ones to look to for goals having both found the back of the net against Hartford Athletic.
Orange County FC stands equal on points with DCFC but currently sits ninth in the Western Conference. In their previous match, they secured three points against 11th-placed Eastern Conference side FC Tulsa, winning the match by a score of 3-0. With their top scorer, and assist leader Milan Iloski scoring his sixth goal of the season.
DCFC will need to be wary of Iloski who also picked up USL golden boot honors in the 2022 season bagging 22 goals in 31 matches while also tallying up four assists.
Orange County's win at Tulsa was their first win on the road since defeating LA Galaxy II last July.
Orange County FC remains managed by Interim Manager and former Assistant Coach Morten Karlsen who stepped into the role on May 1st. Following the sacking of their previous Manager Richard Chaplow who won the club the USL Championship in the 2021 season. Karlsen served on the Danish technical staff in the previous FIFA World Cup.
Following this match, DCFC will be back on the road as they head to ONEOK Field to face off against Tulsa FC on June 30 in a big Eastern Conference matchup which could see more distance put between Le Rouge and the bottom of the Eastern Conference.
For more information about Detroit City FC, visit detcityfc.com and follow @DetroitCityFC on Twitter and Facebook and @detroitcityfootballclub on Instagram.
##DCFC##
Please send all media inquiries to media@detcityfc.com.
Primary Media Contact: Jarrett Maki
(Sports Information Director, Jarrett.Maki@detcityfc.com)