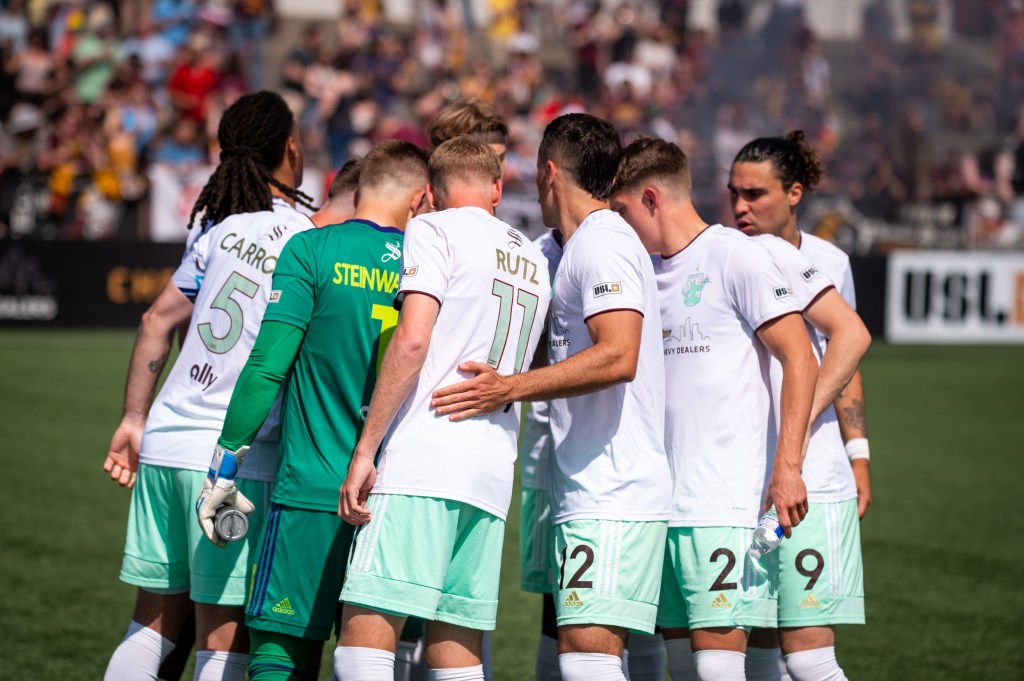 Stream (ESPN+) | DCFC Match Notes | Memphis 901 FC Match Notes | 2023 DCFC Roster | USL Championship Notes
Detroit, Michigan – In their second match of the week, Detroit City FC is looking to extend its unbeaten run to five matches on the road to Memphis 901 FC on Saturday evening. The match is scheduled to kick off at 8:30 PM Eastern and will be streamed on ESPN+.
Detroit City FC is fresh off of a dominant 3-1 victory over Hartford Athletic on Wednesday evening which saw forward Ben Morris run the show and score his first and second goals for the club. Morris also earned the assist for Skage Simonsen's goal, laying the ball off to his strike partner inside of the penalty area.
Wednesday's win moved Le Rouge into 8th place in the Eastern Conference and have earned 10 points from their last possible 15. It was also the second multi-goal showing for Detroit City FC this season with the first coming on 3/18 against El Paso Locomotive FC.
While Detroit City FC comes into this clash in good form, they're up against a red-hot Memphis 901 FC side who have won their last five league matches by an aggregate scoreline of 14-4 and currently find themselves in 5th place in the Eastern Conference but hold multiple games-in-hand over teams above them in the table.
Memphis 901 FC is unbeaten in nine league matches, having not lost since 3/18 when they fell to the Pittsburgh Riverhounds by a score of 3-1.
Saturday's hosts are under new leadership for the 2023 season after long-time manager Ben Pirmann left the club and joined the Charleston Battery over the offseason. Memphis brought in Stephen Glass to replace Pirmann and has experienced a fair amount of roster turnover since last season.
This will be the first meeting between these two clubs in 2023. Last season Le Rouge faced off against Memphis on three occasions. The sides played to a 1-1 draw at Keyworth Stadium on 4/2 and in the return fixture, Le Rouge fell to Memphis by a scoreline of 2-0 in their first visit to AutoZone Park.
The two sides met in the First Round of the 2022 USL Championship Playoffs after Detroit City FC finished 7th and Memphis finished 2nd. Memphis started the scoring but Detroit City FC clawed back an equalizer through forward Yazeed Matthews. Then, at the death, Memphis would score a late winner before scoring a third from a distance as Le Rouge was once again looking for an equalizer.
Following Saturday's match, Detroit City FC will return home to Keyworth Stadium to take on the 2021 USL Championship Playoff Champions Orange County FC on June 24. Tickets for next Saturday's match are available here.
For more information about Detroit City FC, visit detcityfc.com and follow @DetroitCityFC on Twitter and Facebook and @detroitcityfootballclub on Instagram.
##DCFC##
Please send all media inquiries to media@detcityfc.com.
Primary Media Contact: Jarrett Maki
(Sports Information Director, Jarrett.Maki@detcityfc.com)